Found January 25, 2013 on BlackSportsOnline:
John Elway always made good choices as a quarterback and he's made even better ones as an executive.  When Elway had to the chance to upgrade his quarterback situation by signing Peyton Manning, he didn't think twice about it. With that process he had to jettison Tim Tebow to the New York Jets. Elway has no regrets about that trade, and while speaking to WFAN's Boomer & Carton yesterday, Elway said Tebow would probably "need the right situation to play in the league again." "I think Tim Tebow has a lot of fans. You know, and I had to take care of the Denver Broncos," Elway said in his sit-down with Esiason and Craig Carton. "And Peyton Manning was the best thing for the Denver Broncos." "He's a good kid and he works his tail off," Elway said. Tebow thought New York "was the best opportunity for him." I'm not sure there's a situation conducive enough in the league or a coach willing to put his job on the line for   Tim Tebow at this point. I will say again, if he would just switch positions he could be an all pro at tight end.  
Original Story:
http://feedproxy.google.com/~r/blacks...
THE BACKYARD
BEST OF MAXIM
RELATED ARTICLES
JUST NOT HERE
Broncos vice president of football operations John Elway continues to say nice things about Tim Tebow despite the fact he traded away the quarterback.
Denver Broncos vice president John Elway, the man who dealt Tim Tebow before the 2012-13 season, said that his team's former player has potential as an NFL quarterback. "If that's what he wants to do, in the right situation, I think it's a possibility," Elway told New York's WFAN radio. Elway remains tepid on his evaluation of the former University of...
It's no surprise Tim Tebow gained a reputation as a great teammate because he's a great person.He's friendly, respectful and always ready to accommodate media and fans.He's a man of faith who actually appears to practice what he preaches.Tebow is the NFL's gold standard for generosity.He brings hope to children suffering from illness and injury through his foundation. He...
When it comes to Tim Tebow the human being, there are few, if any, complaints. He is a man who is true to his faith and brings out the best in others.As a man, any mother or father would be proud to have a son like Tim Tebow.However being a great person has little to do with the skills needed to succeed in the National Football League. As a quarterback in the NFL, Tebow has a career...
Pretty sure ESPN is just trolling us at this point. I don't watch ESPN's First Take, and surprisingly that has nothing to do with the incessant bloviations of Stephen A. Smith and Skip Bayless. ESPN's love affair with Tim Tebow has become legendary, and just when you thought the idolization of the Jets backup QB (for now) had died down, First Take goes and pulls this show topic...
I might as well start by saying…."this is pathetic". When are people going to get it through their heads that New York Jet's "3rd string" quarterback Tim Tebow is not an NFL quarterback. Check out the song below, "Call Me Maybe – the Tebow Version". Although this song has a good beat and I will [...]
10) As bad as the 2012 Eagles offense was, it's still better than what the Jets ran out there 9) Kept a straight face during the interview when the club said the words "Tim Tebow", "Wildcat" and "Buttfumble" 8) Promised to smuggle some WRs with him on the way out of Philadelphia 7) Since the Rex Ryan Era probably only has one more year to go,...
The offseason is already here for 30 NFL teams, and free agency and the NFL Draft are right around the corner. Every offseason, countless phone calls are made and a hundreds of athletes will call a new city their home. For teams like the Chiefs and the Jaguars, the offseason is a key opportunity to sign new players who can help turn their franchise around. Between the madness of...
"I haven't scripted any answers to any questions. This is the real Tyrann right now." The New York Post neglected to add, "…as he hit the jumbo slow so it sizzled. Smoke filled the air around the reporters as he coughed and offered it up. 'Yo somebody hit this. I gotta go cover some outs and slants.'" Of course the Jets are interested in Lue. Why not? It makes sense...
NFL News

Delivered to your inbox

You'll also receive Yardbarker's daily Top 10, featuring the best sports stories from around the web. Customize your newsletter to get articles on your favorite sports and teams. And the best part? It's free!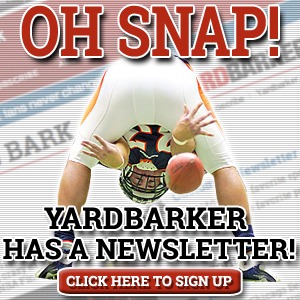 Latest Rumors
Best of Yardbarker

Today's Best Stuff

For Bloggers

Join the Yardbarker Network for more promotion, traffic, and money.

Company Info

Help

What is Yardbarker?

Yardbarker is the largest network of sports blogs and pro athlete blogs on the web. This site is the hub of the Yardbarker Network, where our editors and algorithms curate the best sports content from our network and beyond.