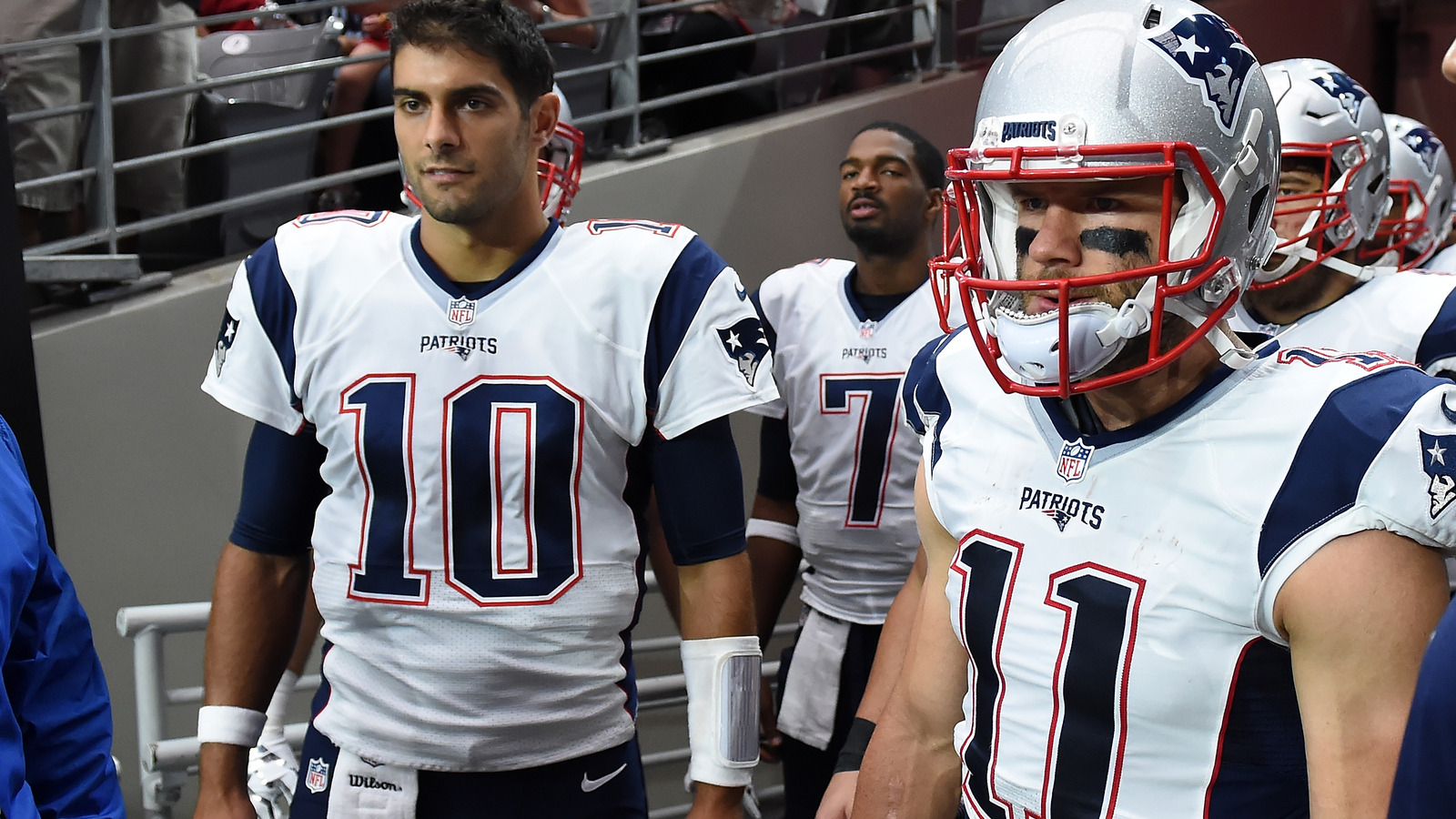 Julian Edelman had high praise for teammate Jimmy Garoppolo.
Norm Hall/Getty Images
Jimmy Garoppolo is the hottest quarterback name in the NFL right now.
One would think this honor goes to Tony Romo—but even he can't stand against the hype that is a backup gunslinger for the New England Patriots.
Garoppolo looks like a major trade candidate this offseason and many haven't been shy in pumping him up. Let's take a look at what New England wideout Julian Edelman had to say about the guy he spent some time with this past season during an interview with NFL Network, transcribed by Pro Football Talk's Josh Alper:
"I'm not a paid G.M. so I don't know the whole value thing. As far as a guy that I could play with every single day, Jimmy Garoppolo, I mean, the guy's a stud," Edelman said on NFL Network. "He went out and played in the regular season and he played very well. He's got that kind of gunslinger confidence. That Brett Favre, Aaron Rodgers kind of confidence. He practices hard, he prepares hard. He's a good kid, he's young. I think he's a good player."
Lofty praise, though Garoppolo was a second-round pick for a reason. Perhaps more importantly, Bill Belichick of all people took a risk on the small-school prospect.
Hailing from Eastern Illinois, Garoppolo looked good at times while taking snaps in place of Tom Brady early last season. He clearly has work to do if a team wants to start him as a potential franchise player, but he is still just 25 years old.
A Garoppolo trade will come down to asking price. Thanks to Edelman, would-be suitors should at least have a strong understanding of the man's confidence level.
MORE FROM YARDBARKER
NFL News

Delivered to your inbox

You'll also receive Yardbarker's daily Top 10, featuring the best sports stories from around the web. Customize your newsletter to get articles on your favorite sports and teams. And the best part? It's free!