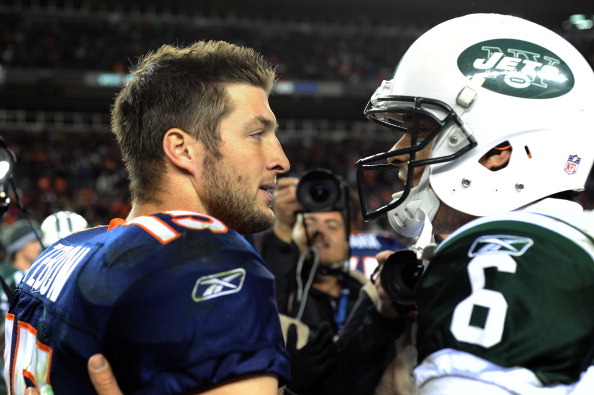 New York Jets quarterback Mark Sanchez put on his best happy face last night and said all the right things about his new backup— Tim Tebow. Speaking at a paid appearance in White Plains, N.Y.— where he signed autographs and had a Q & A with fans— Sanchez put a nice spin on the quarterback controversy and said he had spent the past few days getting to know his new teammate as the Jets begin their offseason program."He's been as advertised, as good of a guy, if not better, than anybody said," said Sanchez. "So, he's been a great addition so far. I'm thrilled to work with him." After the Jets traded for Tebow last month, there was speculation that Tebow would be used to push the underachieving Sanchez or even take over the starting job. Head coach Rex Ryan has said Sanchez will remain the team's starter. Starter or not, it sounds like some of Tebow's rigorous training habits are already rubbing off on the incumbent QB. "From a competitor standpoint, he's great," said Sanchez, a ...
Read the rest of this story...
MORE FROM YARDBARKER
NFL News

Delivered to your inbox

You'll also receive Yardbarker's daily Top 10, featuring the best sports stories from around the web. Customize your newsletter to get articles on your favorite sports and teams. And the best part? It's free!