Found August 14, 2012 on Awful Announcing:
Way back when columnists were suggesting Gregg Williams be thrown in jail and the media was slurping up the BountyGate shock and horror fed to them by the NFL, ESPN went all-in with an explosive report further condemning the New Orleans Saints organization.  An Outside the Lines expose by John Barr alleged Saints GM Mickey Loomis could secretly listen to opposing coaches.  The report was of the utmost seriousness.  Not only could listening in on opposing coaches lead to an NFL version of the death penalty for Mickey Loomis, but these were possible federal crimes alleged as well. At the time, ESPN gave the OTL report top billing.  It was put into the ESPN echo chamber on TV, radio, and especially online where additional columns and blog entries appeared reflecting on the significance of the report.  However, the OTL report was immediately met with pushback due to lack of tangible proof.  There were even reports out of New Orleans that Barr was looking for skeletons in the Saints' closet and wasn't leaving town until he found them.  The truth is that ESPN walked a tightrope with the Barr report given the seriousness of the allegations and lack of physical evidence... and ESPN just fell off. Now, the spotlight needs to turn to ESPN and John Barr as the Louisiana State Police released the findings of their own investigation and revealed no evidence against Loomis.  Loomis was cleared of any wrongdoing by the police.  Mike Triplett of the New Orleans Times-Picayune puts the latest developments, and ESPN's role in the story in perspective: It wouldn't be fair to completely discredit ESPN's reporting, which cited unnamed sources, because only ESPN knows for certain how well it vetted those sources. And the network, especially its investigative arm at "Outside the Lines," has a strong reputation for journalism. However, there are strong indications that ESPN lowered it [sic] journalistic standards on that report. For one thing, there were numerous reports that ESPN reporter John Barr was in New Orleans for weeks asking several sources for any negative information about the team before it found the wiretapping whistleblower. For another, the timing seemed awfully fishy when ESPN then reported that the local U.S. Attorney's Office had just learned from an informant about wiretapping allegations from seven years earlier. Furthermore, ESPN's report never even actually accused Loomis of using the wiretapping device. Buried in the original story was the line, "Outside the Lines could not determine for certain whether Loomis ever made use of the electronic setup." As Loomis and the Saints initially fiercly denied the report and even floated the idea of legal action, ESPN slowly backpedaled away from the story.  Over the last few months, there's been radio silence from ESPN regarding the matter.  An ESPN.com search of "Mickey Loomis eavesdrop" shows 5 results from April 23-24 and 1 result since.  Search results about wiretapping show a similar pattern.  John Clayton had to go on air last night and call the original report from his own network "unplausible."  Unplausible.  Where was that language in April from Bristol when ESPN.com's Mark Kreidler was writing this? John Barr was conspicuously quiet regarding the latest developments according to Larry Holder of the TP:
ESPN reporter John Barr said he had no comment on anything at this point. Wasn't aware of La. State Police presser on #Saints eavesdropping. — Larry Holder (@Larry_Holder) August 13, 2012
Luckily for ESPN, they can't necessarily be proven wrong here, but the network put its journalistic integrity on the line once again and it has to answer some serious, serious questions once again. What was John Barr's motivation?  What was ESPN's motivation?  Were they going to find something negative to report on the Saints to pour gasoline on the BountyGate fire regardless of facts?  Were these sources properly vetted?  Why has ESPN not followed up on the initial OTL report?  Why did ESPN feel comfortable publishing these significant allegations without evidence?  What is ESPN's response now that no evidence has turned up against Loomis?  Will there be an apology, a retraction, or even a lawsuit from Loomis?  Is Poynter following this at all? Make no mistake, this Saints wiretapping report is quickly turning into as big of a journalistic black eye for ESPN as Bruce Feldman and Syracuse were.  It used to be that an Outside the Lines report was the best in sports journalism.  Not anymore.  Not after the last year.  How ESPN could run with a report so heavy on accusations and light on facts is still utterly baffling.  How ESPN could heavily promote a report with unprovable accusations from unnamed sources on behavior from almost a decade ago is, as John Clayton said, unplausible.  These were serious, serious allegations against Mickey Loomis and the Saints franchise, and they were built on paper thin evidence. You expect that kind of risky, cavalier, shaky journalism from the National Enquirer.  You'd hate to have to expect it from ESPN, too.
Original Story:
http://www.awfulannouncing.com/2012-a...
THE BACKYARD
BEST OF MAXIM
RELATED ARTICLES
The Louisiana State police have found no evidence that Saints general manager Mickey Loomis eavesdropped on opponents' conversations between 2002-04, it was announced Monday. The findings followed a four-month investigation that was launched after an ESPN report in April that quoted an unnamed employee who said Loomis had a system installed at the Superdome that enabled him...
Junior Galette says he has heard fans yelling ''fear the beard,'' when he has caused havoc in the New Orleans Saints' backfield during training camp. Galette's prodigious facial hair has given the defensive end a vastly different look than when he arrived as a fresh-faced rookie in 2010. Saints coaches say they have also seen a difference in his play since...
After two preseason games and some roster changes, I figured it was time for me to take another stab at the 53 man roster. Here goes...QB (2) Drew Brees, Chase DanielWR (6) Marques Colston, Lance Moore, Devery Henderson, Courtney Roby, Andy Tanner, Joe MorganRB (4) Mark Ingram, Pierre Thomas, Darren Sproles, Chris IvoryFB (1) Jed CollinsTE (3) Jimmy Graham, David Thomas, Daniel GrahamT...
The Jonathan Vilma versus the NFL saga carries on. U.S District Judge Ginger Berrigan refused to make a ruling on the case when both sides appeared in court on Friday, where Vilma was seeking to receive a temporary restraining order against the NFL, which would allow him to join training camp. The Associated Press reports that Berrigan believes the season-long suspension to be an...
Courtney Roby may not have the role on the Saints that most guys dream of coming into the NFL, but it's a place that continues to be secure. He's been extremely valuable to the Saints as a gunner for four seasons and a decent kick returner too prior to Darren Sproles coming to the team a year ago and supplanting him. But Roby turns 30 in January and while the departure of...
New Orleans Saints owner Tom Benson has met with NFL commissioner Roger Goodell in New York to discuss matters concerning both the team and the league. While the NFL and the Saints are providing very few details, Saints spokesman Greg Bensel says the meeting was productive and that Benson looks forward to many more discussions with the commissioner. The meeting comes amid the backdrop...
At first glance, running back Travaris Cadet would seem like a long shot to make a New Orleans roster that already includes Darren Sproles, Pierre Thomas, Mark Ingram, and Chris Ivory. The undrafted rookie out of Appalachian State has versatility in his favor, though. While he has yet to do much in the running game in two preseason games, his 14 catches lead the team and his 109...
Saints running back Darren Sproles is dealing with a knee injury and won't play in the next preseason game, according to a WWLTV.com report.Fantasy Spin:Acting head coach Joe Vitt did say that if it were a regular season game Sproles would play. We're not worried about this one and still believe Sproles will deliver numbers similar to last season.
This season, Drew Brees needs to do it again. I'm not talking about setting records in passing, which he did by throwing for an NFL-record 5,476 yards on a record 468 pass completions. None of that comes into play in terms of what I'm talking about. Since coming to the New Orleans Saints he's been, statiscally, the best quarterback in the NFL. He's also been one of the greatest...
Steve Spagnuolo's desire to transform the Saints' ability to get to the quarterback by relying more heavily on the front four seems to be showing lots of promise. Granted, it's early, very early. As the preseason ends and the Saints start playing real live games with meaning we'll get a better feel for how effective the new plan can be. That said, the idea of having...
Louisiana State Police Col. Mike Edmonson says his investigators have found no evidence at this time that the Saints or general manager Mickey Loomis rigged Superdome wiring so opposing coaches' radio communications could be intercepted.
Athlon Sports is counting down its 2012 NFL preseason Power Rankings with in-depth team previews, schedule analysis and more as the start of the...
Saints News

Delivered to your inbox

You'll also receive Yardbarker's daily Top 10, featuring the best sports stories from around the web. Customize your newsletter to get articles on your favorite sports and teams. And the best part? It's free!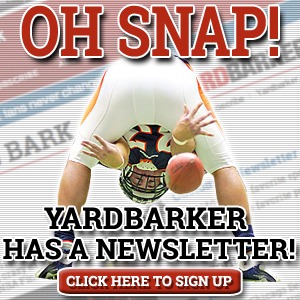 Latest Rumors
Best of Yardbarker

Today's Best Stuff

For Bloggers

Join the Yardbarker Network for more promotion, traffic, and money.

Company Info

Help

What is Yardbarker?

Yardbarker is the largest network of sports blogs and pro athlete blogs on the web. This site is the hub of the Yardbarker Network, where our editors and algorithms curate the best sports content from our network and beyond.