Found May 16, 2012 on Lone Star Struck:
When the Cowboys signed free agent cornerback Brandon Carr, many spoke about how improved the secondary would be as long as Mike Jenkins came back healthy in 2012. Now with the Cowboys trading up eight spots in the first round of the draft to select Morris Claiborne, some believe that Jenkins is the odd man out. There are even reports that the Cowboys have been looking to trade Jenkins in hopes of getting something for him since he becomes a free agent at the end of 2012. I think it would be a mistake to trade Jenkins at this point. He may choose to leave next off season, but for 2012 I believe he needs to be an important part of the Cowboys secondary. When he is healthy, Jenkins is one of the top corners in the league. I understand that he has had some injuries recently, but those injuries occur because of how many times he gives up his body to make a play. Jenkins adds important depth and experience to the Cowboys secondary, which is needed for the long NFL season. He needs to be on the field helping the Cowboys. But how is that possible with the additions of Carr and Claiborne? My question is can Jenkins play the slot position for the Cowboys? Will the Cowboys even consider that if he is not traded? I ask these questions because I believe that Orlando Scandrick is the weak link in the Cowboys secondary. From what I've seen over the last few seasons is that Scandrick is constantly getting beat by opposing receivers. And other times he is called for penalties because he is beaten on the play.  I think it was a mistake to sign Scandrick to such a long contract extension last season. And now with Carr and Claiborne on the team it magnifies that contract mistake even more because it might come at the expense of Jenkins leaving. Jenkins can help the Cowboys defense get to the next level, but he can't do anything if he is sitting on the bench. With his talent he can't be the odd man out. The Cowboys secondary can be completely transformed in 2012 and become a force in the NFC East with Carr and Claiborne starting, Jenkins in the slot and Scandrick and Mario Butler as backups. I don't know if the Cowboys would even consider trying Jenkins in the slot, but that is how I envision the secondary for 2012 being the most effective. Jenkins is just too good to be traded and also too good to be sitting on the bench. With the NFL being a pass happy league teams need at least three quality corners that can make plays. I guess the Cowboys could have worse problems than dealing with a bunch of cornerbacks that they believe should be on the field making a difference for the team.
Original Story:
http://lonestarstruck.com/2012/05/mik...
THE BACKYARD
BEST OF MAXIM
RELATED ARTICLES
A realist probably knows the Cowboys haven't played great lately. I am going to criticize Jason Witten in this short post, and some may not forgive me for it. However, I think that Jerry Jones' nonsense has rubbed off on his veteran tight end, and I just want to point this out. The analysts at NFL.com debated whether time was running out on the Cowboys' playoff window, with...
The following is the 7th in a series of draft profiles for the Dallas Cowboys selected players from April's draft. These profiles are put together after watching significant amounts of tape from each player, and is an attempt to examine their resumes and play to get an idea of how they might fit in best with Dallas come training camp. Ronald Leary Memphis Guard 6-foot-3, 315...
The following is the 6th in a series of draft profiles for the Dallas Cowboys selected players from April's draft. These profiles are put together after watching significant amounts of tape from each player, and is an attempt to examine their resumes and play to get an idea of how they might fit in best with Dallas come training camp. Caleb McSurdy Montana Linebacker 6'1...
According to three of the biggest stars in Dallas Cowboys history, the current Cowboys team is on the brink of a championship. Celebrating the 20th anniversary of the Dallas Cowboy's 1992 Super Bowl title, QB Troy Aikman, WR Michael Irvin and RB Emmitt Smith visited with Rich Eisen on his podcast. All three players have been inducted to the Pro Football Hall of Fame. The trio,...
During an appearance on Rich Eisen's podcast, former Dallas Cowboys running back Emmitt Smith decided to call out current running back Felix Jones and challenge him to step up his play in 2012. "We need Felix Jones to step up because we know DeMarco Murray can make it happen. We need Felix to step up a little bit — that's a true statement," Smith said. Smith did say...
The engineer who signed off on plans for the Dallas Cowboys practice facility that collapsed and seriously injured two team employees three years ago is paying a $12,000 fine to settle faulty design charges from the Texas Board of Professional Engineers. Enrique Tabak and the board agreed on the penalty last August, and the Canadian engineer has been making quarterly payments that...
At this point we figure you guys think BC is just dicking around and stretching out these Dallas Cowboys cheerleader galleries because it's a slow news week. Not the case at all. There are like 50 chicks on the team and they just keep uploading snapshots from their time in Cancun. While many NFL cheerleading units are a complete mess with social networking, the DCC is just a machine...
So, here's what happens when you set the "Wayback Machine" for a visit with Christopher Columbus to compare pasta recipes, you get set down in the middle of Columbus, Ohio at the turn of the 20th Century. Since I was there anyway I decided to make the best of it. The second league president in NFL history was getting ready to make his mark on professional football....
Cowboys News

Delivered to your inbox

You'll also receive Yardbarker's daily Top 10, featuring the best sports stories from around the web. Customize your newsletter to get articles on your favorite sports and teams. And the best part? It's free!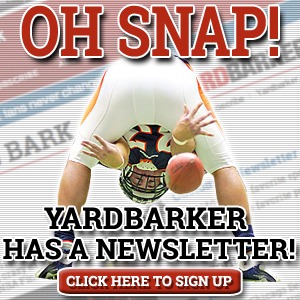 Latest Rumors
Best of Yardbarker

Today's Best Stuff

For Bloggers

Join the Yardbarker Network for more promotion, traffic, and money.

Company Info

Help

What is Yardbarker?

Yardbarker is the largest network of sports blogs and pro athlete blogs on the web. This site is the hub of the Yardbarker Network, where our editors and algorithms curate the best sports content from our network and beyond.