Found September 24, 2012 on Just Cover Blog:
PLAYERS:
Matt Flynn
,
Russell Wilson
,
Aaron Rodgers
,
Cedric Benson
,
Jordy Nelson
,
Richard Sherman
,
Brandon Browner
,
Jermichael Finley
,
James Jones
,
Greg Jennings
,
Randall Cobb
,
Marshawn Lynch
,
Frank Gore
,
Sidney Rice
,
Golden Tate
,
Zach Miller
TEAMS:
Seattle Seahawks
,
Green Bay Packers
,
San Francisco 49ers
Monday Night Football tonight pits Green Bay and Seattle to cap Week 3. We all know what was supposed to be the storyline tonight, right? It was supposed to be former Packer backup Matt Flynn going up against his old team. Flynn signed a major deal in the offseason to be the Seahawks franchise QB, but a funny thing happened during training camp. He got beat out for the job by 3rd round draft pick Russell Wilson out of Wisconsin. So, in one corner you have a legit Super Bowl favorite with a QB in Aaron Rodgers who loves shootouts against a rookie passer who has yet to throw for more than 200 yards in a game. Green Bay is favored by -3.5 with an Over/Under total of 44.5. Before laying the short road chalkChalk is another name for the favorite team to win., dont forget that the Seahawks are 41-21 straight up, 39-21-2 ATS at home in the last seven-plus seasons. We saw the Vikings beat the 49ers and the Raiders upset the Steelers yesterday, both home dogs against contenders. Translation: Anything can happen in the NFL. Beware of road chalkChalk is another name for the favorite team to win. and betting against bad teams. Of course, if the Packers win by two touchdowns, you didnt get that warning from me. Let's have a litle fun and take a look at tonight's player prop board. Let us know if see a winner or two on the boad.
Aaron Rodgers Over/Under 24.5 completions , 299.5 passing yards, 2.5 TDs…..Rodgers went over all these numbers in the Week One loss to San Fran. But he went under all these numbers in the Week Two loss to Chicago. That doesnt help us. Tonight, they play a team sturdy against the run, but shaky against the pass with
secondary depth issues. But 300-yard passing games arent easy. He's only had 21 of them in his last 52 starts, although 11 have come in his last 22 games. Rodgers is probably peaking as a player, yet its still no better than a 50/50 chance that he hits 300 yards. Something thats worth pointing out, however, is he was a stat sheet stuffer away from home a year ago. He averaged 311.7 passing yards a game in eight road games last year, with five 300 yard or more efforts, and a sixth with 297 yards. Also, usually most QBs have their TD passes prop listed at 1.5. We typically dont see 2.5 listed unless its a combination of TDs and INTs thrown (we have that prop for Rodgers counterpart tonight, see below). But Rodgers has 18 games of at least three touchdowns in his last 36 games, so we get an inflated total here. The price on the Under is -170.
Cedric Benson Over/Under 57.5 rushing yards…..Through two games, the Seahawks have allowed 58 yards on 19 carries total from their opposition's top running back. Thats against Arizona and Dallas. Cedric Benson and the Pack might be between those two teams as far as rushing skill goes, although Benson isnt nearly the talent that DeMarco Murray is, who the Seahawks contained last week in the Cowboy game. Benson had seven games over 57.5 yards with the Bengals last year. However, four of them came in the first four weeks of the season. And, rather peculiarly, he landed on exactly 57 yards three different times in 2011. In his Packer debut, he was shut down cold against the 49ers, with just 2.0 yards per carry, but broke out with 81 yards in the Week 2 win over Chicago. Want another Pro-Seahawk rush D tidbit? How about the fact they've allowed just one more fantasy point to opposing runningbacks than those stingy 49ers. Also, given the style of offense that Green Bay runs, do you want to rely on a tailback getting stats?
Jordy Nelson, Over/Under 5 catches, 77.5 receiving yards……..This could be a tough matchup tonight for Nelson. In Richard Sherman and Brandon Browner, the Seahawks have one of the tallest starting CB tandems in the league. Opposing defenses are
also now scheming to take Nelson out of the game. Still, with six and five catches in the first two games this year, you wouldnt have lost on tonight's prop for catches on Nelson this year. Still, he's only had seven career games of more than five catches. He's always been more of a yardage guy than a pass catching hog. He's gone over 77.5 receiving yards in 14 of the last 24 games he's played, including five of the last eight, while averaging 79.12 receiving yards a game during the whole stretch.
Jermichael Finley, Over/Under 4 catches, 45.5 receiving yards…..We've added a new JCB betting rule. Never take the over on any receiver prop when said pass catcher's agent spends the week leading up to the game bashing the quarterback's leadership ability. Are Finley and Drew Rosenhous serious with the Rodgers critiques last week. Maybe the problem is your flaky client with the butterfingers. Just saying. Anyway, I doubt Rodgers will freeze Finley out, but this team has so many weapons, that I'm not interested in siding with the one whose agent just threw the all-world QB under the bus. All that said, he leads the team in catches (along with Nelson) with 11 and wih 17 targets has been thrown to the most. He averaging a paltry 6.6 yards per catch, however.
James Jones, Over/Under 2.5 catches……Jones has caught three or more passes in eight of the Pack's last 16 games. But with Greg Jennings still a bit banged up and a lot of defensive's main focuses on Nelson and Finley, Jones could have a sneaky good game tonight. It's expected that the deep Green Bay receiving corps will test the depth challenged Seattle secondary who looks a little weak after their two starting CBs. Jones only has six catches for the year, but he's targeted twice as much.
Randall Cobb, Over/Under 2.5 catches…….Cobb, already established as a dangerous return man, broke out as a WR in the opener with nine catches. The Packers looked like they had a new weapon for Rodgers to throw to. Then, he was limited to a single catch for 20 yards in Week 2 against the Bears. He's been labelled one of the more important players in tonight's game by Packer bloggers. Through two weeks, he's been targeted 11 times, tied for 3rd on the team, after just 31 targets all of last year, which was just 7th on the team. The second-year players has only had four career games with at least three catches, but if Rodgers continues to target him with that frequency, he'll probably at least double that total over the course of the rest of the season.
Russell Wilson, Over/Under 18.5 completions, 200.5 passing yards, 2.5 TD+INTs……So these numbers seem high. In his two career starts, the Wisconsin rookie has never completed more than 18 passes and has topped out at 153 passing yards. Are we
thinking Wilson gets involved in a gunslinging match with Rodgers and holds his own statistically? I suppose that could happen, but you're betting on career highs from the rookie if you're taking the Over. I was a big fan of Wilson in college. His teams were always a profitbale bet for us, especially when he was an underdog a lot at NC State. That said, through two games, I cant believe the Seahwaks are going with him over Matt Flynn. Sure, Wilson might have looked the best in August practices. But watching him put up pedestrian numbers these last two weeks havent been inspiring. I cant believe based on the snapshots of his play we saw when he was with the Packers that Flynn wouldnt be doing better and give the Seahawks more of a legit downfield threat to go with the power running they can establish with Marshawn Lynch. But, hey, what do I know, I am a poor blogger while Wilson and the Seahawks are coming off an impressive win over Dallas in Week 2. One last note: An under play on the 2.5 TD/INTs prop requires a somewhat steepish -180 price. Makes sense seeing as if through two games Wilson has combined for three. He would need to equal that in one game for the over to hit tonight.
Marshawn Lynch, Over/Under 92.5 rushing yards…….Lynch is off to a nice start with 102.4 yards per game through the first two weeks, but with games of 88 and 125 yards only went over this total in one game. Lynch has a world of talent, but has never been able
to put it together over the long haul as a professional. He's had a ton of off field instances and has as many arrests/court appearances as 1,000-yard seasons in his pro career. After a slow start a year ago, Lynch turned it on over the back half of 2011 with six 100-yard games in the Seahawks final nine games. Including the two games this year, Lynch is averagin 104.3 rushing yards a game.  He was barely getting a dozen carries a game through the first half of last year, but since then the Seahawks have rode him and he'll approach two dozen carries tonight. The Packers have only allowed five tailbacks to go over 92.5 yards since the start of last year, although one was Frank Gore who shredded this defense in Week One for 112 yards on 16 carries. The 49ers as a team ran for 186 yards on 32 carries for 5.8 yards a pop in that opening day win.  Generally speaking, the Packers jumped on a lot of teams with their offense a year ago and, in an effort to keep up, a lot of teams abandoned the run. San Fran did not. Will the Seahawks stay in the game long enough to milk Lynch in the second half? Thats the question you have to answer first if you want to play this over.
Sidney Rice, Over/Under 4 catches; Golden Tate, Over/Under 3.5 catches; Zach Miller, Over/Under 2.5 catches…….Taking the over on any of these three and you're basically asking for . Rice only has more than 4 catches in tfwo games since joining Seattle. He only has 13 career games of at least five catches, and just four since his breakout, 83-catch campaign in 2009 with Minnesota. Tate has just four career games over tonight's listed total, but three of those did occur in the final five games a year ago. He made his season debut in the win over Dallas in Week 2 and caught three passes for 38 yards. TE Miller averaged  less than two catches a game a year ago in his Seattle debut. But he did average about four catches a game over the course of the previous three seasons in Oakland and he's the only one of this crew with a game this year where's he caught more than tonight's listed total with his 3-grab effort in the opener against Arizona.
Original Story:
http://www.justcoverblog.com/2012/09/...
THE BACKYARD
BEST OF MAXIM
RELATED ARTICLES
Nearly everyone in the NFL-community is up in arms after Monday night's "blown call" in the Packers-Seahawks game. But maybe it isn't so clear cut. The consensus seems to be that just because Packers safety M.D. Jennings caught the ball in mid-air and clutched it against his chest, that means it's a catch. Unfortunately, it's not until Jennings touches both...
Monday Night Football between the Seattle Seahawks and the Green Bay Packers ended in dramatic fashion and more replacement ref controversy. With the Seahawks trailing 12-7  and eight seconds left on the clock, Packers Russell Wilson threw a pass from the 24-yard line that safety, MD Jennings caught but then… Seahawks receiver Golden Tate attempted [...]
Yes, the NFL is using replacement referrers – but at least they have not made a bad call that decided the outcome of a game…oh wait.The Seattle Seahawks escaped with a 14-12 victory over the Green Bay Packers when a final-second, Hail Mary attempt was ruled a touchdown. Russell Wilson heaved the ball to the corner of the end zone where it was intercepted by the Packers' M.D...
Green Bay Packers receiver Jordy Nelson has yet to get into the end zone after scoring 15 times last season.Fantasy Spin:Nelson has 13 receptions for 167 yards through the first three games. He's been targeted 19 times, tied for second on the team with Greg Jennings, behind tight end Jermichael Finley. Fantasy owners, who selected in the fourth round, are expecting a lot more from Nelson.
Someone Please Just Kill Him 10) It looks like the Seahawks are going to win this Bruce Irvin bet 9) Shockingly, a running game with Cedric Benson has failed to be electric 8) If you know someone who went all-in for Aaron Rodgers or Greg Jennings in his fantasy draft, please make sure the gas line to their oven isn't connected 7) In case you haven't been informed of...
You probably heard by now, but the NFL has a bit of a problem on its hands. That problem got much worse on Monday night. Building on an already obvious issue when it comes to the NFL's replacement referees, Monday night's Packers-Seahawks game was decided on a controversial play in which the officials made the wrong call. Even upon further review, the call was upheld, which...
The Seattle Seahawks beat the Green Bay Packers 14-12 Monday night, behind a lights-out first-half defensive effort and, oh, perhaps the most controversial ending in NFL history. A picture says 1,000 words.
Everyone by now has witnessed the terrible call by the referee in the Packers vs. Seahawks game last night, but I thought I'd throw in my two cents and show you the video one more time.  Clearly the worst part of the play is the push right??? That had to be the most obvious penalty of the year so far, and maybe the worst I've ever seen in my days.  Yea, Yea I know they...
The ruling on the field will stand. The NFL has spoken after the disputed call that gave the Seattle Seahawks a 14-12 victory over the Green Bay Packers on Monday night. Replays indicated that Packers cornerback M.D. Jennings had possession of the pass in the end zone, but referees awarded the catch to Seattle's Golden Tate after the two wrestled for the ball on the turf. One...
Do you see random sh$% while driving to work and think it needs to be seen by the masses? Does the guy who sits next to you at work look like a tool on a daily basis? Does your dog lick his balls in an odd fashion? Is your neighbor working on some sort of outer space vehicle behind his shed? We want your WTF photos. Email us: mail@bustedcoverage.com Filed under: Daily WTF
The NFL has no appeals process in place to overturn the disputed call that gave the Seattle Seahawks a 14-12 victory over the Green Bay Packers on Monday night. The league plans to issue a formal statement on the highly controversial ruling by replacement referees sometime Tuesday. But there's no way for the Packers to win a reversal, according to the NFL. "There'...
NFL News

Delivered to your inbox

You'll also receive Yardbarker's daily Top 10, featuring the best sports stories from around the web. Customize your newsletter to get articles on your favorite sports and teams. And the best part? It's free!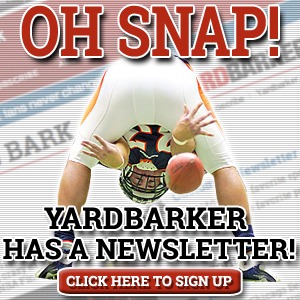 Latest Rumors
The Backyard

Today's Best Stuff

For Bloggers

Join the Yardbarker Network for more promotion, traffic, and money.

Company Info

Help

What is Yardbarker?

Yardbarker is the largest network of sports blogs and pro athlete blogs on the web. This site is the hub of the Yardbarker Network, where our editors and algorithms curate the best sports content from our network and beyond.