Found January 13, 2012 on Larry Brown Sports:
From Larry Brown Sports: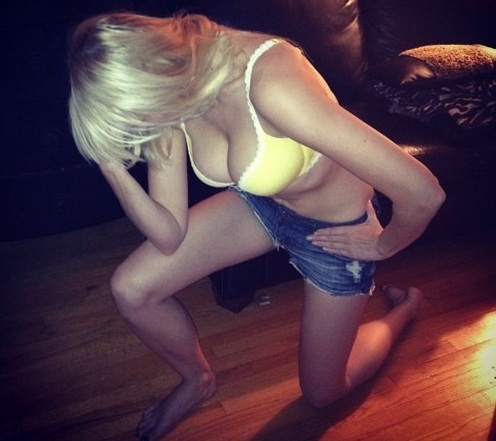 Just when we thought Tebowmania may be getting out of hand and the whole Tebowing thing was becoming overplayed, a particular collection of women rescued the phenomenon. Being from Boston, I am a diehard Patriots fan. With an extremely important match-up between the Pats and Tim Tebow's Denver Broncos looming, it would take something drastic for me to become a Tebow fan or even warm up to the idea of people talking about him around the clock.
Complete! Tim! Tebow! Coverage!
I'll admit I was impressed when the word Tebowing became recognized as an official part of the English language, but it still wasn't enough. None of the Tebowing instances I have seen to this point such as this one, this one, or this one have been able to overwhelm me. After taking a look at the pictures that Buzzfeed shared on Thursday, I'm officially intrigued. Check out these fantastic pictures of Playboy Playmates Tebowing and keep this fun question in mind: Is Tebowing to the left or Tebowing to the right hotter?
Also from Larry Brown Sports
Salem witches pray to help Patriots beat Tim Tebow, Broncos
Ochocinco sends Twitter follower to Patriots-Broncos playoff game
Read More:
http://larrybrownsports.com/everythin...
THE BACKYARD
RELATED ARTICLES
Tim Tebow has won games for the Denver Broncos, proving countless scouts and so-called experts wrong along the way. Once the Broncos' season ends, John Elway and the members of the Broncos front office have a heavy decision to make. Should they search for a more prototypical quarterback with a conventional throwing motion, or should they stick with Tebow, who went 7-4 in the...
If it weren't for the five weekdays that separate games, I could easily make the case that NFL playoff time is the very best time there. And even with the break, it's still pretty fantastic. The opening round of the playoffs reminded us of that reality, when even the blowouts were fun to watch. The Saints easily could have lost but ended up winning by 17, and the Giants trailed...
Pop culture nostalgists, take note: a 1985 Billboard chart-topper has gone back to the future, riding the Tebow wave. John Parr, the Grammy-nominated rocker behind "St. Elmo's Fire (Man in Motion)," has revamped his one-hit-wonder as a stirring ode to Denver Broncos QB Tim Tebow. The song, famously used as the theme for Joel Schumacher's eponymous Brat Pack dramedy...
If Tim Tebow is playing, chances are we'll hear from his old college buddy, Aaron Hernandez. That was the case yesterday. The Patriots playmaker discussed the Broncos QB, while also hitting on how much better he feels this year leading in to the playoffs than last year. Check out my video:
DENVER Could LeBron James get out of Denver without talking about Tim Tebow? Not a chance. James, the Miami Heat star forward in town for Friday night's game against the Nuggets, was asked about Tebow both after a Thursday workout and following a shootaround Friday. He sees some similarities between himself and the Denver Broncos quarterback, who has had success despite often...
1. Sign Tim Tebow Love him or hate him, Tim Tebow has become the face of, not just the franchise, but the entire league.  He is obviously not the prototypical quarterback, and will never be a John Elway, a Tom Brady, or a Peyton Manning.  It's just nice to see a player win with heart.  This city needs him. 2.  Cornerback.  If it were up to me, Champ Bailey would be on...
   Former NFL quarterback Trent Dilfer spoke at the Hood Hargett Breakfast Club in Charlotte Friday, and he was complimentary of Panthers quarterback Cam Newton, who he said would "change the game" in the NFL with his skills and work ethic.       He was not as kind in discussing Denver quarterback Tim Tebow, who has the Broncos in the divisional round of the AFC...
Tom Brady took on Tebowmania and brought the New England Patriots within a game of another Super Bowl appearance.Brady tied an NFL postseason record with six touchdown passes, including five in the first half, as the Patriots roughed up Tim Tebow and the Denver Broncos 45-10 on Saturday night."He's been ...
Tom Brady threw six touchdown passes, putting the Patriots into the AFC championship game after roughing up Tim Tebow and the Broncos 45-10.
40) The TE draw is a play we are going to see a lot more of in the near future, seeing how TEs now rule the earth39) It took 110 seconds for me to seriously regret that Denver to cover bet38) Wes Welker looked like he was auditioning for his own video game avatar after his first quarter touchdown catch37) Tim Tebow scrambled for 13 yards and made his first good play of a day a quarter...
Champs of the Game: Tom Brady - Who woulda thunk it? Terrific Tom taking apart the Denver Tebow's defense was almost a foregone conclusion, but no one thought he was gonna blow up like this. 26/34, 363 yards, 6 TD's, and a 137.6 passer rating. He breaks the yards record, passing record, and he punts...all before the 4th quarter! What can this guy not do? Sit on the bench...
There's no shortage of compelling storylines in the NFL this weekend. Unless you've been living under a rock with no access to ESPN, you're surely aware that Tim Tebow and Tom Brady are playing in New England. That would be enough to have everyone's hearts fluttering, but when you throw in former Broncos head coach Josh McDaniels, the man who brought Tebow to Denver...
RUMORS & GOSSIP
Brittney Griner's career as a Baylor Bear will go down as one of the greatest in the history of college sports. She dominated women's college basketball in a way that was previously unseen.Now, Griner has moved on to the WNBA with the Phoenix Mercury, but she hasn't forgotten about her time in college. In her new memoir entitled In My Skin, Griner reveals how she didn...
If the Los Angeles Lakers's team photo wasn't enough to convince you of Kobe Bryant's feelings towards the 2013-14 NBA season, news of his early vacation surely will. The Lakers tip off against the San Antonio Spurs Wednesday night for the final game of the regular season, the outcome of which is inconsequential, as their final record will officially become the worst record...
The New York Times published an article on Wednesday that blasts the lack of any real investigation done by Florida State and the Tallahassee Police Department into the rape allegations leveled at Seminoles quarterback Jameis Winston. The article states that "there was virtually no investigation at all, either by the police or the university." State Attorney Willie Meggs is quoted...
Over the years, Spurs coach Gregg Popovich has been equally as known for his in-game and post-game demeanor as his is for his coaching prowess. Craig Sager can attest. On Wednesday night, the Spurs hosted the Lakers in a meaningless […]
DeSean Jackson is a rich man after getting $16 million guaranteed from the Redskins, so I'm sure he'll take the sting of an arbitrators ruling in stride. Rand Getlin of Yahoo Sports is reporting that an NFLPA arbitrator ruled in favor of Jackson's former agent, Drew Rosenhaus, in a lawsuit brought against the wide receiver. Rosenhaus filed a grievance against the Jaccpot records...
So Tracy McGrady's baseball career is still a thing, as the former NBA All-Star pitched one inning in his debut with the Sugar Land Skeeters in an exhibition game Wednesday against Alvin Community College. In T-Mac's lone inning of work he threw 15 pitches (9 strikes, 6 balls), giving up one run on three hits. @blksportsonline Tmac got his first start tonight. Gave up 1 run on...
Nick Bhardwaj, the CEO and co-founder of Beyond Games, a gaming studio in California, won a creative fundraiser by Arkansas State University to be the team's head coach for their Spring Game. Bhardwaj, who has no affiliation to ASU, won the Red Wolves' eBay auctioned "Head Coach Experience" over 15 other potential coaches with a bid of $11,700. The auction, which was...
Granted it's only two days in, but former NFL receiver Chad Johnson has been impressing the Montreal Alouettes during the team's mini-camp in Vero Beach, Florida. Montreal (CFL) brass has been quite impressed with @ochocinco in the first 2 days of their minicamp. He's back on the field w/them Thur… — Jason La Canfora (@JasonLaCanfora) April 17, 2014 "He seems really...
Stop if you've heard this before: Tennessee is looking for a high-profile coach. Since 2008, the Volunteers have needed to hire seven football...
The NHL playoffs can bring players that are on the fringe of stardom right to center stage. Here are some names to watch up for as the league prepares to drop the puck on its season season. Ryan Johansen, Columbus The leading scorer for the Blue Jackets has had a breakout season and he could really make a name for himself in the playoffs.  Going up against the Penguins won't...
Latest Rumors
The Backyard

Today's Best Stuff

For Bloggers

Join the Yardbarker Network for more promotion, traffic, and money.

Company Info

Help

What is Yardbarker?

Yardbarker is the largest network of sports blogs and pro athlete blogs on the web. This site is the hub of the Yardbarker Network, where our editors and algorithms curate the best sports content from our network and beyond.