Found January 19, 2012 on Larry Brown Sports:
Via Larry Brown Sports: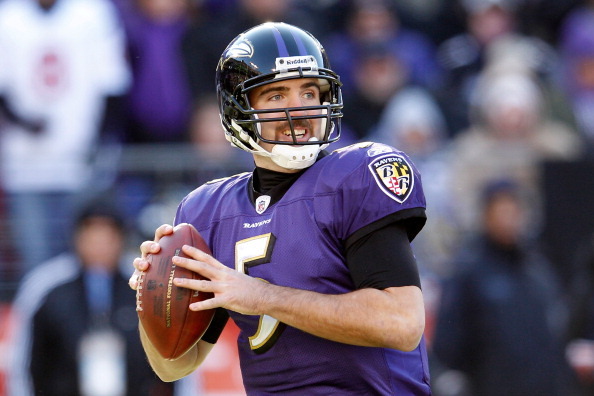 For those of you who were not aware, Joe Flacco is under the microscope. Every player who is about to play in a conference championship game is watched closely, but Flacco is a unique case. Many believe the Ravens continue to win despite him, so they are waiting for Joe to screw up so they can talk about him not being an elite NFL quarterback. Then there are Flacco's neighbors, who are just concerned for his safety heading into the big weekend.
"I'd never been on a skateboard in my life, so I was literally riding it about 10 feet down my driveway just to see if I could stand on it and stay upright," Flacco explained Wednesday on NFL Total Access. "One of my neighbors must have called in looking for (Ravens general manager) Ozzie Newsome and left a voicemail on his secretary's phone saying, 'Hey, man, you got to let Joe Flacco know we're trying to win the Super Bowl around here! He's at home riding a skateboard. Somebody's got to let him know what the deal is.'"
I'll admit I probably fall under the category of insanely hardcore fan who should mind his own business, but this would bother me too. Flacco is an adult who can make his own decisions, but the fact that he had never been on a skateboard before doesn't exactly help his case. That has broken wrist written all over it.
No matter what he does, it seems like Flacco has to hear it from everyone. He has heard it from the media all season long and even had to deal with some criticism from a veteran teammate earlier this week. If Flacco can limit turnovers and help the Ravens win a Super Bowl, he could very well prove he is one of the most mentally tough players in the league.
H/T to @Andrew Siciliano
Also from Larry Brown Sports:
Terrell Owens Officially Joining Allen Wranglers of Indoor Football League
Dez Bryant Reportedly Involved in Fight with Lil' Wayne's Entourage
Terrell Suggs Says His Beef with Tom Brady Is Over
Read More:
http://larrybrownsports.com/football/...
THE BACKYARD
RELATED ARTICLES
Baltimore Ravens quarterback Joe Flacco improved his postseason record to 5-3 after the team was able to pull out a 20-13 victory over the Houston Texans last Sunday, but he's still looking for a break out performance in the playoffs. The fourth-year veteran didn't get any help from his offensive line as he was sacked [...]
Joe Flacco, the fourth-year quarterback of the Baltimore Ravens, has a habit of winning. He's won 44 games in his first four seasons. For those of us that are mathematically challenged (I am), that's 11 wins a season on average. Tough to beat, huh?Even with all those wins, there are still questions about Flacco.One thing in particular that got attention was from Ed Reed. Reed...
For all of his talent as a passer, and his very good regular season and post season records during his first four years in the NFL, Joe Flacco is not generally considered to be among the upper tier of quarterbacks in the NFL. As good as his won/loss numbers may look, Flacco's stats suggest to many that the Ravens win in spite of him more than they win because of him, with defense...
If Baltimore Ravens quarterback Joe Flacco didn't have a Rodney Dangerfield complex before, he's likely to have...
Ed Reed spoke to the media on a national conference call on Thursday. This in itself is not a big deal, except that Reed all week has been the subject of a firestorm regarding some comments he made about his quarterback on Tuesday. Two days later, some guys would have hidden, or declined to answer questions about the flap. Not Reed. Three days before he and the Baltimore Ravens...
Flacco has been sacked 14 times in last four gamesIf Joe Flacco's teammates really want to help the Ravens quarterback in Sunday's AFC championship game against the New England Patriots, one area they could look to improve is keeping a more stable pocket for him.
Nose tackle admires Ravens quarterback's toughness, resilienceJudging by free safety Ed Reed's comments to SiriusXM satellite radio on Monday, Joe Flacco may have yet to win over some of his teammates. But that's not the case with Vince Wilfork.
Ravens safety Ed Reed says Joe Flacco will have to be better if the Ravens are to beat the New England Patriots on Sunday and earn Baltimore's first Super Bowl berth since 2000.
Ed Reed has plenty of respect in the Ravens' locker room, and perhaps that's why he decided it was OK for him to call for better play from quarterback Joe Flacco and the offensive line with the Patriots on tap.
This week, we're going to do in-depth scouting reports on the two conference title games. First up: Pats/Ravens. The Teams: The Baltimore Ravens vs. the New England Patriots Records: 13-4 (Ravens), 14-3 (Pats) The Line: Patriots by 7.5. The Ravens were favored by the exact same line last week. Peter King finds this WEIRD and INTERESTING. The Coaches: Bill Belichick...
We've reached the AFC and NFC Championship round, which leaves four starting quarterbacks left playing. Each guy is distinctly different, and each guy has a plethora of YouTube Tribute Videos. So today my friends, we are going to be picking one of the many Tribute videos (preferably the most recent) for each quarterback and voting on whose is the best. For those of you in disbelief...
Ravens News

Delivered to your inbox

You'll also receive Yardbarker's daily Top 10, featuring the best sports stories from around the web. Customize your newsletter to get articles on your favorite sports and teams. And the best part? It's free!
RUMORS & GOSSIP
Minnesota Governor Mark Dayton took a strong stances against the Minnesota Vikings and embattled running back Adrian Peterson on Tuesday. According to a local NBC affiliate in Minneapolis, Dayton indicated that Peterson should be suspended and called his actions a "public embarrassment." Here is the full text from Dayton's comments.  It is an awful situation. Yes, Mr. Peterson...
A waitress at the Hard Rock Hotel in Las Vegas complains that boxer Floyd Mayweather Jr. and his entourage stiffed her for a tip after partying their on Sunday, the day after Floyd's fight at the MGM. According to TMZ, te waitress, Nik Nguyen, says Mayweather and about 150 people in his party — including […]
The Pittsburgh Steelers allowed the Cleveland Browns to gain 183 yards on the ground in Week 1 and the Baltimore Ravens to gain 157 yards in Week 2. Defensive end Brett Keisel says a change needs to "happen now. " "It's going to take some time unfortunately, but we don't have time," said Keisel, via Steelers.com. "We don't have time for this to be a natural progression...
Detroit Lions running back Reggie Bush made the media rounds on Tuesday. In hindsight, that may have been a bad idea. The former USC star did a handful of interviews as part of a sponsor campaign with Taco Bell. However, it was one interview with WFAN that will have sports fans and media talking about anything but the Taco Bell program. Bush appeared on WFAN's "Boomer and Carton"...
Free agent Greg Oden NBA career has not been what we all thought it would be when he was drafted #1 back in 2007. Oden has been dealing with injuries since he came into the league, but now he may have a more serious problem. Back in August, Oden was arrested for felony battery charges after he allegedly punched his ex-girlfriend in the face. Oden admitted that he had been drinking...
Six days after jolting the Giants, the Lions were overpowered by the Panthers, losing 24-7 in Sunday's sloppy, mistake-filled contest. Nobody, it seems, is taking the defeat harder than Lions running back -- and Detroit native -- Joique Bell. "I let my city down," Bell said, per MLive.com. "Coming from a place I have a lot of pride for, I know a lot of people...
After giving up a career high four runs while blowing a save on Sunday, Jonathan Papelbon appeared to grab his crotch in response to fans booing him. Umpire Joe West thought the gesture was worthy of an ejection, and now we have learned that MLB thinks it was worthy of a seven game suspension. He will begin serving the suspension tonight, and will not appeal. Video of the crotch...
Minnesota Vikings running back Adrian Peterson, who was deactivated for the team's Week 2 game after an arrest early Saturday morning on child abuse charges, released a statement about the situation. In the statement, Peterson claims that he is not a child abuser and that his goal is always to teach his son right from wrong. ESPN's Adam Schefter posted the entire statement,...
Things have hit rock bottom in the Bronx.  In what should be a celebratory month of Derek Jeter's career (and potential final postseason appearance), the New York Yankees are just about out of options to make the playoffs.  One last option was exercised today.  Bench Derek Jeter.  Not demote him out of the number two spot.  Not give him a day of rest.  Benched.  The American...
After accepting a 25-game suspension for testing positive for Adderall, Chris Davis will be away from the Baltimore Orioles for the immediate future. That doesn't necessarily mean Davis will be out of the news, however. On Monday, the Orioles first baseman found himself in a situation that required assistance, and he provided just that. Terrible […]
Latest Rumors
Best of Yardbarker

Today's Best Stuff

For Bloggers

Join the Yardbarker Network for more promotion, traffic, and money.

Company Info

Help

What is Yardbarker?

Yardbarker is the largest network of sports blogs and pro athlete blogs on the web. This site is the hub of the Yardbarker Network, where our editors and algorithms curate the best sports content from our network and beyond.