Found January 19, 2012 on Larry Brown Sports:
Via Larry Brown Sports: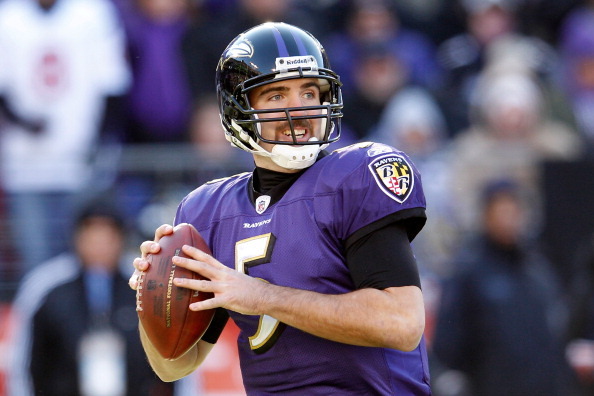 For those of you who were not aware, Joe Flacco is under the microscope. Every player who is about to play in a conference championship game is watched closely, but Flacco is a unique case. Many believe the Ravens continue to win despite him, so they are waiting for Joe to screw up so they can talk about him not being an elite NFL quarterback. Then there are Flacco's neighbors, who are just concerned for his safety heading into the big weekend.
"I'd never been on a skateboard in my life, so I was literally riding it about 10 feet down my driveway just to see if I could stand on it and stay upright," Flacco explained Wednesday on NFL Total Access. "One of my neighbors must have called in looking for (Ravens general manager) Ozzie Newsome and left a voicemail on his secretary's phone saying, 'Hey, man, you got to let Joe Flacco know we're trying to win the Super Bowl around here! He's at home riding a skateboard. Somebody's got to let him know what the deal is.'"
I'll admit I probably fall under the category of insanely hardcore fan who should mind his own business, but this would bother me too. Flacco is an adult who can make his own decisions, but the fact that he had never been on a skateboard before doesn't exactly help his case. That has broken wrist written all over it.
No matter what he does, it seems like Flacco has to hear it from everyone. He has heard it from the media all season long and even had to deal with some criticism from a veteran teammate earlier this week. If Flacco can limit turnovers and help the Ravens win a Super Bowl, he could very well prove he is one of the most mentally tough players in the league.
H/T to @Andrew Siciliano
Also from Larry Brown Sports:
Terrell Owens Officially Joining Allen Wranglers of Indoor Football League
Dez Bryant Reportedly Involved in Fight with Lil' Wayne's Entourage
Terrell Suggs Says His Beef with Tom Brady Is Over
Read More:
http://larrybrownsports.com/football/...
THE BACKYARD
RELATED ARTICLES
Baltimore Ravens quarterback Joe Flacco improved his postseason record to 5-3 after the team was able to pull out a 20-13 victory over the Houston Texans last Sunday, but he's still looking for a break out performance in the playoffs. The fourth-year veteran didn't get any help from his offensive line as he was sacked [...]
Joe Flacco, the fourth-year quarterback of the Baltimore Ravens, has a habit of winning. He's won 44 games in his first four seasons. For those of us that are mathematically challenged (I am), that's 11 wins a season on average. Tough to beat, huh?Even with all those wins, there are still questions about Flacco.One thing in particular that got attention was from Ed Reed. Reed...
For all of his talent as a passer, and his very good regular season and post season records during his first four years in the NFL, Joe Flacco is not generally considered to be among the upper tier of quarterbacks in the NFL. As good as his won/loss numbers may look, Flacco's stats suggest to many that the Ravens win in spite of him more than they win because of him, with defense...
If Baltimore Ravens quarterback Joe Flacco didn't have a Rodney Dangerfield complex before, he's likely to have...
Ed Reed spoke to the media on a national conference call on Thursday. This in itself is not a big deal, except that Reed all week has been the subject of a firestorm regarding some comments he made about his quarterback on Tuesday. Two days later, some guys would have hidden, or declined to answer questions about the flap. Not Reed. Three days before he and the Baltimore Ravens...
Flacco has been sacked 14 times in last four gamesIf Joe Flacco's teammates really want to help the Ravens quarterback in Sunday's AFC championship game against the New England Patriots, one area they could look to improve is keeping a more stable pocket for him.
Nose tackle admires Ravens quarterback's toughness, resilienceJudging by free safety Ed Reed's comments to SiriusXM satellite radio on Monday, Joe Flacco may have yet to win over some of his teammates. But that's not the case with Vince Wilfork.
Ravens safety Ed Reed says Joe Flacco will have to be better if the Ravens are to beat the New England Patriots on Sunday and earn Baltimore's first Super Bowl berth since 2000.
Ed Reed has plenty of respect in the Ravens' locker room, and perhaps that's why he decided it was OK for him to call for better play from quarterback Joe Flacco and the offensive line with the Patriots on tap.
This week, we're going to do in-depth scouting reports on the two conference title games. First up: Pats/Ravens. The Teams: The Baltimore Ravens vs. the New England Patriots Records: 13-4 (Ravens), 14-3 (Pats) The Line: Patriots by 7.5. The Ravens were favored by the exact same line last week. Peter King finds this WEIRD and INTERESTING. The Coaches: Bill Belichick...
We've reached the AFC and NFC Championship round, which leaves four starting quarterbacks left playing. Each guy is distinctly different, and each guy has a plethora of YouTube Tribute Videos. So today my friends, we are going to be picking one of the many Tribute videos (preferably the most recent) for each quarterback and voting on whose is the best. For those of you in disbelief...
Ravens News

Delivered to your inbox

You'll also receive Yardbarker's daily Top 10, featuring the best sports stories from around the web. Customize your newsletter to get articles on your favorite sports and teams. And the best part? It's free!
RUMORS & GOSSIP
Up to this point in his NFL career, it's fair to say Trent Richardson has been a gigantic bust. On Wednesday Indianapolis Colts general manager Ryan Grigson all but admitted as much, calling out his 23-year-old running back and demanding he be "accountable" and "answer the bell." If he doesn't, there's a chance Richardson doesn't see playing time this season. Last...
Last week, some teenagers broke into Ray Allen's Coral Gables, Florida home in order to have a peak around the house. And if it weren't for the mother of a friend of the intruders, they wouldn't have been caught by the police. The curious teenagers were turned in by the mom who stated that "[My] daughter's friends did something stupid." Luckily for the teens, who were...
Though many yearned for Kyrie Irving to lead an otherwise fledgling franchise through a time of disarray, the two-time NBA All-Star admits that he was anything but. "Everybody asks me if this is my year to be a leader … I haven't been so far though, not at all," Irving said in an interview with Real GM. "I've just been a kid trying to figure it out. There's no perfect...
Pittsburgh Steelers running backs Le'Veon Bell and LeGarrette Blount were arrested Wednesday afternoon following a traffic stop, reports the Associated Press. Bell, Blount and a female passenger were arrested for marijuana possession. According to the Associated Press, traffic officer Sean Stafiej pulled over a Camaro driven by Bell around 1:30 p.m. after officer Stafiej, who...
A volcano is threatening the Penn State-UCF season opener in Ireland.
The consensus since the Boston Red Sox traded Jon Lester to the Oakland Athletics at the trade deadline has been that Lester, a free agent at season's end, very well may end up back in Boston next season. But, according to Jon Heyman of CBS Sports, Lester returning to Boston this upcoming winter is viewed as a long shot. Back in Spring Training, the Red Sox offered Lester a four...
TweetThe free agency stand off between restricted free agent guard Eric Bledsoe and the Phoenix Suns may be nearing an end soon. According to a report from Fox Sports 910 host Jude LaCava, the Suns are very much open to the idea of trading Bledsoe: "I'll tell you this, and I think this is the first time it's reported," Jude LaCava said on Tuesday. "I do believe in my NBA...
We all needed some good news right about now. Hall of Fame quarterback Jim Kelly, who has been battling cancer for some time now, appears to be cancer-free right now. According to Kelly's doctor, a recent physical examination showed "no evidence of the cancer."  Jim Kelly's doctor releases statement that says "on physical examination, there is no evidence of the cancer...
TweetDerrick Rose has shown flashes of his old self in two exhibition games for Team USA this summer, but according to reports the Chicago Bulls PG has been absent from the practice floor lately due to soreness in his surgically repaired knees. A source familiar with Rose's condition told ESPNChicago.com's Nick Friedell that Rose has been bothered by knee soreness since his return...
In some incredibly sad news, Kent State's football program announced on Wednesday that starting center Jason Bitsko passed away unexpectedly on Wednesday morning at the age of 21.  Kent State starting center Jason Bitsko was found dead this morning. He was 21. — Zac Jackson (@FSOhioZJackson) August 20, 2014 The university did not provide many more details and the cause of...
Latest Rumors
The Backyard

Today's Best Stuff

For Bloggers

Join the Yardbarker Network for more promotion, traffic, and money.

Company Info

Help

What is Yardbarker?

Yardbarker is the largest network of sports blogs and pro athlete blogs on the web. This site is the hub of the Yardbarker Network, where our editors and algorithms curate the best sports content from our network and beyond.