Found February 03, 2013 on NESN.com:
Via NESN: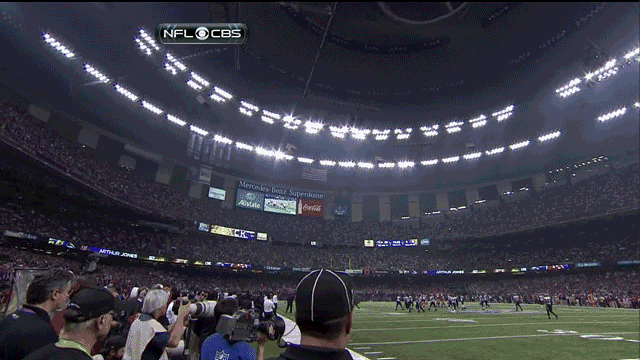 Minutes after Jacoby Jones' 108-yard kickoff return put Baltimore up 28-6 to begin the second half of the Super Bowl, the lights went out on the 49ers.
No, really.
The Mercedes-Benz Superdome lost power with 13:28 remaining in the third quarter, knocking out most of the stadium lights as well as the audio feed from CBS commentators Jim Nantz and Phil Simms.
A portion of lights came back on momentarily after the outage — which CBS analyst Jim Brown said was caused by a power surge — but a majority remained dark until the arena's power system could fully reboot, a process that was expected to take nearly half an hour.
Players stretched their muscles and tried to remain loose on the field and, despite claims on the Twittersphere, Bane has not been witnessed at the Superdome.
(image via Deadspin).
Original Story:
http://nesn.com/2013/02/superdome-los...
THE BACKYARD
RELATED ARTICLES
For those of us who are not huge Phil Simms fans, the power outage at the Super Bowl served as a small blessing. For the players, the power outage could be a serious problem. Tightening muscles, pulled hamstrings, you name it. The San Francisco 49ers have to hope that this stops the bleeding and keeps the Ravens off balance.
A power outage at the Louisiana Superdome delayed the Super Bowl for over half an hour in one of the most surreal scenes in sports.  Power was out in the CBS booth with Jim Nantz and Phil Simms and the network had to lean on sideline reporters Steve Tasker and Solomon Wilcots for updates.  On the radio side, Dial Global tweeted this picture of play by play man Kevin Harlan having...
Super Bowl XLVII was far from the broadcast equivalent for Phil Simms of going 22/25 in Super Bowl XXI.  CBS's top NFL analyst was caught contradicting himself repeatedly throughout the game and missed out on late game strategy.  While not quite reaching Chris Berman levels, the Twitterati was left unimpressed.  One of those newfound announcing critics was the NBA's best...
Good, bad, and ugly posts tend to naturally force writers to give the negative more coverage than the positive. Had NBC broadcast Super Bowl XLVII, that might have made things tough on me. But with CBS in charge and a 34-minute power outage in the mix, it was easy to find enough problems to fill the "bad" and "ugly" columns. This was not a smooth broadcast, but...
RUMORS & GOSSIP
Jesse D. Garrabrant/NBAE/Getty ImagesDavid West and the Pacers didn't believe LeBron was hurt The Indiana Pacers and Miami Heat went at it again for the second time in eight days Wednesday night. The Heat overcame a 15-point deficit to take the win for a final of 97-94. Chris Bosh and Ray Allen hit two huge three pointers down the stretch of a game that the Pacers controlled throughout...
Washington Wizards' rookie guard Glen Rice Jr. is the latest athlete to get taken out by a vicious celebration. Please click here to read this story. The post Washington Wizards' Glen Rice injures his wrist during celebration appeared first on Players View.
Pau Gasol has been at the center of consistent trade chatter for three years. It's gotten to the point that no one even takes the rumors that seriously anymore when the Lakers allegedly leak the information. Heading into this season, all seemed to be well with Gasol's status. That all changed when Gasol spoke up about his dissatisfaction with how he was being utilized in coach...
While some loyal A's supporters are still fanning themselves after being swooned by the latest renderings of the super awesome proposed waterfront baseball palace, a new report brings more exciting news that's sure to get the attention of the beleaguered fan base. The East Bay Express has sources saying that Warriors owners Joe Lacob (pictured above, mid-"oh" face) and Peter...
If there's one team that doesn't need any kind of curse, no matter how offbeat and silly, it's the New York Mets. According to multiple reports, the Mets have something called the "Santa Curse" that afflicts any player on the team who dons St. Nick's outfit for the team's annual children's Christmas Party. According […]The post Of course the New York Mets have something...
It's hard to believe that Juan Gonzalez, who made over $87 million in his 15-year career, is hard up for money.  But from the evidence from on the auction site lelands.com, it appears he might be. Gonzalez's 1996 American League Most Valuable Player Award is up for auction with a current bid of $11,000.  Several other Juan Gone awards, including two Silver Slugger Awards and...
Fear not, fans of the Patriots-Ravens rivalry, Joe Flacco will suit up on Sunday. The Baltimore quarterback had an MRI on his left knee that revealed a mild MCL sprain, according to Adam Schefter of ESPN.com. Flacco will play on Sunday against New England with a knee brace. Flacco was hit low by Lions linebacker DeAndre Levy on Monday night but stayed in the game for Baltimore...
Maybe New York Yankees Brian Cashman is a bit surly after losing Robinson Cano to the Seattle Mariners or perhaps he's really busy with last-minute Christmas shopping. Whatever the reason, Cashman had no time for a question from ESPN New York's Wallace Matthews regarding the status of officially signing Carlos Beltran. It now has been […]The post Brian Cashman to ESPN reporter...
Central Florida quarterback Blake Bortles is currently the fastest-rising prospect in the 2014 NFL Draft, but just how high could the relatively unknown signal-caller rise? Well, according to ESPN's Todd McShay, right now he could go as high as No. 3 in the 2014 NFL Draft and be the second quarterback taken. At 6-foot-4 and 228 pounds, Bortles has great size, a strong arm and is...
Google has released their lists of the most-searched athletes and teams of 2013, and each sport's top ten has more than its share of controversial names. The top ten athletes overall are Aaron Hernandez, Adrian Peterson, Kevin Ware, Jason Collins, Oscar Pistorius, Lamar Odom, Richie Incognito, Ray Lewis, Colin Kaepernick, and Lindsay Vonn. Of those ten, two (Hernandez and Pistorius...
Latest Rumors
The Backyard
Going Viral

Today's Best Stuff

For Bloggers

Join the Yardbarker Network for more promotion, traffic, and money.

Company Info

Help

What is Yardbarker?

Yardbarker is the largest network of sports blogs and pro athlete blogs on the web. This site is the hub of the Yardbarker Network, where our editors and algorithms curate the best sports content from our network and beyond.