Found February 03, 2013 on NESN.com:
Via NESN: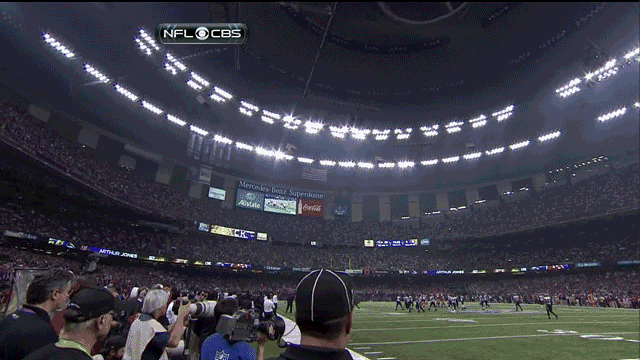 Minutes after Jacoby Jones' 108-yard kickoff return put Baltimore up 28-6 to begin the second half of the Super Bowl, the lights went out on the 49ers.
No, really.
The Mercedes-Benz Superdome lost power with 13:28 remaining in the third quarter, knocking out most of the stadium lights as well as the audio feed from CBS commentators Jim Nantz and Phil Simms.
A portion of lights came back on momentarily after the outage — which CBS analyst Jim Brown said was caused by a power surge — but a majority remained dark until the arena's power system could fully reboot, a process that was expected to take nearly half an hour.
Players stretched their muscles and tried to remain loose on the field and, despite claims on the Twittersphere, Bane has not been witnessed at the Superdome.
(image via Deadspin).
Read More:
http://nesn.com/2013/02/superdome-los...
THE BACKYARD
RELATED ARTICLES
For those of us who are not huge Phil Simms fans, the power outage at the Super Bowl served as a small blessing. For the players, the power outage could be a serious problem. Tightening muscles, pulled hamstrings, you name it. The San Francisco 49ers have to hope that this stops the bleeding and keeps the Ravens off balance.
A power outage at the Louisiana Superdome delayed the Super Bowl for over half an hour in one of the most surreal scenes in sports.  Power was out in the CBS booth with Jim Nantz and Phil Simms and the network had to lean on sideline reporters Steve Tasker and Solomon Wilcots for updates.  On the radio side, Dial Global tweeted this picture of play by play man Kevin Harlan having...
Super Bowl XLVII was far from the broadcast equivalent for Phil Simms of going 22/25 in Super Bowl XXI.  CBS's top NFL analyst was caught contradicting himself repeatedly throughout the game and missed out on late game strategy.  While not quite reaching Chris Berman levels, the Twitterati was left unimpressed.  One of those newfound announcing critics was the NBA's best...
Good, bad, and ugly posts tend to naturally force writers to give the negative more coverage than the positive. Had NBC broadcast Super Bowl XLVII, that might have made things tough on me. But with CBS in charge and a 34-minute power outage in the mix, it was easy to find enough problems to fill the "bad" and "ugly" columns. This was not a smooth broadcast, but...
RUMORS & GOSSIP
Things just keep getting worse for Darren Sharper. The former Saints, Vikings, and Packers safety and NFL Network is already in jail for multiple rape allegations, and now the truth is starting to come out. According to a report obtained by USA Today, Sharper told witnesses that he and a friend had sex with two […]
Manny Ramirez has not played in the major leagues since having two performance-enhancing drug-related suspensions in 2011 when he was a member of the Tampa Bay Rays, but he insists that he is not retired. "My qualities are still there, and I just need an opportunity to continue showing that the 'Super Manny' can help a team," Ramirez said Thursday on "Grandes en los Deportes"...
The Miami Marlins are one of those bad teams that kind of relies on marketing their opponents as a sales pitch to fans wherever possible. Thursday's Grapefruit League spring training game against the Boston Red Sox was one of those opportunities. Unfortunately, the Red Sox burned them, and now they're reportedly upset. The Marlins designated […]
It's a few summers away, but might we be looking at another work stoppage in the NBA three summers from now. According to Sean Deveney of The Sporting News, league executives and player agents are expecting another work stoppage as soon as the summer of 2017, when either party can opt out of the current Collective Bargaining Agreement. Ideally, whether labor or management,...
CrossFit is facing a $2.5 million lawsuit after a transgender woman claims the fitness company refused to allow her to compete in the women's division at the upcoming CrossFit Games. Why? Well, because she was technically born a man.In 2006, Chloie Johnson underwent sex reassignment surgery to become legally recognized as a woman by the State of California. But she was denied...
After a decade with the Denver Broncos, Champ Bailey won't be wearing orange and blue in 2014. "This was a difficult decision for our team with everything that Champ Bailey has meant to the Denver Broncos and this community over the last 10 years," Executive Vice President of Football Operations/General Manager John Elway said. "Without question, he's among the best cornerbacks...
Dwight Howard returned to his old stomping grounds — that he departed while implementing a metaphorical scorched-earth strategy — on Wednesday night as his Houston Rockets paid visit to Florida to face the Orlando Magic. As part of the Magic's 25th anniversary celebration — and something the team has done for previous returning players as […]The post Magic fans boo Dwight...
The Browns are pulling out the big guns (read: Big Tuna) in their search for a franchise quarterback. Hall of Fame coach Bill Parcells told NFL.com's Gil Brandt that he met with Browns owner Jimmy Haslam as a "courtesy consultant" for the team. https://twitter.com/Gil_Brandt/status/441634181328564224 More interestingly, Parcells had a face-to-face with Louisville...
Johnny Manziel basically warned the Houston Texans not to pass on him with the No. 1 overall pick in the 2014 NFL Draft, claiming that would be the "worst decision they've ever made." But more and more evidence suggests the Texas A&M star simply isn't a fit for the Texans and he'll likely wind up elsewhere on draft day. On Thursday Scouts Inc.'s Todd McShay confirmed...
Frank Martin is incredibly intense, and that got him in some hot water after he lashed out on South Carolina guard Duane Notice during this week's loss to Florida. Early in a Florida run that led to a 30-point Gator win, Martin dropped a few choice expletives while yelling at Notice. His rant was caught on camera, and quickly made the rounds on Twitter. South Carolina brass don't...
Latest Rumors
The Backyard

Today's Best Stuff

For Bloggers

Join the Yardbarker Network for more promotion, traffic, and money.

Company Info

Help

What is Yardbarker?

Yardbarker is the largest network of sports blogs and pro athlete blogs on the web. This site is the hub of the Yardbarker Network, where our editors and algorithms curate the best sports content from our network and beyond.