Found April 03, 2013 on Turn On The Jets:
The New York Jets currently have the 9th pick in the first round of the NFL Draft. There is speculation swirling that they could also end up with the 13th pick via a trade of Darrelle Revis, yet for now let's just focus on their definite, singular first round pick. Here are 9 names that make sense for the Jets either with their 9th pick or via a trade down with the 9th pick as the centerpiece. Barkevious Mingo – DE/OLB – LSU -  Arguably the pass rusher and outside linebacker who best matches up with the Jets need and their draft position. Mingo would provide good value at #9 and fill a glaring hole on the Jets defense. A closer look at Mingo's tape shows his game is much more well-rounded than many initially assume. Despite a drop in sack production last year, he showed an ability to set the edge in the running game and be a key movable chess piece in the LSU defense. Mingo has a high ceiling and is the type of player who can develop into a needed game changer off the edge for the Jets defense. Dion Jordan – DE/OLB – Oregon - Most assume Jordan will be gone by the Jets 9th pick but considering how wide open the first round is going to be, who knows who will actually slide down further than expected? Jordan is an unbelievable athlete and would provide a huge shot of speed off the edge to a Jets defense desperately in need of it. While his game needs some fine-tuning for a full time transition to NFL outside linebacker, he'd be excellent value for the Jets with the 9th pick and provide them with a freakish athlete at linebacker…something they have been lacking for years. Ziggy Ansah – DE/OLB – BYU -  An immensely athletic, versatile player who could be a factor for the Jets at both linebacker and defensive end. Ansah is a little raw and some would consider him a reach at #9 but considering how the board breaks in front of them, he could be a worthwhile risk. Ansah would likely be better suited to begin as a situational player on the Jets defense rather than a full-time starter. Jarvis Jones – OLB – Georgia - There was some hesitation to put Jones on this list considering how he is sliding down most Draft Boards and his questionable fit in a 3-4 but considering his production in college and the potential for him to be targeted if the Jets trade down, he is included. Jones has questions about his health and could have a relatively low ceiling as a 3-4 OLB in the Jets scheme but also has a lower bust potential than the above prospects. Chance Warmack – OG – Alabama - This wouldn't be a sexy or popular pick but depending on how the board breaks, it could be the smartest one. Warmack is one of the safest picks in the upcoming Draft, could step in immediately as a starter at Guard, end any of notion of Vlad Ducasse starting games next year (AMEN) and help take some of the burden off Nick Mangold by putting a potentially elite player next to him in coming years. He is the complete package at OG and would be strong, safe value at #9. Jonathan Cooper – OG – UNC - Everything said above about Warmack applies here except Cooper is a very small cut below him overall as a prospect. If Warmack goes in the top 8 and the Jets want to address their offensive line in the first round Cooper could be an option. Tavon Austin – WR – West Virginia - There are few sure things in this year's Draft, one of them is that Tavon Austin is going to be a playmaker at the next level. Despite concerns about his size, Austin has elite speed, quickness and big play ability. He is the type of player who can contribute in a number of ways on offense and special teams. It is doubtful the Jets would take him at #9 despite him being a top ten talent but if they do trade down into the mid-teens, he would be an absolute steal at that spot. The Jets need "wow" guys on offense and Austin has that potential. Giovanni Bernard – RB – UNC - Bernard would be a target if the Jets trade down into the low 20s. The Jets desperately need an infusion of speed and playmaking on offense, Bernard could provide that at the running back position and potentially form a home run hitting duo with Mike Goodson. While the Goodson signing was nice, his injury history means the Jets would be foolish to expect 16 games out of him as a lead back. Bernard would be good value anywhere from 20-40 on Draft Day. EJ Manuel/Geno Smith – QB – Florida State/West Virginia - The Jets would be foolish to even think about taking either of these guys (the top 2 QBs in this year's class) at #9 but if they trade back, either would make much more sense in the bottom half of round one. Taking a QB in round one would be an easier risk to stomach this year if it is coupled with another first round pick or if the Jets acquire more picks by moving back from #9. Smith and Manuel are second round prospects who will be overdrafted because of a weak QB class, if the Jets can limit that overdrafting by moving back 12-16 spots in round one, it will be easier to justify.
Original Story:
http://turnonthejets.com/2013/04/new-...
THE BACKYARD
BEST OF MAXIM
RELATED ARTICLES
Tim Tebow declined to speak at First Baptist Church of Dallas this month but that doesn't mean the popular NFL quarterback isn't still making a Dallas trip in the upcoming weeks. Tebow is scheduled to speak at an Involved for Life event on April 26 at the Dallas Omni Hotel. The New York Jets quarterback and former Heisman Trophy winner will then speak at a Trinity Christian...
The NFL takes it's anti-tampering policy very serious. So serious that Greg Schiano fears to mention Darrelle Revis by his name to make sure he doesn't get a letter from the league. Unfortunately, the Bucs may have violated the policy anyhow.  CBS Sports' Jason La Canfora was on 98.7 The Fan with Justin "The Commish" Pawloski when La Canfora revealed something very interesting...
Former New York Jets general manager Mike Tannenbaum has decided to change careers and become a sports agent. Tannenbaum has been hired by Priority Sports to represent coaches and sports broadcasters, according to Forbes. Tannenbaum has been named President of the agency's brand new Coaches, Front Office & Broadcasters Division, and will oversee all contract negotiation and...
Former New York Jets general manager Mike Tannenbaum has been hired as president of Priority Sports & Entertainment to represent professional and college coaches in basketball and football. Tannenbaum, fired by the Jets in January after seven seasons as the team's GM, will oversee all contract negotiations and representation for coaches in the agency's newly formed coaches...
Awful headline aside, Mike Tannenbaum is switching careers.The New York Jets' former general manager, who was fired after the 2012 season and has been working for NFL Network since, recently joined the Chicago-based sports agency Priority Sports & Entertainment, where he will serve as President of the company's new Coaches, Front Office & Broadcasters Division.According...
There's no question at all that the New York Jets offense had an abysmal 2012 season. With no run support, and no leader at the helm, the Jets offense failed to do it's job, finishing 30th in the league. This causes fans to believe that utilizing the 9th overall pick on an offensive player is the way to go. It isn't. The 2013 Offensive Draft Class is weak. There...
The Jets are fighting to stay on top of their division while the Isles are clawing up the ladder in theirs. This is a must win game for two teams that may be a little weary from playing last night. Historically, home games are not very lucky for the Islanders, but perhaps their luck is changing. Jack Capuano seems to have found the right buttons to push to keep his team playing...
Name: Barkevious Mingo Nickname: "KeKe" From: The Zeppelin Republic of Mingovia Why anyone would call him anything other than "Barkevious" and/or Mingo: Uknown Parents Barbara Johnson and Hugh Mingo Siblings: Malik, LaDarian, Hugh and Hughtavious Make believe siblings: Houghard, Hughtana, Houghtah, Houghicane Age: 22 Height: 6'4″ Weight: 241 Position: Defensive end School...
NFL News

Delivered to your inbox

You'll also receive Yardbarker's daily Top 10, featuring the best sports stories from around the web. Customize your newsletter to get articles on your favorite sports and teams. And the best part? It's free!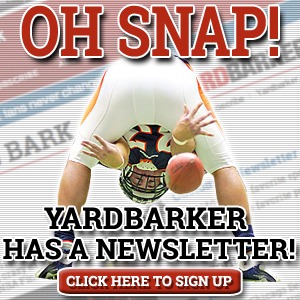 Latest Rumors
The Backyard

Today's Best Stuff

For Bloggers

Join the Yardbarker Network for more promotion, traffic, and money.

Company Info

Help

What is Yardbarker?

Yardbarker is the largest network of sports blogs and pro athlete blogs on the web. This site is the hub of the Yardbarker Network, where our editors and algorithms curate the best sports content from our network and beyond.