Found October 01, 2012 on thepigskinreport.com:
The Indianapolis Colts will hold a press conference later this afternoon naming Bruce Arians the interim head coach of the organization. The Indianapolis Star is reporting that current Colts head coach Chuck Pagano will likely miss several games with what is being described as a "serious illness". The paper reports that Pagano had been feeling fatigue in recent weeks and went in to have blood tests. The Colts have not revealed exactly what the illness is. ESPN's Chris Mortensen is reporting this morning on Mike and Mike that Pagano has a treatable form of Leukemia. Mortensen reports that Pagano is locked down in an Indianapolis hospital and has been in ICU since last Wednesday. He reports that he will be hospitalized for a minimum of six weeks but there is significant optimism for a complete recovery from the illness. Pagano, 52, is in his first year as a NFL head coach after being an assistant coach on various college and pro teams. He joined the Colts this offseason, coming over f...
Original Story:
http://www.thepigskinreport.com/2012/...
THE BACKYARD
BEST OF MAXIM
RELATED ARTICLES
After an emotional morning at the Colts complex with the news regarding Coach Pagano's illness, a few business matters were attended to in order to prepare for Sunday's game against Green Bay. The Colts have elevated center A.Q. Shipley from the practice squad by signing him back onto the active roster. In order to open a spot for Shipley, the Colts have waived outside linebacker...
Colts Authority Daily Links 10/01/12 The Indianapolis Star and Phil B Wilson have some more info on the specifics of Coach Chuck Pagano's diagnosis, now that the Colts' press conference is wrapping up: The Star first reported the illness and that Pagano would likely miss several games while being treated for acute promyelocytic leukemia. According to the American Cancer...
Indianapolis Colts head coach Chuck Pagano was diagnosed with leukemia, according to NFL Network's Albert Breer. ESPN's Chris Mortensen stated Pagano's case treatable. However, he is expected to be hospitalized for four to six weeks while dealing with the disease. Bob Kravitz of The Indianapolis Star offered an explanation of Pagano's diagnosis:  The illness is acute...
Chris Mortensen of ESPN is reporting that the serious illness Chuck Pagano has is a treatable form of leukemia: The sources said Pagano waited until the Colts' bye week last week to be checked out after experiencing extreme fatigue and bruising, starting in training camp. Pagano, as we've learned during his time so far in Indy, is a heck of a guy and a masterful motivator...
Phil B. Wilson of the Indianapolis Star spoke to his brother, Dr. Dave B. Wilson, about the prognosis of acute promyelocytic leukemia, the type that Chuck Pagano is now fighting: Dave B.'s initial take on APL is there's about a 90 percent recovery rate, which means remission and all the reason for the Colts to be optimistic their coach will one day return. Phil B. captures...
Colts Authority Daily Links 10/01/12 Gregg Rosenthal of NFL.com also reports on Chuck Pagano, who has a treatable form of leukemia and says the Colts will hold a press conference at 10:30. He says Pagano intends to be back: "Will be back REAL soon," Pagano wrote to Breer via email. The Breer he is referring to is, of course, Albert Breer of the NFL Network.   You...
((HT: SiriusXM)) The Indianapolis Colts had a press conference earlier this morning to disclose that head coach Chuck Pagano is fighting leukemia and will be away from coaching for the forseeable future... Offensive Coordinator Bruce Arians has been named the interim head coach and was the one speaking for Pagano at the presser. He is a cancer survivor himself. "These...
During todays press conference to announce that Colts head coach Chuck Pagano has been diagnosed with Leukemia, owner Jim Irsay indicated that he's likely done coaching for this season. "It is unlikely he will be all in as a head coach this season," said Irsay. Right now it makes the most sense to let Pagano take the rest of the season off to get healthy again.
Colts Authority Daily Links 10/01/12 Kevin Bowen of Colts.com has a brief but good write-up in which he talked to Drew Stanton, Antoine Bethea, and Robert Mathis about...Aaron Rodgers and the Packers: The best thing you can do is try and put pressure on him," Stanton said. "As we've seen in the past, if you put pressure on him, it's more difficult to try and do things...
Chuck Pagano I was waiting to write this until the Colts overcame some big obstacle, passed a milestone, or had a momentous victory.  But with Head Coach Chuck Pagano's cancer diagnosis, October first seemed a better day than any.  Especially since October is Breast Cancer Awareness month, a cause now fully embraced by the NFL.  Cancer is a disease that has touched everyone...
TROUBLING NEWS
Reports out of Indianapolis indicate that Colts head coach Chuck Pagano will miss several weeks while undergoing treatment for leukemia.
NFL News

Delivered to your inbox

You'll also receive Yardbarker's daily Top 10, featuring the best sports stories from around the web. Customize your newsletter to get articles on your favorite sports and teams. And the best part? It's free!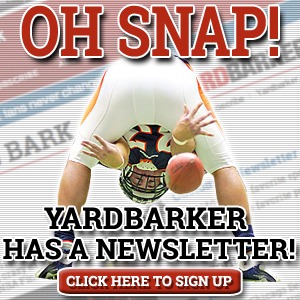 Latest Rumors
Best of Yardbarker

Today's Best Stuff

For Bloggers

Join the Yardbarker Network for more promotion, traffic, and money.

Company Info

Help

What is Yardbarker?

Yardbarker is the largest network of sports blogs and pro athlete blogs on the web. This site is the hub of the Yardbarker Network, where our editors and algorithms curate the best sports content from our network and beyond.