Found April 29, 2013 on Turn On The Jets:
PLAYERS:
Tim Tebow
,
Geno Smith
,
Mark Sanchez
,
Woody Johnson
,
Kyle Wilson
,
Sheldon Richardson
,
Kerry Rhodes
,
Dallas Clark
,
Jeff Cumberland
TEAMS:
New York Jets
,
Arizona Cardinals
,
Tampa Bay Buccaneers
TJ Rosenthal helps kicks off another week of New York Jets coverage at Turn On The Jets with his weekly No Huddle - Make sure to give TJ a follow on Twitter on Turn On The Jets a follow on Facebook. Geno, Tebow and Sanchez What a difference seven days makes. Darrelle who? Last Monday many were mourning the departure of Revis Island. Today Tim Tebow was released. News that will now overtake the Geno Smith draft headlines that trumped the Revis ones. Could Mark Sanchez news be next? John Idzik has no tattoo love for him, as a franchise quarterback. We wonder how long the Sanchise has got before he becomes the new "distraction" worth releasing or trading somehow. Geno Smith, the new prototype. He can run, throw, throw on the run. If he gets thrown into the fire we only hope that he is groomed early in his career better than Sanchez was upon his arrival. Geno hasn't suited up once yet, but is talking playoffs already. Hey, that excites us, but can that belief spread through the huddle? If it can, the Jets will have finally found a field general. Tebow: Wow, what a disaster. He arrived like the fifth Beatle, with his own unprecedented backup QB press conference to boot. Now he exits before the Simms kid does. We wonder what the miracle worker truly would have done to the energy of a team that had no weapons and was worn down by a moping Sanchez in week 16 and 17. Curiousity killed the cat though and there was no way that Woody Johnson would allow some late December starting mop up duty to create any more future havoc than there already was surrounding the Jets and Tebow. Where he ends up next, God only knows. No pun intended Foxboro probably. As a fullback. For some goal line carries that help to beat Gang Green in 2013. We are kidding people. Relax. Canada would be a great path for him. Two solid years to work on his game and rebranding as a player. He won't need the CFL to help erase the Tebowmania madness however. The Jets did that for him already. Sanchez: A different kind of disaster. He was groomed poorly, with handcuffs from the start. He wasn't surrounded with the right weapons at the time the Jets wanted him to elevate his play in 2011. Last season he was handed even less to work with. We all get it. You, me, and the beer vendors. What baffles us though, is how his inner confidence had by the end of last season deteriorated to the point where it seemed like he could barely complete even a two yard pass. How will he get himself back, in a place where he enjoys the game again, and can block out a fan base that appears ready to still boo him right out of the stadium? We can't tell you how high Mark Sanchez's ceiling could have been or still can be. We can say that the chance for him to repair his career does not seem best served in a Jet uniform anymore. Imagine him winning the job then throwing a pick early in week one to Revis the Buc. Met Life will call for caged lions to be brought out to midfield for the human sacrifice. Idzik is turning pages quickly away from Tanny's Circus. This means only one thing for Sanchez now. That he is no lock to survive training camp anymore. Guaranteed money or not. Draft 2013 We will be honest. We wanted Tavon Austin at 9. We felt that if anything, the Jets should have grabbed an OLB at 9 once Austin became a Ram. This to shift the strength of the defense to pressure, not pass coverage. That said, acquiring arguably the drafts top CB, DT, and yes even QB in the eyes of certain draft analysts, followed by Chris Ivory and more O line depth, makes us breathe easier. We are ready for, and will respect all of the reader comments about what should have been done by Idzik. After all Jets nation is as heady as any in the league. What this draft did existentially, was hopefully move the Jets further away from the 'clown car' tag. To a place where X's and O's were the top priority. If Milliner can cover better than Kyle Wilson can, and Sheldon Richardson helps makes the D line a young collective force, while Geno Smith the two pronged weapon takes over the signal calling, as Ivory contributes to a new more potent RB rotation, the Jets will be a vastly different team in only one year's time. The aforementioned scenario may be asking for a tad much off the bat, but it's a nice new daydream for diehards to have. Especially when considering where things were just seven days ago. Kerry Rhodes and Dallas Clark Picture Kerry Rhodes ball hawking as the Jets new defensive line chases down opposing QB's and Dallas Clark providing an upgrade over Jeff Cumberland. Rex didn't like Rhodes and fences probably won't be mended. Clark wants another shot to run with a contender over a rebuild situation. If the Rex-Rhodes past could be buried, and Clark's phone wasn't ringing though, would these "one year deal" type of additions be a better look to the roster? Idzik will at some point soon, add some vets to the new rookie class. A few shrewd choices, combined with some of the kids flying out of the gate, could make the Jets an unexpected surprise That's our glass half full take folks. Yes we are hopeful today. Rejuvenated. Excited for the season finally. Now it's time to enjoy that "Geno is In, Tebow is Out, Sanchez is on the clock" morning coffee.
Original Story:
http://turnonthejets.com/2013/04/no-h...
THE BACKYARD
BEST OF MAXIM
RELATED ARTICLES
NEW YORK'S NOT MY HOME
After one tumultuous season, the Tim Tebow Experiment by the New York Jets has come to an end, with the team releasing the quarterback early on Monday morning.
Since the Jets released Tim Tebow yesterday, there's been some talk around the NFL community that another team may be willing to pick up Tebow if he's willing to play a different position such as fullback or tight end. Now, it seems, the Jets never considered changing his position, viewing him as a quarterback to till the end. On "Mike and Mike in the Morning,&quot...
According to Manish Mehta of the New York Daily News, a source told him that Jets quarterback Tim Tebow is "probably gone" soon. I know the Jets just might be naive enough to think they can still trade Tebow, but they need to face reality that they won't be able to and stop wasting his time as well as their own and just get rid of him.     Need NFL Tickets?
According to Darren Rovell of ESPN, Tim Tebow is opening up a restaurant down in Jacksonville, Florida. Tim Tebow opening up a restaurant in Jacksonville called PDQ, a Tampa-based chicken sandwich chain (via @dailydeadline) — darren rovell (@darrenrovell) April 29, 2013 It looks like Tebow has new job lined up outside of the NFL since he was just released by the Jets.   Need NFL Tickets?
Tim Tebow was officially released by the New York Jets. Where do you think he is headed now? Jacksonville? Canada? It's time to Settle It.
Business Insider ESPN shed thousands of collective tears when the New York Jets released their personal protector on the punt team Monday.  Some fans laughed.  Others thanked greater powers (why, I don't know).  Some NFL general managers confirmed publicly that their team had no interest in the newly-waived former quarterback.  The ears of some GMs perked up.  Lions GM Martin...
Former Jets quarterback Tim Tebow through waivers unclaimed today and is now officially a free agent.  He can sign with any team at any time. Just because no teams put in a claim for Tebow doesn't mean no one is interested.  Now that he's a free agent, we'll find out if anyone really wants to really sign him.   Need NFL Tickets?
  So it begins. ESPN and other media outlets report that the New York Jets released little-used quarterback Tim Tebow this morning, leaving the team with five quarterbacks on the roster. New York's little brother team might have cut less heralded Greg McElroy, Matt Simms, or, um. Mark Sanchez. Instead they excised the most useless outsider in NFL history. None...
Thanks to the media, Tim Tebow is crammed down the publics throats every single chance they can get.  The New York Jets releasing Tim Tebow was given more publicity on ESPN than Jason Collins coming out as the first active gay athlete in a major sport, which is pathetic given Tebow's NFL career.  Mandatory.com feels similarly about the Tim Tebow circus and made a hilarious LinkedIn...
Thankfully, we haven't heard too much noise lately from the Bristol underworld kingdom of First Take.  Tim Tebow's NFL career being on life support and the brilliant play of LeBron James have worked against two of the show's long-standing pillars - that Tebow is a winner and James is not.  Instead of building a show on a solid foundation of insight and analysis, ESPN...
With the New York Jets completely cleaning house this offseason, rookie quarterback Geno Smith could very well become the new face of the franchise to replace an embattled Mark Sanchez. Find out what New York's head coach and GM had to say about the Jets' QB battle and what lies ahead for the former West Virginia star
April 29th, 2013 will be remembered as an important day in American pro sports as Jason Collins came out in a Sports Illustrated exclusive as the first active gay athlete in the four major sports. It will not be remembered as the day the New York Jets replaced Tim Tebow or the day after the 8th seeded Los Angeles Lakers were swept from the NBA Playoffs. And yet, if you watched...
NFL News

Delivered to your inbox

You'll also receive Yardbarker's daily Top 10, featuring the best sports stories from around the web. Customize your newsletter to get articles on your favorite sports and teams. And the best part? It's free!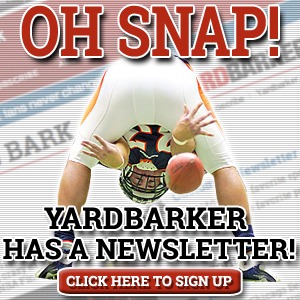 Latest Rumors
Best of Yardbarker

Today's Best Stuff

For Bloggers

Join the Yardbarker Network for more promotion, traffic, and money.

Company Info

Help

What is Yardbarker?

Yardbarker is the largest network of sports blogs and pro athlete blogs on the web. This site is the hub of the Yardbarker Network, where our editors and algorithms curate the best sports content from our network and beyond.