Found July 16, 2012 on Turn On The Jets:
PLAYERS:
Bill Parcells
,
Rex Ryan
,
Santonio Holmes
,
Tom Brady
,
LaRon Landry
,
Yeremiah Bell
,
Josh Bush
,
Eric Smith
,
Shonn Greene
,
Joe McKnight
,
Terrance Ganaway
,
Bilal Powell
,
Tim Tebow
,
Mark Sanchez
TEAMS:
New York Jets
,
New England Patriots
TJ Rosenthal is back with the No Huddle, today looking at five areas of the New York Jets that could be a cause for concern in 2012. Make sure to give TJ a follow on Twitter and keep an eye out for a few exciting interviews by him in the coming weeks - 
As a lifelong New York Jets fan it's hard to deny that there have been LONG stretches of years that have warranted seeing things through a glass half empty. The bright pockets of time for this organization have come in quick bunches thanks to the late 1960′s crew, some of the clubs from 1981-86, Bill Parcells, Herm Edwards, and Rex Ryan. The rest of the club's fifty year history has essentially featured one harrowing crash on the runway after another. Especially in December.
History aside, we will soon be embarking upon a new Jet adventure. One that again will arrive for the die hard with excitement, eternal hope, paranoia, and of course, habitual doubt.
The Jet Report can envision 2012 heading in both directions. One that leads the club late into January with a shot at glory, and the other, well, yet another disappointment. Our personal goal for this season is to enjoy it with zero expectations. Despite the two near misses in 2009 and 2010 and a 2011 that contributed to helping springboard the other New York team to a world title.
In this week's no huddle we approach five concepts whose success could collectively combine to catapult the Jets towards the Super Bowl. Knowing that they all should be approached with caution. After all, many of us still carry scars that forever force us to sleep with one eye open.
At all times.
1. The Rookies Will Have A Major Collective Impact In Year One -
Will they? Well we hope so. Then again, we always hope that draft picks blow up into legends and do so right out of the gates.
Coples, Davis, Hill and Co. will be used and much needed in spots, but demanding week in week out veteran type play from them is unfair. And unrealistic. How many rookies have become first team all pros in the last decade? Not as many combined as the Jets plan to put on the field this year all at once.
Let's ease up on what we demand from this group and instead, enjoy the promise of individual break out moments and timely performances that we know these kids can give us.
2. Santonio Holmes Will Be Happy All Season - 
Santonio Holmes is a great clutch player. Period. He makes big plays with the money on the line. His unhappiness last year should have never been confused and mixed in with his reactions. We all wasted so much time wondering why Holmes behaved the way he did and spent little time asking "how the hell did Holmes not see more balls last year?" Was it Schotty's fault? Sanchez's fault? Well who cares whose fault it was. Just give him damn the ball please (to quote another Jets WR). Even if this team runs 60 percent of the time.
If the Jets win games and run the ball, Holmes will be a good teammate and accept it. We truly believe that. Fail to get him the rock AND lose games? Why wouldn't he get pissed off? Why shouldn't he?
The Holmes happy meter will be a reasonable measuring stick regarding the entire happiness of the Jets situation. Just win baby. This guy didn't come from the Super Bowl champion Steelers to win four games for the Jets in one season to then just run around like a silly decoy all day.
Let's make everyone happy by letting him help win games like he can. Or by having a ground game that is so exceptional, he can collect his big paychecks without having to jump over safeties downfield to haul in bombs.
We can live with either one of those scenarios. So can Santonio Holmes.
3. The Jets Will Of Course Return To The Postseason - 
Tell the Bills that. How many divisions send three teams to the playoffs? Not many. If you are thinking what we're thinking (The Patriots are always in the playoffs when Tom Brady is healthy) then let's make sure that the upstart buzz team Bills don't finish with a better record or divisional record than the Jets do.
After you consider the Bills and the AFC East logjam, add the Ravens, Steelers, Bengals, Broncos, healthier Chiefs, and pissed off Chargers for starters into the equation and what you have is a crowded AFC wildcard race.
With little breathing room for third place teams to enjoy. Better stay ahead of Buffalo gentlemen.
Or else the road to the playoffs will grow quite slim and narrow.
4. The Jets safety situation has improved - 
Provided that LaRon Landry is healthy well maybe it has. Of course the only photos of Landry's biceps that we have been to find on Google to this point, are one's of him in his Redskins gear. He better not be damaged goods.
Yeremiah Bell is poised to help out but he is 33. Sorry to bring that up folks.
On the younger side, Josh Bush is a late round pick. Give us his energy. Just don't let us get bitten by his youthful over excitement on play action or pump fakes.
The Leonhard, Pool and Smith Experience were often times late to the party but when Jimmy was healthy, this unit was never an X's and O's meltdown. Except when it had to cover the tight end. Better to give up twenty yards at midfield than be toast downfield every week due to miscommunication though, right?
Eric Smith is back and healthy again but even when healthy, is limited as a cover guy. Bell, Landry and Smith. Let's see a few series of plays with them this August first.
5. The Ground and Pound Is Set To Roll - 
First of all, who is ground and who is pound? The Jets have walked away from the Ryan blueprint of a veteran RB leading the way for the rookies and the younghans in this latest version of the ground game. There is also no back with a bell cow track record statistically in this corps right now. Shonn Greene is the group's only 1,000 yard rusher, having squeaked by in 2011 with 1054 yards after a non existent start into mid October. Everyone else (Joe McKnight, Terrance Ganaway, Bilal Powell) is unproven except for Tim Tebow who as a QB has rushed for 12 TD's in two years.
The offensive line is coming off a rough year and has to gel once again. Plus, we have to see how Mark Sanchez looks. If he can keep defenses honest in the passing game then hey, this new ground and pound mentality can work. Like the new safeties though, we have to wait and see how it all comes together. The potential is there but potential and results don't always meet together when asked to.
These "no huddle" keys may all work out just fine in 2012. It IS possible. Yet we have no idea to what extent they will be a success at this point in time. Patience and time will play a key part. It's a long season. The coaches, players and fans better have to remember to let this all build naturally.
The potential is there.
Original Story:
http://turnonthejets.com/2012/07/no-h...
THE BACKYARD
BEST OF MAXIM
RELATED ARTICLES
Santonio Holmes did an interview on the NFL Network last night, most of you probably saw it and more of you surely know about the interview and what he said by now. I don't normally like to write a piece on someone else's interview that everyone has access to, but like Will McAvoy from the new HBO show The Newsroom, "I'm on a mission to civilize."This isn'...
The New York Jets defense struggled heavily when it came to covering the tight end last season. Basically, if a team had a good receiving tight end, they exploited the hell out of Rex Ryan's defense. Jason Witten finished with 110 yards, including a 64 yarder. Fred Davis grabbed 6 passes for 99 yards. Brent Celek went off for 156 yards and a touchdown. Rob Gronkowski pulled in...
Quinton Coples will be a BUST: Quinton Coples: Will be a B.U.S.T??!! BRUTALLY. UNUSUAL. SPECIAL. TALENT.   Heading into the 2012 NFL draft, the New York Jets had needs at multiple positions including a right tackle, a deep threat wide receiver, a safety, and finally, a pass rusher. In each of the past two seasons, the Jets leader in sacks has not been impressive for gang green...
New York Jets games in 2011 were filled with turnovers – the Jets were tied for second in the NFL with 31 takeaways but also had the most giveaways in the league with 34. Turnovers are part of the sudden change aspect of the game. Unpredicted, games can turn at any time on a given play. Are turnovers truly unpredictable? Do the trends suggest that the Jets are in for an upswing...
Mark Sanchez's Jets West Camp is a wrap.  There wasn't much coming out of the camp like previous years and that was done on purpose.  This year it was top secret and Mark even went as far as to hire armed security guards to keep the people out. Some fans were able to go as contest winners and sit in watch the very private workouts. Some comments and tweets with pictures...
Are you a Jets fan that believes Santonio Holmes has changed his attitude from last year (being a selfish WR Diva) and has turned the corner?  How can YOU be sure that we won't get a repeat of last season? If Mark Sanchez is doing his thing and feeding Santonio the ball, I suspect everything will be quiet and you will see all smiles, but what happens if Mark struggles?  What...
In the past, I've been accused of being a Tim Tebow hater, and that's not simply not true. He's a dynamic player, but I'm not sure he can be successful in a long term capacity as an NFL starter. Regardless of your personal feelings on Tebow as a starting quarterback, it's a proven fact that he can excite a fanbase like no other player in the NFL, and for the Jets...
We all know that Tim Tebow has, dare I say, a magical way of drawing crowds. His Easter speech this past April had 15,000 folks flock to Texas, and his Father's Day sermon in California saw a crowd of 26,000 gather to catch a glimpse of the quarterback. So, naturally, it comes as no surprise that the Jets are bracing themselves for when Tebowmania hits training camp just days from...
Ir is highly unlikely that the Jets brought in Tim Tebow simply to be a backup quarterback or a contributor on special teams. As Rex Ryan and the New York coaching staff have mentioned, Tebow is expected to receive several snaps per game and be a big part of the team's offense. He may be bluffing, but Ryan has made it clear that opponents should be ready for a dose of both Mark...
Getty Images New York Jets wide receiver Santonio Holmes was a guest on the NFL Network via ProFootballTalk.com and said that having two quarterbacks taking the first-team reps won't work in the NFL. "I don't think so," Holmes said. "Because you have to allow one quarterback to get in the rhythm of a game. And it starts from the preparation of practice." Holmes believes...
Getty Images According to ESPN's Chris Mortensen via NFL.com, the New York Jets can only wait and see if cornerback Darrelle Revis holds out from the start of training camp. "I think (the Jets) are going to see what Revis does," Mortensen said. "He's kept everyone guessing. I'm almost going to be surprised if he's there day one." I wouldn't be shocked if Revis decides...
NFL News

Delivered to your inbox

You'll also receive Yardbarker's daily Top 10, featuring the best sports stories from around the web. Customize your newsletter to get articles on your favorite sports and teams. And the best part? It's free!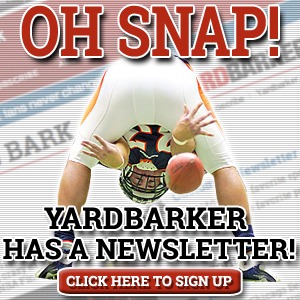 Latest Rumors
Best of Yardbarker

Today's Best Stuff

For Bloggers

Join the Yardbarker Network for more promotion, traffic, and money.

Company Info

Help

What is Yardbarker?

Yardbarker is the largest network of sports blogs and pro athlete blogs on the web. This site is the hub of the Yardbarker Network, where our editors and algorithms curate the best sports content from our network and beyond.