Found June 24, 2013 on Turn On The Jets:
TJ Rosenthal kicks off another week of New York Jets coverage at Turn On The Jets with his weekly No Huddle - Make sure to give TJ a follow on Twitter on Turn On The Jets a follow on Facebook. Can the Patriot Way Continue To Thrive?  Bill Belichick could not have willingly drawn it up this way. The air tight, "no leaks" compound in Foxboro that lives to keep their business under wraps, is on the verge of staring down cameras and microphones that won't pack up and run simply because "The Hoodie" stiff arms some of them from his podium. The Patriots are cooking up a recipe for spotlight city. With little of the attention stemming from the club's goal of a Met Life Super Bowl. The acquisition of Tim Tebow immediately carries a uniquely devout fan base that have the power to ratchet up unwanted noise in a place that wants the decibel level kept down at all times. Vladamir Putin of all people, denied stealing Robert Kraft's Super Bowl ring last week. This as leaker Edward Snowden flew in to Moscow from Miami Beach BOAC and couldn't get to bed last night. The two have nothing to do with each other of course but why do Patriots news updates have anything to do with Putin? It's bizarre, no? While the Aaron Hernandez saga grows by the day. Or hour. So here's the question. What happens when a franchise known for discipline, secrecy, and a dislike for extracurricular activities meets the current climate of social media and blood thirsty national news outlets? Can the Pats continue to shut out the demand for their time on issues like crime scenes and what Tebow's role will be in light of what is going on at TE with Hernandez and the oft injured Rob Gronkowski? One of Belichick's favorite mottos is "do your job." For much of the past decade and some, the Pats have done this and more. Even as key players surrounding the great Tom Brady have come and gone. Maybe the only way to dethrone the Pats within the division is to have the Pats destroy themselves. A dynasty built on martial law and cold calculated personnel decision making is if nothing else, risking the notion of controlling the message right now. You can bet that Anderson Cooper, Piers Morgan and the rest of those primetime news stars will soon be hanging out next to Bon Jovi on practice fields in August if the plot thickens surrounding Hernando. "The Patriot Way" will be fascinating to watch in the coming months. Now You Tell Us Revis Bucaneer CB Darrelle Revis decided to share that Tampa is a more relaxed atmosphere than New York was when he noted that "The (Tampa Bay) organization's great. It's real laid back down there. It's not a lot of pressure as it is in New York." It's hard to disagree with Revis Island on the matter but like Dustin Keller, who told the press weeks back that there was "always some type of nonsense" going on with the Jets we ask, why tell us this now fellas? Whether it would have been through the media or behind closed doors, we wonder if either ever made their feelings known that the pressure or behavior of the club was getting in the way of winning games while they were Jets. True team leaders get out in front when there is still time to help change the course of history. Not later from some other city in some other uniform. If you didn't then, don't do it now. That is all we are saying. Then There Is Nick Mangold Continuing on the topic of speaking up, Nick Mangold disregarded the idea of any summertime QB controversy last week saying "I haven't walked around with a pen and paper and taken a poll, but from the feeling I get, the locker room wants to win. Whoever gives us the best chance to do that, we want out there — and at this point, Mark (Sanchez) gives us that best chance." Now here is a veteran leader, a perennial All-Pro taking an honest and perhaps risky stand in real time, at a moment when all bets when it comes to QB1 are off. That's how it's done. We See You Joe McKnight: We love Joe McKnight's attitude. The seldom used running back, whose speed and big play ability still intrigue many diehards, said days ago that no starter has been named in the backfield. Translation? "Don't count me out yet." Wouldn't it be a great surprise to witness a motivated McKnight step into a role that makes him a threat week in and week out? After all, it is unknown factors like unforeseen distractions (we are coughing with a Boston accent), injuries, and a forgotten man rising, that help turn preseason win loss predicitions into meaningless paper from time to time. It is why they play the games folks. Right?
Original Story:
http://turnonthejets.com/2013/06/new-...
THE BACKYARD
BEST OF MAXIM
RELATED ARTICLES
Nobody gets hit harder with criticism in the NFL than New York Jets quarterback Mark Sanchez. But it is important to remember that he is a relatively handsome young man, that is, well, the New York Jets quarterback. That means he can surround himself with some nice women at times. Such is the case this summer when Sanchez was partying with some pretty ladies in the Napa Valley. One...
So apparently Jets QB Mark Sanchez is soaking up his last month of free time, as pictures have surfaced of a nice little trip up to wine country. To top it all off, its not like Sanchez simply grabbed some old college buddies and headed up north, he grabbed some pretty cute chicks. Here's the video and pictures of what seemed to be a pretty fun night. The girls name in the picture...
Nick Mangold thinks Sanchez gives Jets best chance to win. Center Nick Mangold of the New York Jets spoke publicly this week about the New York Jets quarterback competition. Mangold said that the majority of the  Jets locker room believes Sanchez should start and gives them the best chance to win this season. Sanchez is competing with second-round draft pick quarterback Geno Smith...
We reported earlier that Mark Sanchez seemed to be enjoying his summer when a video of him surfaced dancing with a couple good looking ladies while in Napa. Well, the latest video which has surfaced features Mark dancing while pulling down his pants to expose his rear end. The Jets faithful and management must be loving this. [Video via Terez Owens] Article found on: Next Impulse Sports
New York Jets rookie quarterback Geno Smith told Andrew Siciliano of the NFL Network that he's drastically improved with his knowledge of the Jets playbook.   "I've already made a giant leap," Smith said. "Coming from a spread system where the biggest transition for me is going to be the footwork. It's not as if I can't do it, it's the fact that I haven't done...
You wouldn't think that a guy who posed for a GQ spread before he'd ever played a down in the NFL would have a problem with confidence. But according to a former teammate, that's exactly the issue with New York Jets quarterback Mark Sanchez. Retired running back LaDainian Tomlinson told the New York Post that Sanchez is reluctant to let the ball fly. "Mark has...
The Jets are in a difficult position. They're head coach needs to win now, which would seem to indicate that Mark Sanchez has a good chance of starting over Geno Smith. In the long run, however, it would seem more beneficial to get Geno Smith up to speed sooner rather than later. If what Smith says of himself is true, however, he could simplify the coming decision that Rex...
BY DAN BEGNOCHEIn 2010, running back LaDainian Tomlinson was just a 10-year veteran trying to extend his career in a new city.Little did he know that his time during training camp would be under the watchful eye of a camera crew and weekly audience.Tomlinson's move from San Diego to New York coincidentally synced up with the team's hosting of HBO's Hard Knocks series...
The New York Jets unveiled a complete list of training camp events and practices that are open to the public. Take a sneak peak at what's in store beginning in late July.
Former New York Jets running back LaDanian Tomlinson shares exactly why he wasn't the biggest fan of Hard Knocks back in 2010 and explains how it influenced locker room camaraderie.
NFL Sound FX—Best of Bill Belichick
Bill Parcells, who will be inducted into the Pro Football Hall of Fame on Aug. 3, has one haunting memory from his coaching career: leaving the New England Patriots and the way he handled things with owner Robert Kraft after the 1996 season. 
NFL News

Delivered to your inbox

You'll also receive Yardbarker's daily Top 10, featuring the best sports stories from around the web. Customize your newsletter to get articles on your favorite sports and teams. And the best part? It's free!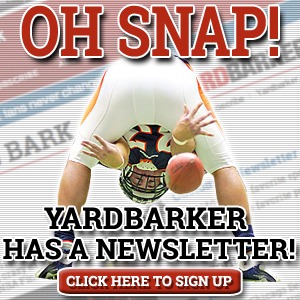 Latest Rumors
Best of Yardbarker

Today's Best Stuff

For Bloggers

Join the Yardbarker Network for more promotion, traffic, and money.

Company Info

Help

What is Yardbarker?

Yardbarker is the largest network of sports blogs and pro athlete blogs on the web. This site is the hub of the Yardbarker Network, where our editors and algorithms curate the best sports content from our network and beyond.