Found September 07, 2013 on isportsweb.com:
The last time the Eagles and Redskins met on Monday Night Football, Michael Vick connected with Desean Jackson for an 88-yard touchdown on the very first play from scrimmage. Vick would then follow that with one of the most memorable Monday night performances ever, as he became the first player in NFL history with at least 300 yards passing, 50 yards rushing, four passing touchdowns and two rushing touchdowns in a game. However, while it has only been three years since that game, both teams have reloaded their rosters and bring new weapons to the table. This is a matchup filled with great matchups. Lets take a look. Chip Kelly vs. Mike Shanahan New head coach Chip Kelly is looking to employ his offense that led the Oregon Ducks to a 12-1 2012 season. Meanwhile, Coach Mike Shanahan is preparing his defensive squad for this new Eagles offense by having them watch Oregon Ducks game tape. Coach Kelly unveiled parts of his offense during the pre season and we saw what we expected from an offense led by him. It was fast. And when I say that, I mean they rarely huddled. That is vintage Chip Kelly. The classic no-huddle, two minute drill, turned into the 60-minute drill. The Eagles were seen running a lot of read-options as well as lots of draws, and after each one the defense had only seconds to get ready for the next. Although they looked impressive in the pre- season, as they were efficient and for the most part error free, if you think Mike Shanahan and his defense haven't thought up a steady game plan to counter the uniqueness of Coach Kelly's offense, you are sadly mistaken. Michael Vick vs. Robert Griffin III The last time these teams met, an aging Donavon McNabb was at quarterback for an offense that struggled to stay on the field for longer than three plays. Nowadays, that is not the case. Despite an off-season full of distractions surrounding Robert Griffin III's rehabilitated knee, he is going to be at the helm come Monday night. The man that he will be attempting to out perform is Michael Vick. Michael Vick reminds me of the very first iPhone. He was brand new, something nobody had ever seen before. He was a quarterback who was fast enough to be a wide receiver, but still had the arm and instincts to play quarterback. Are you kidding me? On the other hand, there is Robert Griffin III, A.K.A. "RGIII", A.K.A. the iPhone 5. He is a replica of Michael Vick, but fresher and a bit refined. Now, like the iPhone 5, the unique skill sets of Vick and Griffin are not abnormalities, as the NFL is producing mass amounts of them (Russell Wilson, Colin Kaepernick). Technically, this is not really a matchup because there will not be any point in the game where Vick and RGIII will be on the field simultaneously. However, the two are so eerily similar and there are question marks surrounding both quarterbacks. If the Redskins can get a solid ground game established early on, Griffin's transition back into the game of football will be greatly aided. Do not expect to see Griffin exposed in this game. He will not be extending plays like we are used to seeing, but more so a pocket passer, which is something RGIII is more than capable of doing. When it comes to Michael Vick, the question remains, which Michael Vick is going to show up? Is he going to force throws resulting in turnovers, or is he going to trust his O-line and make quick, precise throws? Both offenses have the talent to put up gaudy numbers; it's going to be up to Vick and RGIII to get the season started off right. Desean Jackson vs. Redskins Secondary Jeremy Maclin, Michael Vick's favorite target is out for the year with a torn ACL. This means Desean Jackson is going to be heavily targeted. Last season, Jackson found the end zone just twice and only eclipsed the 100 yard receiving mark in two games. Chip Kelly's new offense is going to be featuring a lot of Desean Jackson's dynamic skill set as he attempts to bounce back after a disappointing 2012 campaign. Jackson is one of the smallest players in the league as he stands at 5'10 and weighs only 175 pounds. But it's his quickness and speed that make him so dangerous. While the Redskins defense was stout against the run last season, ranking fifth in the league in run defense, they had a tough time against the pass as they ranked 30th in pass defense. If the Eagles can get the run game going with Shady McCoy, look for Desean Jackson to slip by the Redskins secondary for a score. Week 1 predictions Alfred Morris rushes for more than 100 yards Shady McCoy has 6 receptions for 72 yards RGIII throws three touchdowns Michael Vick has one passing and one rushing touchdown Redskins win 31-17 For more Philadelphia Eagles coverage, visit our Philadelphia Eagles page
Original Story:
http://feedproxy.google.com/~r/isport...
THE BACKYARD
BEST OF MAXIM
RELATED ARTICLES
For the Washington Redskins, the distraction of Robert Griffin's health is no longer a distraction. This week head coach Mike Shanahan said unless a "crazy setback" were to happen, the reining offensive rookie of the year is ready to go. He better be, because their Monday night opener against the Philadelphia Eagles is big. Due to the Redskins success last season, their schedule...
Here are my top Draft Street Week 1 Picks to help you take advantage of their games. Draft Street Week 1 Picks: Quarterbacks Michael Vick, Philadelphia Eagles – $11,258: The Redskins got shredded through the air last season and nothing suggests things have drastically improved. Vick has had a stellar preseason and there is a lot of optimism surrounding the Eagles new offense....
For this entire season Michael Vick will only be as good as his last play. The unfortunate but undeniable reason for this is Vick's last play every game actually could be his last play. Vick just hasn't been able to stay on the field. Since taking the starting job from Kevin Kolb early in the 2010 season Vick has missed 13 starts with the Eagles because of injury. Last year...
After a nice fight between Riley Cooper and Cary Williams, were Vick had to step in, he had some words of his own. "I know after yesterday, Cary understands that we need him on the football field, not to be hot-headed at times," Vick said Friday, per CSN Philadelphia. "We know he's a guy who's […]
When Riley Cooper and Cary Williams fought at Eagles practice Michael Vick ran into the scrum to separate them. A day later Vick said he has talked to Williams who has a reputation for a short temper about keeping cool "Cary understands that we need him on the football field not to be hot-headed at times" Vick told CSNPhilly.com. "We know he's a guy who's very into his...
Cary Williams was brought to Philadelphia to bring Super Bowl experience and quality play at the cornerback position. So far Williams has been anything but an experienced veteran for the Eagles.  On the heels of his fight with Riley Cooper on Thursday, the question now being asked, is whether or not Williams is a liability for the Eagles. Michael Vick, who is the teams captain,...
Philadelphia Eagles cornerback Brandon Hughes and offensive lineman Dennis Kelly have been ruled out of the season opener against the Washington Redskins on Monday night. Head coach Chip Kelly said 
Your browser does not support iframes. Mike Trout is one of the fastest players in baseball, and he thinks he's fast enough to take down one of the fastest players in the NFL. The Los Angeles Angels stud outfielder joined MLB Network's "Intentional Talk" last week and was asked whether he could accomplish many athletic […]
After a painfully long wait, the regular season is finally here. It is unbelievable to think about how much the Eagles organization has changed since the December 30th match up against the New York Giants. After eight months of nothing but speculation, predictions, and mystery, real football is only a day away. I feel like a 5 year old on Christmas Eve just thinking about it! When...
Hey, you remember how this works, right? I hope so, we've done it for years. Anyhoo, our Redskins-loving "staff" makes predictions in the post, readers make predictions in the comments, and the commenter who comes closest to predicting the final score gets to make a guest post. Hip-hip! Chris Mottram: Redskins, 30-24 With the tempo of Chip Kelly's offense, the Eagles'...
The NFC East is filled with question marks. Just one team made the playoffs from the division last year, the Washington Redskins, who recovered from a 3-6 start to win the division. It really is anyone's guess as to who the…Read more →
Eagles News

Delivered to your inbox

You'll also receive Yardbarker's daily Top 10, featuring the best sports stories from around the web. Customize your newsletter to get articles on your favorite sports and teams. And the best part? It's free!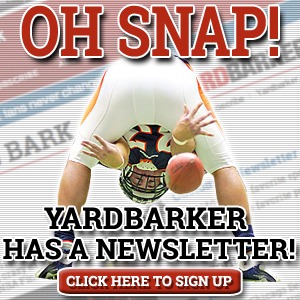 Latest Rumors
Best of Yardbarker

Today's Best Stuff

For Bloggers

Join the Yardbarker Network for more promotion, traffic, and money.

Company Info

Help

What is Yardbarker?

Yardbarker is the largest network of sports blogs and pro athlete blogs on the web. This site is the hub of the Yardbarker Network, where our editors and algorithms curate the best sports content from our network and beyond.