Found July 16, 2013 on isportsweb.com:
The Pittsburgh Steelers' offense has a lot of questions surrounding it this season. Will the receivers excel without Mike Wallace? Can Ben Roethlisberger and Todd Haley get along? And who will be carrying the ball in the backfield this season? Here are 5 key players on offense for the Steelers that need to step up if the team wants to avoid missing the playoffs for a second season in a row. 5. David DeCastro Now that this young man is healthy again, he should have no problem being a force to be reckoned with on the offensive line. DeCastro's athleticism is tremendous and if the Steelers are smart, moving him to left guard would be a perfect spot for him. His athleticism wouldn't go to waste at this position and it would improve the screen game in Haley's offense. As long as DeCastro doesn't fall victim to another severe injury, he'll have a key role on the Steelers offensive line. 4. Heath Miller Miller suffered a torn ACL last season and has been recovering from the injury all off season. It seems like Miller won't be ready to go by week 1 of the regular season but is expected to be back at some point this season. When Miller eventually does make his return to the field, he needs to come back with a huge presence. Miller has always been a huge target for Roethlisberger and is constantly consistent when he plays. Making big time catches and being solid in the red zone is what the Steelers will need when he gets back. A speedy recovery needs to be in order for the tight end, his contributions on the field will be missed in the mean time. 3. The Starting Running Back It's still anyone's guess as to who will win the battle in training camp for the starting job in the backfield. Le'Veon Bell needs to be the starting running back and everyone should be hopeful that he proves he's right for the job in training camp. The Steelers took Bell over the likes of Eddie Lacy and Montee Ball, the team definitely believes Bell has something special and can carry the load in the backfield. It be disappointing to see him not produce after having so much potential when he was drafted. Jonathan Dwyer is the only other back who will give Bell a run for his money. Regardless of who is starting in the backfield, running the ball needs to be effective this year for the Steelers. Roethlisberger deserves to have a running game to complement his pass attack. 2. Antonio Brown This is the year Antonio Brown really needs to shine. Even though Mike Wallace was a large part in the Steelers passing game, Antonio Brown may have always been better than Wallace. Brown isn't as fast as Wallace but definitely posses better mechanics than him. Brown rarely dropped passes and seemed to be more consistent than any other receiver on the team. Now all the spotlight is on him this season and Brown needs to seize the opportunity. If Antonio Brown can dominant as the Steelers number one receiver there should be no problem moving the ball through the air. All eyes are on Brown, fingers crossed he doesn't disappoint. 1. Ben Roethlisberger Big Ben is the heart and soul of the Steelers offense. Roethlisberger always flirts with injuries during the season, keeping him healthy is necessary for the Steelers to have success. A healthy Roethlisberger throwing the pig skin should have every Steeler fan feeling confident, he's proven why he's a two time Super Bowl champion time and time again. Just like injuries, bumping heads with Haley is also something Roethlisberger doesn't need this season. It seems like the everyone is just waiting for things to erupt between the coordinator and quarterback. However, they shouldn't erupt at all. Roethlisberger should have no problem excelling under Haley. This is Haley's second year as the offensive coordinator and in the past his quarterback have done much better in year 2 with him, Kurt Warner being a perfect example. Roethlisberger is always a key factor to the Steelers' success. Keeping him healthy and on the same page as Haley will lead to another phenomenal year for the franchise quarterback. Although it will take more than just these 5 key players to have a successful season in Pittsburgh. These players need to play exceptionally well for there to be any hope of the team making the playoffs or even better, a shot at the Steelers' seventh Super Bowl title.
Original Story:
http://feedproxy.google.com/~r/isport...
THE BACKYARD
BEST OF MAXIM
RELATED ARTICLES
ESPN analyst Ron Jaworski is once again ranking the quarterbacks in the league right before the start of training camps opening and on Tuesday, he profiled Pittsburgh Steelers quarterback Ben Roethlisberger, who he has ranked seventh overall this year on his big board."Roethlisberger is the most unconventional quarterback in the league," said Jaworski about the quarterback...
If the Pittsburgh Steelers make the playoffs in 2013, and at least one of their regular-season wins came on the road against another playoff team, bet on the Steelers to go to Super Bowl XLVIII. The Steelers' last three Super Bowl teams defeated one playoff team on the road in each of those seasons. Previously, we talked about road wins by 20 or more points as a sign of the Steelers'...
The start of the 2013 Pittsburgh Steelers training camp is now less than two weeks away so we will continue to look at the training camp battles that will take place with a look at the battle for the punter job on the 53 man roster. You can comment on this battle below and make sure to vote in the attached poll.Training Camp Battle Setup: The Steelers punting situation is certainly...
Over the last several years, the NFL has been cracking down more and more on hits by defensive players and former Pittsburgh Steelers linebacker James Harrison certainly has received his share of fines and even a one-game suspension as a result of his actions. There is one Steelers rookie; however, that expects to have his paycheck docked by the league office during his career.Safety...
Pittsburgh Steelers guard Ramon Foster is over in London, England this week promoting the 2013 game at Wembley Stadium against the Minnesota Vikings and he met with the media at the stadium on Tuesday. Below is a video that includes a few of his answers from the session.Foster says that the stadium is bigger than he thought it would be, and that he looks forward to playing there...
According to Tom Pelissero of USA Today, the Pittsburgh Steelers are one of eight NFL teams that have agreed to take part in a pilot program during the 2013 season which would put a player's entire medical record at a doctor's fingertips on the sideline.The initial plan seems to call for the participating teams to put everything from X-rays to baseline concussion tests onto iPads...
On Sunday, Steelers center Maurkice Pouncey raised a few eyebrows when a photo surfaced of him and his brother, Dolphins center Mike Pouncey, wearing "Free Hernandez" hats at a club. Although he was college teammates with Aaron Hernandez, the former Pats tight end, Pouncey realized his mistake and apologized on his Twitter account Monday. "I fully recognize the seriousness...
July 17, 2013 Training Camp & Wolf's Top 5 Bodyparts that have to function Former Penn State defensive coordinator Tom Bradley and former Steelers Defensive Lineman Chris Hoke join former Pittsburgh Steelers offensive lineman and now broadcaster Craig Wolfley on his podcast. LISTEN OR DOWNLOAD THE PODCAST LINK AT END OF POST: THE PODCAST TALKING [...]
A photo of Maurkice Pouncey and his twitter brother Mike Pouncey wearing "Free Hernandez" hats in support of their former college teammate Aaron Hernandez have been circulating. Of course this is a problem since Hernandez has been charged with first-degree murder and is also being inveistaged for a double murder that occurred in Boston just over a year ago. According to ESPN's...
Season 3, Episode 118 of The Terrible Podcast is up and co-host David Todd and I use the bulk of this show to talk about Pittsburgh Steelers center Maurkice Pouncey after photos surfaced Sunday of him and his twin brother Mike Pouncey wearing "Free Hernandez" hats in support of Aaron Hernandez. The incident has created quite a stir so we look at not only his right to...
Pittsburgh Steelers All-Pro center Maurkice Pouncey has apologized for wearing a baseball cap supporting former college teammate Aaron Hernandez. Pouncey and his twin brother Mike, a center for the Miami Dolphins, were photographed wearing hats that read ''Free Hernandez'' during their co-birthday party in Miami on Saturday night. Hernandez played at the University...
The Pouncey brothers were both teammates of Aaron Hernandez, so when they showed up on the internet wearing "Free Hernandez" hats, it wasn't surprising. It also wasn't surprising when their respective teams, the Dolphins and Steelers, were reportedly not happy about that incident. Pittsburgh appears to have gotten to the older brother Maurkice, as he today released...
Steelers News

Delivered to your inbox

You'll also receive Yardbarker's daily Top 10, featuring the best sports stories from around the web. Customize your newsletter to get articles on your favorite sports and teams. And the best part? It's free!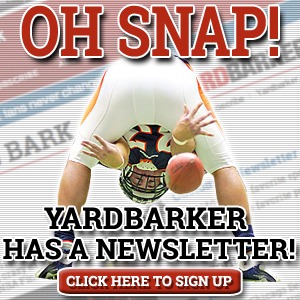 Latest Rumors
Best of Yardbarker

Today's Best Stuff

For Bloggers

Join the Yardbarker Network for more promotion, traffic, and money.

Company Info

Help

What is Yardbarker?

Yardbarker is the largest network of sports blogs and pro athlete blogs on the web. This site is the hub of the Yardbarker Network, where our editors and algorithms curate the best sports content from our network and beyond.