Found July 12, 2013 on isportsweb.com:
This season the Pittsburgh Steelers will play their first ever game in London, England. The game will be played at Wembley Stadium and they will be hosted by the Minnesota Vikings. The NFL has been playing games in London since 2007 and this year the black and gold get to represent themselves in London. Recently Pittsburgh Steelers' quarterback Ben Roethlisberger took a visit to London. Roethlisberger visited London in an effort to promote the Steelers game that will be played there later this year. "It's something that is different and fun and guys are really looking forward to the game", Roethlisberger told the media. Big Ben and Big Ben also took a picture together. Roethlisberger posed for a picture with the giant clock that shares the same name as him. The picture has become very popular amongst fans. Roethlisberger also visited Ireland where he was with Dan Rooney, who is the former United States ambassador to Ireland along with being the Steelers' chairman. Roethlisberger was the official coin flipper for the Fourth of July flag football game that Rooney hosts. Another Steeler that is planning to travel to London is guard Ramon Foster. Foster will be promoting the game in London just as Big Ben did. Foster will also be joined by the likes of Vikings' defensive end, Jared Allen, Jacksonville Jaguars' offensive linemen Unche Nwaneri and San Francisco 49ers' safety, Donte Whitner. All these players' teams will be playing London this upcoming season. What will be interesting to see is how well represented Steeler Nation will be for the game in London. Steeler fans are some of the best when it comes to representing the team at away games. This away game is a bit further away than usual though. Giving London fans a chance to watch NFL games is a good idea but at the same time it's discouraging to fans here in the states because it does take away at least one potential home game for Steeler fans or Vikings fans. Though we should be able to sacrifice at least one game for fans in London, we Steelers fanatics love our team and would love another chance to attend a home game in our beloved steel city. However, the game must go on and it's set to be played September 29th. So what say you, Steeler Nation, are you packing your bags and heading to London to watch the black and gold?
Original Story:
http://feedproxy.google.com/~r/isport...
THE BACKYARD
BEST OF MAXIM
RELATED ARTICLES
Going into the Pittsburgh Steelers 2012 Training Camp, one of the more anticipated position battles was between David and Will Johnson at fullback. Going into camp I gave David the edge because of his blocking ability and his experience on the team though I would not have been shocked to see Will win the job. Will had displayed great athleticism and a potential to be a nice receiving...
For those of us fortunate enough to be able to go on vacation, we know why we like to go vacation don't we? The general idea is that we get away from our normal lives and the everyday grind and we go relax somewhere. Maybe we go hiking or golfing or just simply do something that makes us feel good like lay on the beach for 10 hours a day. Thus the idea of vacation! For Pittsburgh...
As long as the 2013 projected starting five offensive linemen for the Pittsburgh Steelers can remain healthy over the course of training camp and the preseason, they will be the youngest group to start the season for the team since 1957. Marcus Gilbert, Ramon Foster, Maurkice Pouncey, David DeCastro and Mike Adams will all combine to have an average age of just over 24 come Week...
Over the years several people have tried to develop a stat that best measures how good a quarterback is. The passer rating is still used today, but since its development we have moved on to yards per pass attempt, net yards per pass attempt and adjusted net yards per pass attempt. If you read Pro Football Reference regularly, you probably know by now that net yards per pass attempt...
According to the Associated Press, a bouncer from a Pittsburgh bar is suing former Steelers offensive lineman Chukky Okobi after suffering injuries during a brawl.  Okobi ended up getting fined $100 for his part. Okobi was originally charged with five counts of simple assault after several people confronted him when he argued with his girlfriend at a South Side bar on Aug. 25...
In just a little more than two weeks from today, the Pittsburgh Steelers will report to Latrobe for training camp. Despite preparations being behind at St. Vincent College because of all the rain the area has had recently, the college is still expected to be ready on time to host the Steelers for a 48th consecutive year. Steelers.com released the complete training camp schedule...
He's fought numerous times with GMs and team owners, and now he's foolishly taking on a 6-foot shark. Seems like a logical progression. While fishing on his boat, Drew snagged this with his rod, then hopped into the water and grabbed the beast by it's tail. Of course, one of his crewmen  whipped out the iPhone to capture the event, because why the hell would you wrestle a...
The Pittsburgh Steelers selected CB Cortez Allen in the fourth round, 128th overall in the 2011 NFL Draft. Before the draft, analyst Mel Kiper considered Allen a "sleeper." The team's first intentio was to use Allen in the slot on nickel downs, and bring in William Gay to man the outside opposite Ike Taylor. However, the Steelers think Allen could have enough...
By Matthew Marczi With over a third of the Pittsburgh Steelers' offensive and defensive starting lineups featuring new faces, the 2013 season should be interesting, if nothing else, seeing how the team renowned for its veteran presence adapts to the next generation. We have already covered seven of the eight new starters over the past two weeks, and today we conclude with perhaps...
By Jeremy Hritz The season previews for NFL teams continue, and the most recent one regarding the Pittsburgh Steelers comes from Sports Illustrated online by writer Chris Burke. Burke previews the entire AFC North for the 2013 season and has some unique takes on what he sees as the weaknesses and strengths of this year's edition of the black and gold. While Burke doesn't come...
By Matthew Marczi Even though he may not have been given the biggest contract out of those who left the Pittsburgh Steelers this year via free agency, James Harrison was certainly the greatest. Mike Wallace may have gotten $60 million from the Miami Dolphins—and that is fair market value for his services at his age in today's NFL—it is unlikely that he will ever be as great...
Cincinnati Bengals, FLAT: The Bengals, like the Steelers, have all the appearances of a well-rounded football team. The only difference is that Cincinnati is also better rounded when it comes to age. If Andy Dalton makes the leap from "solid" to joining quarterbacks like Ben Roethlisberger and Joe Flacco in the second tier, the Bengals could surprise a lot of people with...
Steelers News

Delivered to your inbox

You'll also receive Yardbarker's daily Top 10, featuring the best sports stories from around the web. Customize your newsletter to get articles on your favorite sports and teams. And the best part? It's free!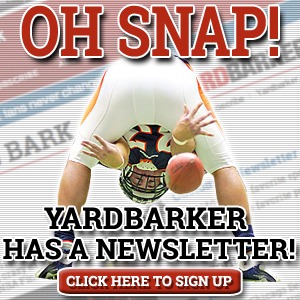 Latest Rumors
Best of Yardbarker

Today's Best Stuff

For Bloggers

Join the Yardbarker Network for more promotion, traffic, and money.

Company Info

Help

What is Yardbarker?

Yardbarker is the largest network of sports blogs and pro athlete blogs on the web. This site is the hub of the Yardbarker Network, where our editors and algorithms curate the best sports content from our network and beyond.