Found December 17, 2012 on Purple Jesus Diaries:
PLAYERS:
Adrian Peterson
,
Ali Muhammad
,
Babe Ruth
,
Bill Clinton
,
Blair Walsh
,
Randy Moss
,
Jerome Simpson
,
John Carlson
,
Brian Robison
,
Everson Griffen
,
A.J. Jefferson
TEAMS:
Minnesota Vikings
,
Buffalo Bills
,
Seattle Seahawks
,
San Francisco 49ers
,
St. Louis Rams
Cool Rushing Stat Story, Rams: Heading into the Minnesota Vikings and St. Louis Rams game on Sunday afternoon, the Rams were feeling a bit like Ice in Top Gun. Cocky, sure of themselves, maybe a little bit of that Aviator, 80's swagger. They hadn't allowed a running back to top more than 65 yards in their previous four games. Most recently, they just faced the VAUNTED Buffalo Bills team that was ranked sixth in rushing, and they held them to 61 rushing yards, TOTAL, 80 yards below their average. And that was on the road! Man, tough looking **** there, am I right? The Rams were hot to trot, were riding a four game streak in which they hadn't lost (three wins and a tie), and were coming home hot on the playoff trail getting ready to shut down this overrated Adrian Peterson-led Vikings team. THIS IS OUR HOUSE, VIKINGS, they probably yelled in their pre-game huddle, thinking they were super awesome. Well eat some dick sauce, Rams, because Purple Jesus just emasculated your false gods and **** into your offering plate. When all was said and done, all you non-believers did was allow him to put up his highest rushing yardage total of the season at 212, on 24 attempts, and basically told yourselves "No, that's OK Vikings, we don't want to go to the playoffs. Please take our spot. Thanks for stopping by." Well thanks for your generosity, lady skirts, we'll take all of the things and keep on trucking. Now bow down to your new God. Purple Jesus is here. Mushroom Stamp of Approval: Stop just a moment and think about what is going on right now. Some of you may remember Eric Dickerson in his heyday, running around like a boss and setting records with the best of them. If not him, you at least remember watching Barry Sanders redefine the running back position. He was just unfortunately a Lion, which shouldn't be held against him. Many thought though that a player of his caliber would never come around again. Now, I'm trying not to get all teary eyed and emotional right now, but dammit people, do you understand what is happening? We are watching history with Adrian Peterson. And this isn't just a single season thing, this is an entire career. This is like watching Muhammad Ali, or Babe Ruth, or Bill Clinton run a White House. It's unbelievable. And you know what? Screw all of those guys, because I don't think ANY of them tore an ACL less than 365 days ago and his only now having THE BEST SPAN OF THEIR ENTIRE CAREER. I don't know what the hell is going on, but watching Peterson destroy **** every week is like having the heavens open up every seven days and just fill you with a million orgasms at once. I hope it never ends. And for the love of god, whatever coach ends up coaching him until he retires, PLEASE always make sure he has a fullback in front of him. It makes such a difference. 2012 PLAYOFF WATCH: We're currently the 6th seed!! I can't believe we are still talking playoffs with two games left in the season. To my understanding though, here's what I believe will and needs to happen. First, the Vikings CAN lose to the Texans next week and still make it, IF they beat the Packers the following week. What we'll also need though is some help, namely in the form of the Giants taking a huge **** down the stretch. The Vikings can make it in as the sixth seed with a 9-7 record, but we'll also need the Bears to lose one of their last two as well (@Arizona and @Detroit, neither of which I feel very good about). Dallas winning today also hurt us (THANKS FOR NOTHING, BEN RAPEY). We need Dallas to lose to the Redskins the last week of the season for us to sneak in too, otherwise both of those teams will make it in. There are probably a billion other tie breakers out there, but the teams I'm watching are those ... Dallas, Redskins, Bears, Giants. The Seahawks and 49ers have their own things going on, but their final games are all pretty week, so we have to balance out the other ones. Frankly, I'm just so giddy thinking about a Vikings playoff game that all the scenarios get jumbled in my head anyway and then I just lose control of my bowels and adaslk;fj as;jfha sighaso ; AWESOME. Ya feel me? Notes and Nips: Lot's of other little pieces that came up from the game, so let's jump into it: - Ponder still didn't play great, but he played better, admittedly. His scramble for a touchdown was nice in the things he DID do, namely, shuffled in the pocket and kept his head down field before crossing the line of scrimmage and running it in. And many of his slant passes were pretty spot on. They were good, hard throws and easy decisions to make, and that seemed to play to his strengths. He even took a couple of shots down field, shots that were WAY off, but it at least made the defense think about ****. So who knows. Maybe Musgrave is figuring some things out down the stretch. I mean, I doubt it, but maybe. - Blair Walsh is now your all-time Vikings rookie scoring leader. The previous holder was Randy Moss with 106 points, and Blair ended the day with ... More. Lots more. I don't even know how to do math that high since he was kicking like a billion field goals, all seemingly from 50+. I was hesitant to roll with a rookie kicker this year, but then I figured "What the hell, it's a throw away season anyway," and now we're actually in the playoff hunt largely because of his golden leg. Pretty sweet. - I'll give the receivers some credit. Jerome Simpson had a couple of nice catches, and I thought Michael Jenkin's single reception was handled nicely too. The top receivers were all in the 20 yards, which still sucks big, but still. I'll take what we can get. - John Carlson showed up too, and when I say "showed up" I mean he did something instead of nothing, which totally exceeded expectations. A couple of his catches he got wracked pretty hard and I was sure he'd drop it, but surprisingly he didn't. Good for him for finally doing his job! - Brian Robison sprained his shoulder early in the game, and that had me worried because he started the game well. I'd also hate to lose him down the stretch here if needed. It sounds like it was a sprain and he'll be day-to-day, so that's good news. When he went out though, that meant Everson Griffen got more playing time, and he of course was a huge badass. The pick six was solid, but he was also pressuring Bradford all day too. - Things I cannot wait for in 2013 - NO MORE AJ JEFFERSON. Jesus, every year there's one of them. Do other teams have to suffer through this? Glorious Haiku: "Hey Saint Louis Rams, Know how I know you will lose? Your punter's Ginger." Alright everyone, take a deep breath. Big week coming up. If the Vikings beat the Texans, the team has a great shot at making the playoffs. I don't like our chances, obviously, but maybe we can catch them in a slump after they just won the division? That kind of a hangover effect is a real thing, right? Or we can rufi them all the night before too, right? That's legal? Well, we'll need the help. Either way, can't wait. [follow]
Original Story:
http://www.purplejesusdiaries.com/201...
THE BACKYARD
BEST OF MAXIM
RELATED ARTICLES
After his big game against the St. Louis Rams on Sunday, where he rushed for 200 + yards, Minnesota Vikings running back Adrian Peterson popped the question to his girlfriend.... a former playboy playmate (below).According to a report, Peterson popped the question to his longtime girlfriend Ashley Brown after the game. Brown, who is a college graduate and a socialite, posed...
The Minnesota Vikings running back is having a career season on and off the field. Adrian Peterson is reportedly engaged to his college sweetheart and former Playboy Playmate, Ashley Brown. The two met in college at the University of Oklahoma in 2004 and have been dating since. Congrats to Adrian and Ashley. [Rolling Out] Article found on: Cosby Sweaters
Adrian Peterson's 212 yard effort against the St. Louis Rams puts him within reach of Eric Dickerson's single season rushing record of 2015. 212 yards in a single game is a great feat, but what makes this more impressive is that it came on a day where it looked like Peterson would struggle. For most of the first quarter Peterson was bottled up behind the line, beginning the game...
Adrian Peterson entered Sunday's showdown against the St. Louis Rams with a whopping 1,600 yards and 10 touchdowns on the ground on 265 carries (6.0 YPC) through 13 games in 2012.  He also needed just 506 yards in the final three weeks of the season to set the NFL's single-season rushing record. Peterson earned more than 40 percent of that amount in four quarters at Edward Jones...
If I had a vote for the NFL MVP of 2012, I would give mine to Minnesota Vikings running back Adrian Peterson. During today's blow-out against the St. Louis Rams, watch as AP breaks off this 82-yard touchdown run where he changes course mid-run:
ST. LOUIS -- One of the NFL's most hallowed records is in clear sight for Adrian Peterson. So, too, is a playoff berth for the Minnesota Vikings, the team he's carrying on his broad shoulders less than a year after tearing a knee ligament. Peterson rushed for 212 yards on 24 carries, moving within 293 yards of Eric Dickerson's 28-year old record of 2,105 rushing yards...
ST. LOUIS -- Adrian Peterson continued his assault on Eric Dickerson's 28-year-old NFL record for most rushing yards in a single season, and he helped the Minnesota Vikings stay in the NFC wild-card race. Peterson's 82-yard touchdown run kicked off a 23-point explosion over the second quarter's last 12 minutes, 21 seconds, and the Vikings produced their highest point...
This week playoff races usually start to sort themselves out as teams are able to establish themselves late in the season. This season is a little different as this Sunday only made the playoff picture even cloudier. Dallas, Washington, Minnesota, and Seattle all helped their cause while the Giants, Steelers and Bears put themselves in very intriguing positions.   The race for...
The Minnesota Vikings were well aware of their failures on the road heading into Sunday's pivotal game at St. Louis. The Vikings were 1-5 on the road and fighting for slim playoff chances against the Rams, who had won three games in row and were trying to stay alive themselves for the postseason. Minnesota, at least in a dome on the road, made itself at home and put together...
Adrian Peterson is in the middle of a historic season. His pursuit of the NFL's single-season rushing record has been so captivating, in fact, that even some of his fiercest rivals are rooting for him. Green Bay Packers wide receiver Greg Jennings, during an appearance on The Dan Patrick Show on Tuesday, talked a little bit about Peterson's quest to break Eric Dickerson's 28...
1. Adrian Peterson is this year's MVP if… Nobody doubted Peyton Manning's ability to lead the Broncos to an AFC West title this year. The biggest question surrounding Peyton was his ability to absorb a hit, not fill the one need Denver desperately needed on offense. People assumed he would do that. But nearly every pundit had the Vikings finishing in the basement of the NFC...
NFL News

Delivered to your inbox

You'll also receive Yardbarker's daily Top 10, featuring the best sports stories from around the web. Customize your newsletter to get articles on your favorite sports and teams. And the best part? It's free!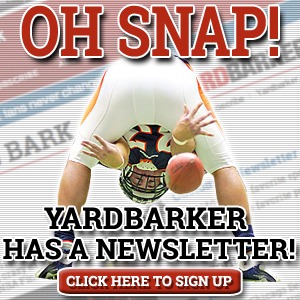 Latest Rumors
Best of Yardbarker

Today's Best Stuff

For Bloggers

Join the Yardbarker Network for more promotion, traffic, and money.

Company Info

Help

What is Yardbarker?

Yardbarker is the largest network of sports blogs and pro athlete blogs on the web. This site is the hub of the Yardbarker Network, where our editors and algorithms curate the best sports content from our network and beyond.