Found December 31, 2012 on Purple Jesus Diaries:
PLAYERS:
Adrian Peterson
,
Christian Ponder
,
Jon Gruden
,
Jarius Wright
,
Michael Jenkins
,
Peyton Manning
,
Blair Walsh
,
Mason Crosby
,
Percy Harvin
,
Greg Jennings
,
Antoine Winfield
,
Jordy Nelson
,
Aaron Rodgers
,
Everson Griffen
,
A.J. Jefferson
,
Marcus Sherels
,
Jerome Simpson
,
Lovie Smith
,
Clay Matthews
TEAMS:
Minnesota Vikings
,
Green Bay Packers
,
Chicago Bears
,
Kansas State Wildcats
A Game for the History Books: They actually did it. A team that was predicted to finish by most experts at a paltry 3-13 again pulled off the ridiculous and ended up 10-6. They had some poor games along the way (Tampa Bay loss? Should've won that damn Colts game), but they also notched some impressive wins along the road that could have told us all this was inevitable. Wins over San Francisco, the Texans, and the Packers all look pretty good right now, but the question was always, "will it be enough?" On Sunday, it was pretty simple ... Win, and we get to all get excited and drunk again next weekend in hopes of pulling off a second straight win over the Packers. And when the nerves finally settled and time ticked off, that's exactly what happened. The Minnesota Vikings, as improbable as it has been all season, beat the Packers 37-34, finished 10-6, and are a playoff team. Phew. Pretty sure I won't need a Viagra for the next week. Mushroom Stamp of Approval: Is there really any question about this? There were others on the team who ended up playing really well (we'll get to that in a moment), but how do you deny a guy the Mushroom Stamp when he wraps up possibly the greatest season ever had by a running back? With 2,097 yards on the year, that put Adrian Peterson just nine yards short of the single season rushing record. While that absolutely breaks my heart, it ultimately doesn't matter. You look at the numbers of Peterson's season compared to Eric Dickerson's season, and Purple Jesus demolishes it: Year Age Tm Pos No. G GS Att Yds TD Lng Y/A Y/G A/G Dickerson: 1984*+ 24 RAM RB 29 16 16 379 2105 14 66 5.6 131.6 23.7 Peterson: 2012 27 MIN RB 28 16 16 348 2097 12 82 6.0 131.1 21.8 Both guys started 16 games, but Peterson had 31 less carries (about an entire games worth), a greater yards per average, on par yards per game, and less attempts per game. Maybe "demolishes" the record is a bit of hyperbole coming from me, but what do I care. Let's not forget that it was literally an exact year ago when Peterson had just gone under the knife to repair a knee that had been grenaded. He was coming of major reconstructive surgery and put up these numbers. LOL, WUT?! IZ U A RUBOT?! Pretty much. Peterson deserves the MVP, the Comeback Player of the Year, Offensive Player of the Year, Time Magazine's Person of the Year, People's Sexiest Man Alive (back off, Kluwe), a Nobel Prize, and anything else we can think of. He is my ultimate god damn hero, and this year's Mushroom Stamp of Approval winner FOR LIFE. Christian Ponder: Not that I want to **** on Christian Ponder here. Ponder had pretty much convinced me in the last handful of weeks that he wasn't the right guy for the team. Even last week after he simply DIDN'T screw things up against the Texans, I wasn't wholly convinced that he had turned a corner. But this game? THIS GAME, says Jon Gruden. Ponder might have won us this game. As good as Peterson is, was, has been, and will be, Ponder played out of his god damn mind on Sunday. His long pass to Jarius Wright may have been the greatest thing he's done in his career, second only to the third down pass he threw to Michael Jenkins where he side stepped in the pocket, checked back to the left, and tossed it. 57%, 234 yards, 8.4 yards per completion, THREE TOUCHDOWN PASSES, and zero turnovers. That's not going to win the guy the MVP by any means, but if that's all he does on a crazy ass run through the playoffs, that's good enough. With Peterson's rushing attack, Ponder doesn't have to be Peyton Manning, he just has to stop sucking. And hey, he did that (and more, honestly) on Sunday. Kudos. Blair Walsh: And then there's this ******* kid. Essentially tells all other rookie kickers ever in the history of the NFL to suck his dong, and book ends his season with two game winning field goals. Yeah, remember when he did that to start against the Jaguars? What a stud. Also, let's not forget that he's kicked something like seven 50+ yard field goals this season, which were good, and honestly, all of which would have been good from 70 yards out. Compare that to pencil dick Mason Crosby of the Packers who ... OOOOOO!!! ... Made two on the entire season, including one the last game indoors against the Vikings. Let's just say that if the playoff game next week comes down to a field goal, I'm liking our chances. The best part about Walsh though is the quote he dropped after the game when chatting with the Pioneer Press: BS: Were you surprised you had to make the kick twice, or were you expecting the Packers to call a timeout? BW: I heard it as we were going through the steps. I heard it, and I hit it. I knew it didn't count. They can ice me all they want as far as I'm concerned. Eat ****, Packers. Your rookie timeout scheme isn't going to work against Walsh. He's not Crosby, you morons, you can't phase him. Notes and Nips: So much other stuff from this game, I know I'll probably miss some of it. So leave a comment highlighting things you noticed. But here we go: - OK, so not playing Jarius Wright all season was maybe a bad idea. But what now about Percy Harvin? Do we give him the contract? Franchise him and trade him? Is he worth more trouble than anything? WHAT A CONUNDRUM! If it were me, I still give him the money. Or maybe let him walk and sign Greg Jennings in the offseason? - Hat tip to Frazier. He coached a hell of a game, and showed some fire on the sidelines finally when the Packers got that touchdown call after the initially called fumble. Looked a bit short of the goal line (enough to reverse the fumble call, but not flip it to a TD), but whatever. The only knock is that, if he had the timeouts left at the end of the game (I don't think he did, thought they only had one in their pocket), he probably should have let Peterson line up and take one more run at the record. But that's just me being selfish. - Gotta have Antoine Winfield next week. That's an absolute must. As soon as he went out in the second half you saw the defense start falling apart. Here's hoping his hand heals up enough for him to fight through it. - I cannot express my disdain for Jordy Nelson. Starting with the fact that he's a Kansas State alum, which makes him a piece of **** to begin with, then his attempting to cheat and pick up the red flag tossed by McCarthy, and then just being a dick hole in general. That guy is the worst. - Oh, and I can only hope that Aaron Rodgers acts like a huge ***** next weekend as well. Watching him flail his arms around in exasperation because he didn't get a call his way was fantastic. - The box score says the Vikings had five sacks, but it sure didn't feel like that. And then you realize that three of those were credited to Everson Griffen and, yup, that guy is amazing. I hope he goes wild again next weekend. - AJ Jefferson isn't doing much to make me like him. And Marcus Sherels? I can't blame him too much because I think schematically he's never supposed to actually be on the field as a cornerback, but when Winfield goes out and another guy gets injured for a bit, the options are limited. - Jerome Simpson can't be on this team next year, right? - Lovie Smith was fired. Essentially, he was fired because the Bears didn't make the playoffs. Note that the Bears WERE in position to make the playoffs if the Vikings would have lost. So the Vikings got Lovie Smith fired by beat the Packers. Two birds, one stone? 10-6 Haiku: "Hey guys, pre snap read, Watch out for Clay Matthews there, He sure likes to spoon." PRETTY, PREEETTTTTYYYY, amazing. That game was loads of fun. I hope like hell we can bring that same magic to Lambeau next weekend, but we'll see. It's going to be a real tough task. Just remember though as you're chatting with your Packer friends this week, the Vikings are undefeated in Lambeau in the playoffs. Score one for the good guys! Let HATEHATEHATE Week continue. [follow]
Original Story:
http://www.purplejesusdiaries.com/201...
THE BACKYARD
BEST OF MAXIM
RELATED ARTICLES
As we look at the top-50 single season rushing totals, anyone who anticipated Adrian Peterson would rush for over 2,000 yards in his comeback year would have been called crazy. In his 16th game of the 2011 season, he felt three pops in his left knee. X-rays told the story of torn medial collateral ligaments along with torn anterior cruciate ligaments, but A.P. wouldn't wait and...
GREEN BAY, Wis. -- There wasn't much that the Packers were able to do in the regular season to stop Adrian Peterson. The Minnesota Vikings' star running back totaled 409 yards in two games, making Green Bay's defense look helpless on many of his breakout runs. Instead of enjoying a restful bye week and watching as four playoff teams get eliminated on wild-card weekend...
Adrian Peterson is happy that his incredible performance on Sunday against the Green Bay Packers helped the Minnesota Vikings clinch a playoff spot. He may not hold the NFL record for most rushing yards in a single season, but his team will still be playing in January. In the grand scheme of things, that's all that matters. However, Peterson wouldn't be human if it didn't sting...
It might have been the excitement of making the playoffs but  — after falling just nine yards shy of Eric Dickerson's single season rushing record of 2,105 yards — Minnesota Vikings running back Adrian Peterson seemed genuinely flabbergasted that he had come so close to breaking the 28-year-old record. While being interviewed post-game by Fox's Pam Oliver — after...
The Minnesota Vikings are Adrian Peterson's team. Christian Ponder, though, is the one most responsible for their progress. The passing game was so bad and the ground game was so good that, for a while, Peterson was rushing for more yards than Ponder was accumulating passing. But since the Vikings lost to the Packers on Dec. 2, due largely to the two interceptions Ponder threw...
  Minnesota Vikings running back Adrian Peterson is just over 200 yards shy of the all-time single season rushing record, but it seems he has a new goal in mind already – Olympic athlete. Peterson says he is going to start running track in an attempt to qualify for the 2016 Summer Games in Rio de Janeiro. "I feel like I can stand up to any challenge," Peterson said. "I...
Recent playoff games in Lambeau have not been kind to Packers fans…next weekend will be no different.   My predictions are ALWAYS wrong, so…Packer fans…enjoy the very real possibility that what I am about to write will be dead wrong…because it usually is. That being said, the POSSIBILITY that I may be wrong is really the only hope the Packers have of not being embarrassed...
Sunday's 37-34 win against the Green Bay Packers perhaps wasn't the most dominating win of the season for the Minnesota Vikings, but it certainly was the biggest. Beating NFC North champion Green Bay was Minnesota's most important victory since the 2009 season. A 37-34 win, thanks to a time-expiring 29-yard field goal by rookie kicker Blair Walsh doesn't qualify...
Away from a television and need play-by-play on the Packers-Vikings game? One place to find it right now is the Chicago Bears Twitter feed, The Bears are depending on the Packers to win the game (thus, a Vikings loss) to pave their way into the NFC Playoffs for the second time in three years. Meanwhile, Adrian Peterson continues to chase Eric Dickerson's single-season rushing record...
1. Adrian Peterson is this year's MVP. It wouldn't be a travesty if Peyton Manning were to claim this year's MVP award. It wouldn't be a crime, an injustice, or a mockery for the NFL. Having said that, Adrian Peterson is so clearly this year's most valuable player that it's almost not even worth discussing. The Vikings went 3-13 last year and owned the third overall pick...
In week 17, the NFL regular season finale, the NFC North Division Champion Green Bay Packers travel across the Mississippi River to take on the Minnesota Vikings in the Humpty Dump. At stake for the Packers is nailing down the number two seed in the NFC playoffs and a first round bye. For the ViQueens, a win means -- in all likelihood -- getting the sixth seed in the playoffs. Do...
8 a.m. ET: It all comes down to this. While many NFL teams are shoring up for the playoffs, another pursuit awaits for those chasing individual accolades. For some of the NFL's best players, just 60 minutes remain to break records after a long season of work. In a year that has seen all kinds of benchmarks fall, a couple of the big ones remain. The Vikings' Adrian Peterson needs...
NFL News

Delivered to your inbox

You'll also receive Yardbarker's daily Top 10, featuring the best sports stories from around the web. Customize your newsletter to get articles on your favorite sports and teams. And the best part? It's free!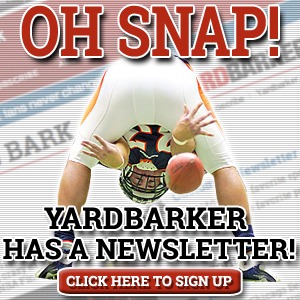 Latest Rumors
Best of Yardbarker

Today's Best Stuff

For Bloggers

Join the Yardbarker Network for more promotion, traffic, and money.

Company Info

Help

What is Yardbarker?

Yardbarker is the largest network of sports blogs and pro athlete blogs on the web. This site is the hub of the Yardbarker Network, where our editors and algorithms curate the best sports content from our network and beyond.