Found November 05, 2012 on Purple Jesus Diaries:
PLAYERS:
Christian Ponder
,
Russell Wilson
,
Doug Baldwin
,
Michael Jenkins
,
Chris Cook
,
A.J. Jefferson
,
Christian Ballard
,
Letroy Guion
,
Kevin Williams
,
Adrian Peterson
,
Percy Harvin
,
Toby Gerhart
,
Randy Moss
,
Joe Webb
,
Phil Loadholt
,
Kyle Rudolph
TEAMS:
Seattle Seahawks
,
Minnesota Vikings
,
San Francisco 49ers
I WISH It Was Mediocrity: Instead, it may be just downright terrible football. The Vikings lost to the Seattle Seahawks on Sunday, November 4, 20-30, and frankly, that was a generous score. I kept looking at the scoreboard in the third quarter and broke several glasses as they dropped along with my slacked jaw when I realized that we were within three points still. BAH?! Yup, all we needed was a field goal to put some pressure on the Seahawks, tie that ***** up, and sneak out another win despite a outlandish and offensive display of quarterback play. But no, our offense couldn't even get into field goal range (which, keep in mind, means getting to the like FIFTY so that Little Big Leg could kick a 80 yard field goal, no problem). In the end, there's not a ton to say. We were out coached, out quarterbacked (by a midget mulatto), out defensed, and out classed in the most ridiculous way. There are zero excused, except to say that maybe Ponder was confused because he was two time zones away, had a late kickoff start, and the whole day light savings thing, but ... Eh. Half the season of him sucking now is a pattern, not a blip on the career record. Mushroom Stamp of Disapproval: Without question, the fall guy for this game is Christian Ponder. First, he CONTINUES to insist that he plays with his shirt on. If you ever want to find out why things are going wrong, start there. If you want to find another reason, consider that ever since it became very public that he was dating Samantha Steele, he's sucked an alligator dong, too. Beyond that, 63 yards, 50% completions, four sacks, one interception, and a 37.3 quarterback rating won't really cut it either. People keep saying that it's either all Ponder's fault, or that his receivers suck. It's a little of both, sure, but Ponder has to at least try to throw the ball to a receiver before they can fail catching it. I mean, how does pig nose Russell Wilson laser the ball to his receivers with a five yard window and they catch it? Is Doug Baldwin any better than Michael Jenkins? I don't even know who Doug Baldwin is, so I'm going to say no. Either way, Ponder gets most of the blame, but to say that this isn't an entire team effort of sucking it up, that'd be disingenuous, because HOLY HELL our defense is terrible too. Ponder is just more, obviously, terrible. Defense is Fun: Speaking of defense ... I think it's safe to say that the nice defensive experience we had to start the year is over with. This is two weeks in a row where poor teams were made to look like mid 2000's Patriots. Really? Tampa Bay? Seahawks? We give up like 700 rushing yards and let baby quarterbacks pick us apart like it's a Halloween cake walk. I never thought Chris Cook could beat me (or my heart?) too. I don't actually think him being out has been the main thing that's screwed this defense, but the opposing teams passing games have looked great with him out. Or maybe it's just that AJ Jefferson is that terrible. Probably both. And more than that, the running defense is a heart breaker too. Remember when we wouldn't give up 100 yard runners? Seems like a decade ago. Now we let rookies and their back ups almost set single game rushing records against us like it's a dare. If so, that's a real ****** dare, and I wish they'd stop it. But then I look at see that there's a thing called "Christian Ballard" and a "Letroy Guion" manning the middle while Kevin Williams is 48 years old. That ain't going to do it, dudes. Pick your game up. Thanks to Percy and Peterson: So while we begin to digest how horrible the rest of the team is half way through this season, let's take this moment to recognize just how blessed we are, like proper little disciples, to have Adrian Peterson and Percy Harvin on this team. Without them, we'd have ... what, 97 total yards? What the hell, man. First, Purple Jesus puts up the highest career first half numbers he's ever had and the coaches decide to start putting the ball in Ponder's hands. OK, terrible idea, but maybe you'll at least get the ball to Percy Harvin. Or, wait, no, maybe you'll just tell Ponder not to throw it at all, instead, scramble while frightened and dump off to Toby Gerhart instead. Great plans, guys. And when Percy finally goes Randy Moss on the coach and tells him he's a dick nose like he really is? Keep in on the sidelines! To teach him a lesson! Because the coach knows best! I swear to god, if everyone but these two (and Kluwe?) aren't fired in the morning I'm starting to plot a glitter bombing. The **** List: Depending on whether the team wins or loses, we compile a **** or IT list of players (or franchise related people and things) that really affected the team in the last week. Since we lost this week AGAIN, we'll be pulling out the people who deserve to get nut punched: - Fans clamoring for Joe Webb (Because he's totally the Steve Young on our bench, morons) - Phil Loadholt (When you got two guys rushing on your side, the best option totally is to block neither of them) - Kyle Rudolph (Take notes from Percy, Domer, get pissed and make the coach call a play for you) - Christian Ponder (Dump the broad, take your shirt off, and start throwing your balls deep) - Any defensive tackle (TACKLE) - AJ Jefferson (You fulfilled your role to teach us about Arizona's game plan, so you can leave now) - Bill Musgrave (When your running back is on pace for 300 yards, you should probably sell out and just run the ball) Frowny Haiku: "Hey Pete, quick question, As an expert, how do you Steal a Double-You?" Welp, the dreams over, dudes. If I had to guess, I say we win one more game this year and get a top 10 draft pick. I have no idea what that game is, but I figure it has to happen through dumb luck at some point. But the Packers? Bears? Lions again? Hahaha, LOL, goodnight sweet princes. Prepare your anuses for the bottom of the division again, because that's where we're heading! But at least it will be enjoyable while it happens. [follow]
Original Story:
http://www.purplejesusdiaries.com/201...
THE BACKYARD
BEST OF MAXIM
RELATED ARTICLES
It goes without saying that Minnesota Vikings quarterback, Christian Ponder, is struggling after a hot start to the season. He went four games without throwing an interception (the last starting NFL QB in 2012 to do so!), and was posting completion percentages above 60% for the first six games as well. But since then, Ponder hasn't been able to connect on more than 54% of his...
Vikings quarterback Christian Ponder was nothing short of terrible during yesterday's loss to the Seahawks. The 2nd-year quarterback was 11-for-22 and threw for 63 yards and an interception. This marks the second time in three games that Ponder has thrown for under 100 yards and it begs the question, should Ponder be benched? "The Vikings are dedicated to giving Ponder a fair...
Minnesota Vikings quarterback Christian Ponder has not played well over the last several games. After a hot start to the season in which he led the Vikings to a 4-2 record and threw eight touchdowns and only four interceptions in six games, Ponder has struggled over the last three weeks. He was particularly bad in a loss to the Seattle Seahawks on Sunday. Ponder was an abysmal 11...
We have all been there before. Frustrated, beaten, bruised and battered in one way or another, because of that we have let our tempers react. Percy Harvin of the Minnesota Vikings is no different, it's just that he's an NFL player and was caught on camera. Many witnessed Harvin arguing with head coach Leslie Frazier in the second quarter after another red-zone drive resulted...
Good things come to those who wait.Unfortunately in today's National Football League it has become "Win NOW or Get Out!"Which is understandable, to a point.The point in question is about Minnesota Vikings quarterback Christian Ponder, and his place in the franchise.The Vikings had a horrible season last year, leading to having the No. 3 overall draft pick this past...
I won't get into the recovery timeline on Adrian Peterson's ACL injury, short of saying that its quite amazing that he was on the field for week 1 and his production ever since has been amazing. Getting himself to the field for week 1, in my eyes, was heroic. What he's doing out there, on a surgically repaired leg or not, is also worthy of our admiration. Through 9 weeks...
Vikings coach Leslie Frazier insists that quarterback Christian Ponder is in no danger of losing his job despite another subpar effort Sunday against the Seahawks.Fantasy Spin:Ponder finished the afternoon with just 63 yards passing and a 37.3 quarterback rating. He's thrown at least one interception in each of his last five games and certainly won't fare much better next...
EDEN PRAIRIE, Minn. Minnesota Vikings coach Leslie Frazier sees an onion when he sees the team's passing offense lately. Finishing under 100 yards passing for the second time in three games, Minnesota coaches plan to head into full-out evaluations of quarterback Christian Ponder, the schemes and game plans of offensive coordinator Bill Musgrave, the route running and separation...
The Minnesota Vikings are trying to figure out how to get off the ground. They struggled through another poor performance by Christian Ponder in Sunday's loss at Seattle, wasting 182 yards rushing and two touchdowns by Adrian Peterson. As the toughest part of their schedule comes into view, the Vikings are searching for solutions to their sputtering passing attack. Coach Leslie...
Christian Ponder has been a sore point in the Vikings' passing game, but he isn't the only thorn causing irritation. We review the numerous aspects of the passing offense that went wrong, patched together with reaction from Leslie Frazier and others.
The Vikings have had three games with less than 100 yards passing, but they saw the potential they had earlier in the season. Whether it's Christian Ponder's confidence, his accuracy or better play-calling, they are searching for answers.
Leslie Frazier believes the fault for the Vikings' troubled passing game goes beyond Christian Ponder. One thing is for sure: When Ponder is pressured, he isn't performing well.
NFL News

Delivered to your inbox

You'll also receive Yardbarker's daily Top 10, featuring the best sports stories from around the web. Customize your newsletter to get articles on your favorite sports and teams. And the best part? It's free!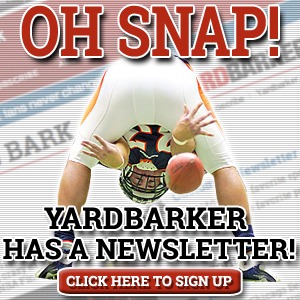 Latest Rumors
Best of Yardbarker

Today's Best Stuff

For Bloggers

Join the Yardbarker Network for more promotion, traffic, and money.

Company Info

Help

What is Yardbarker?

Yardbarker is the largest network of sports blogs and pro athlete blogs on the web. This site is the hub of the Yardbarker Network, where our editors and algorithms curate the best sports content from our network and beyond.