Found August 31, 2012 on Ravens Football Machine:
PLAYERS:
Jeff Fisher
,
John Harbaugh
,
Sam Bradford
,
Tyrod Taylor
,
Joe Flacco
,
Ray Rice
,
Ray Lewis
,
Curtis Painter
,
Billy Bajema
,
Deonte Thompson
,
Michael Brockers
,
Peyton Manning
,
Janoris Jenkins
,
Bobby Rainey
,
Craig Dahl
,
Robert Quinn
,
Danny Amendola
,
Austin Pettis
,
Justin Tucker
,
Billy Cundiff
,
Greg Zuerlein
,
Asa Jackson
,
Courtney Upshaw
,
Justin Boren
,
Bruce Figgins
,
Matt Balasavage
,
Sergio Kindle
TEAMS:
Baltimore Ravens
,
St. Louis Rams
,
Washington Redskins
Jeff Fisher may have done Baltimore a favor by starting his first team and playing them for most of the first half... it gave Ravens coach John Harbaugh a benchmark for testing the playability of his 2's, 3's and 4's in the final game of the 2012 preseason.
Now the cuts the Ravens have to make will at least be based upon relativity to the best St. Louis has to offer.
It was unusual to see a starting QB like Sam Bradford in a Game 4 of the preseason... but it certainly gave the candidates trying to earn a spot on the Ravens' defensive roster a true test.
St. Louis Rams coach Jeff Fisher ended up giving his starters plenty of playing time. Baltimore Ravens coach John Harbaugh got what he wanted - a really long look at his backups. Sam Bradford threw three touchdown passes in 1-and-a-half quarters, giving the Rams an early lead in a 31-17 win on Thursday night. Fisher, overseeing a franchise that has totaled 15 wins in the past five seasons, called for the second stringers after a 9-yard catch by Mike Hoomanawanui made it 21-0 with 6:59 to go in the half. "I took them out because we got some production, made some plays," Fisher said. "It's a good way to finish up." Bradford ended up throwing five touchdown passes in the preseason, all of them at home for the Rams (2-2). "It's very satisfying," Bradford said. "The way we finished definitely shows that we're comfortable out there. I think we're moving into the regular season in a very nice way." Harbaugh, gearing up for a Super Bowl run after losing in the AFC title game last season, started just a handful of his regulars as he does every year in the preseason finale. The Ravens committed four turnovers as Tyrod Taylor started at quarterback for Joe Flacco. The Ravens also rested running back Ray Rice and linebacker Ray Lewis. Most of the regulars didn't even dress. "Every team does what they have to do in this game," Harbaugh said. "We didn't play a lot of our guys at all. It was a great opportunity from that perspective, to see how some of our backups match up." Curtis Painter, the third-string QB for Baltimore (2-2), threw three interceptions and added touchdown passes to Billy Bajema and Deonte Thompson.
Fisher's insistence upon playing his starters might end up biting him in the ass. His #1 draft pick, DT Michael Brockers from LSU, got chop-blocked (legally) within the Tackle box in the first half, and had to be carted off the field with what looks like a serious ankle or leg injury. MRI's later will tell the full story. X-rays were negative and an MRI was scheduled for Friday for Brockers, who was in a walking boot but didn't think it was a serious injury.
Harbaugh said he hasn't decided whether to go with two or three quarterbacks, leaving Painter and Taylor, a sixth-round pick last year, on the roster bubble. "All that's been done has been done to this point, so I'm not going to worry too much about it," said Painter, who started last year for Indianapolis after Peyton Manning was injured. "It's out of my hands, so I'll just keep rolling until they tell me not to." Rookie Janoris Jenkins was a rare Rams starter who played into the third quarter, and made it 28-0 with a 76-yard interception return for a touchdown off a pass by Painter that deflected off Bobby Rainey's hands. "Most definitely, I want to take it to the house," Jenkins said. "I always think that." The Rams intercepted Painter on the previous play, too, but Craig Dahl fumbled it back. Robert Quinn had a sack, forced fumble and fumble recovery while stripping Taylor to set up Danny Amendola's 7-yard score late in the first quarter. He also deflected a punt in the second quarter. The Rams played well in both their home games this preseason despite sparse attendance. The Edward Jones Dome, which holds 66,000, was probably about one-third full for the opening kickoff and was all but empty at the end. Bradford was 11 for 16 for 175 yards and spread the ball to eight receivers, with Austin Pettis starting the scoring with a 14-yard catch capped by a dive inside the pylon.Bradford recovered his own fumble off a center snap for a 5-yard loss the play before throwing the touchdown pass to Hoomanawanui. Rookie kickers for both teams showed plenty of leg. The Ravens' Justin Tucker, who beat out Billy Cundiff, made a 49-yard field goal in the second half after barely missing from 57 yards near the end of the half. That was the lone miss in eight preseason attempts, including a pair from 50 yards or longer for the undrafted Tucker. The Rams' Greg Zuerlein hit his fourth field goal from 50 yards-plus in the preseason with a 59-yarder that scraped the crossbar early in the fourth quarter. He was just short on a 62-yard attempt in the third quarter that was caught by the Ravens' Asa Jackson just under the crossbar.
Notes: Ravens backup OLB Courtney Upshaw (shoulder) will undergo an MRI Friday. "Yeah, we're concerned," Harbaugh said. OL Justin Boren (right foot sprain) also will have an MRI, and TEs Bruce Figgins (right knee sprain) and Matt Balasavage (high left ankle sprain) were injured.
We'll take a closer look in the next blurb at how the Ravens who were on the bubble performed in this one. My first impression on Sergio Kindle's effort to impress-- not so good. But let's look at the game tape one more time before we rush to judgement.
BAL Passing  C/ATTYDSAVGTDINTSACKSRTG C. Painter 19/31 193 6.2 2 3 0-0 61.0 T. Taylor 8/12 58 4.8 0 0 1-6 77.8 Team27/432455.7231-6--   Baltimore Rushing  CARYDSAVGTDLG B. Pierce 8 27 3.4 0 11 T. Taylor 1 22 22.0 0 22 A. Allen 5 12 2.4 0 5 D. Berry 1 10 10.0 0 10 B. Rainey 6 9 1.5 0 8 C. Painter 1 2 2.0 0 2 Team22823.7022   Baltimore Receiving  RECYDSAVGTDLGTGTS D. Thompson 6 68 11.3 1 20 9 L. Payne 5 58 11.6 0 21 6 B. Rainey 4 42 10.5 0 16 7 T. Doss 3 25 8.3 0 20 4 D. Berry 3 22 7.3 0 18 3 A. Allen 2 20 10.0 0 13 2 B. Bajema 2 10 5.0 1 7 3 L. Williams 1 5 5.0 0 5 3 M. Balasavage 1 1 1.0 0 1 3 D. Graham 0 0 0.0 0 0 3 Team272519.322143   Baltimore Interceptions  INTYDSTD D. Gorrer 1 0 0 Team100   Baltimore Defensive  TACKLESMISC  TOTSOLOSACKSTFLPDQB HTSTD O. Brown 6 6 0 0 0 0 0 I. Kitchen 4 4 1 1 0 1 0 C. Quarles 4 4 0 0 0 0 0 C. Brown 4 4 0 0 0 0 0 N. Carr 4 4 0 2 0 0 0 B. Hall 4 4 0 1 0 0 0 C. Thompson 3 3 0 0 0 0 0 C. Graham 3 3 0 0 0 0 0 C. Williams 3 3 0 0 0 0 0 B. Ayanbadejo 2 2 0 1 0 0 0 A. Jones 2 2 0 0 0 0 0 D. Tyson 2 2 0 1 0 1 0 C. Williams 2 2 0 0 0 0 0 D. Ellerbe 2 2 0 1 0 0 0 A. McClellan 2 2 0 1 0 0 0 B. Bajema 1 1 0 0 0 0 0 T. Cody 1 1 0 0 0 0 0 A. Jackson 1 1 0 0 0 0 0 T. Doss 1 1 0 0 0 0 0 G. Gradkowski 1 1 0 0 0 0 0 C. Upshaw 1 1 0 0 0 0 0 J. Tucker 1 1 0 0 0 0 0 D. Graham 1 1 0 0 0 0 0 D. Gorrer 0 0 0 0 1 0 0 S. Kindle 0 0 0 0 0 1 0 J. Smith 0 0 0 0 1 0 0 Team555518230   Baltimore Kick Returns  NOYDSAVGLGTD D. Thompson 3 94 31.3 36 0 B. Pierce 2 48 24.0 25 0 B. Rainey 1 23 23.0 23 0 Team616527.5360   Baltimore Punting  TOTYDSAVGTB-20LG S. Koch 4 182 45.5 0 2 59 Team418245.50259
Baltimore Kicking  FGPCTLONGXPPTS J. Tucker 1/2 50.0 49 2/2 5 Team1/250.0492/25
Original Story:
http://www.ravensfootballmachine.com/...
THE BACKYARD
BEST OF MAXIM
RELATED ARTICLES
The Ravens cut former Colts quarterback Curtis Painter amongst a bevy of roster moves on Friday.Fantasy Spin:With Joe Flacco ahead of him on the depth chart, Painter never had a realistic chance to succeed in Baltimore so it's no surprise that they gave him the boot on cut day. Painter hasn't shown us much in his first three years of professional football (66.6 career QB...
Getty Baltimore Ravens rookie linebacker Courtney Upshaw re-injured his shoulder during Thursday night's preseason finale against the Rams. "Upshaw, who was bothered throughout training camp by a sprained right shoulder, reinjured it in the second quarter of the Ravens' 31-17 loss. He jogged off the field favoring his shoulder and he did not return to the game. "Ravens coach...
Ravens brass had a very productive 2008 draft as they secured a franchise QB with the 18th overall pick when they selected Delaware Blue Hen Joe Flacco and then got one of the steals of recent draft memory nabbing Ray Rice in round 2. With a more aggressive offensive philosophy , myriad of receiving weapons and a defense that could yield more points without Terrell Suggs (expected...
After a year away, Jeff Fisher returned to the NFL refreshed, renewed and best of all, patient. Rebuilding the St. Louis Rams might take time. Fisher inherits a handful of key veterans from a 2-14 season that got coach Steve Spagnuolo and general manager Billy Devaney fired. Surrounding quarterback Sam Bradford, middle linebacker James Laurinaitis, defensive end Chris Long and select...
Many NFL fans will probably never remember the ongoing eight year stellar career of St. Louis Rams running back Steven Jackson, but Rams fans certainly will. Steven Jackson should join an elite list of running backs whose careers were underrated because they played for mediocre teams.
It took a while for the Ravens to get on the board, but they did in the third quarter. Backup quarterback Curtis Painter found tight end Billy Bajema in the end zone for the Ravens' first touchdown of the game. Painter later found wide receiver Deonte Thompson for the second touchdown of the game. Cuts are tomorrow. I will write about those when they happen.
(Updates.) Scott Wells has had a busy offseason. After signing a four-year, $24 million contract with the St. Louis Rams, the former Green Bay Packers center had knee surgery that kept him from most of the team's activities. While rehabbing, Wells and his wife recently completed the adoption of three orphans from Uganda, a process that took nearly 18 months. As they prepare...
The Ravens have fallen behind the St. Louis Rams in their final (hooray!) preseason game in the first quarter. Sam Bradford led the Rams on a drive from under the shadow of his own field goal posts. The drive was aided by a long pass play in which Jimmy Smith fell down in coverage. On the next Ravens' offensive possession Tyrod Taylor lost a fumble. The Ravens are down 14-0 in the first quarter.
St. Louis Rams rookie defensive tackle Michael Brockers injured his right ankle near the end of the first quarter of the preseason finale. Brockers, the team's first-round draft pick, was injured when he got tangled up with the Ravens' Jah Reid with 4 seconds to go in the quarter Thursday night. He was helped off the field by two trainers but was able to put weight on the...
Sam Bradford gave the St. Louis Rams a positive experience to end the preseason. Bradford threw three touchdown passes in 11/2 quarters giving the St. Louis Rams a 31-17 win over the Baltimore Ravens on Thursday night. Rams coach Jeff Fisher, taking over a franchise that has totaled 15 wins in the past five seasons, used virtually all of his starters until the score was 21-0 on...
NFL News

Delivered to your inbox

You'll also receive Yardbarker's daily Top 10, featuring the best sports stories from around the web. Customize your newsletter to get articles on your favorite sports and teams. And the best part? It's free!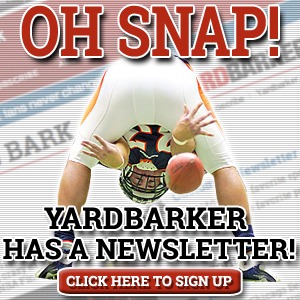 Latest Rumors
Best of Yardbarker

Today's Best Stuff

For Bloggers

Join the Yardbarker Network for more promotion, traffic, and money.

Company Info

Help

What is Yardbarker?

Yardbarker is the largest network of sports blogs and pro athlete blogs on the web. This site is the hub of the Yardbarker Network, where our editors and algorithms curate the best sports content from our network and beyond.