Found February 05, 2013 on Rams Herd:
PLAYERS:
Titus Young
,
Jeff Fisher
,
Jim Schwartz
,
Aqib Talib
,
Albert Haynesworth
,
Steve Smith
,
Sam Bradford
,
Austin Pettis
,
Brandon Gibson
,
Chris Givens
,
Danny Amendola
TEAMS:
Detroit Lions
,
New England Patriots
,
St. Louis Rams
The St Louis Rams took a chance that no other team in the NFL was willing to, putting in a waiver claim on Titus Young. Young had been released by the Detroit Lions earlier this week for all kinds of conduct detrimental to his team, which raises a huge question: why would Jeff Fisher take in a player that his protege, Jim Schwartz, couldn't handle?  The pat answer is this: it's a "no-risk, high reward" move. Let's question both halves of that statement, shall we?  No Risk?  From an economic standpoint, this is a Patriots-like maneuver. Former high draft picks with huge character flags, like Aqib Talib, can be had on the cheap and can instantly come in and contribute. But on the downside, former high draft picks with huge character flags, like Albert Haynesworth, can fool you just long enough to make the final roster and can ultimately end up costing you wins before you realize your mistake and cut them.  While he wasn't a character risk, Steve Smith essentially did exactly the same thing to the Rams this offseason. He had an up-and-down preseason until making one huge play in the final game, catching a 40-yard pass from Sam Bradford that might have cemented a roster spot. A spot which he held onto and did nothing with, at the expense of keeping it open for a player like Danario Alexander.  Every move carries an opportunity cost, if making this move cancels out another move that might serve you better down the road. The worst case scenario here would be if the Rams decide to pass on the wealth of early-round WR talent in the draft, because they have Titus Young in the fold. (I'm not saying they will, but that is the worst case.)  High Reward?  Already Rams fans that are sick of the lack of production from our WR corps are making the mistake of thinking of Titus Young as an "explosive" player who might "already be the best WR on our roster." This is quite simply wrong on both counts.  Titus Young ran a very pedestrian 4.53 official time at the 2011 NFL Combine. And while I firmly believe speed isn't everything for a wide receiver, as Paul points out, this is not an "explosive" number. As a slot receiver, though, he is supposed to have the elusiveness to get yards after the catch. Which makes his 2.4 YAC per reception (95th of 104 WRs tracked by Pro Football Focus) a troubling stat. As is his 12.2 career yards-per-catch. As is his career 57% catch rate. These are not explosive numbers.  To his credit, Young has outscored the leading Rams WR in touchdowns over the past two years, with 10 scores in 26 games. It's worth putting that number in context with his targets, though:  Player (2011-2012) TDs Targets TD/Target Titus Young 10 141 1/14.1 Austin Pettis 4 96 1/24 Brandon Gibson 6 153 1/25.5 Chris Givens 3 80 1/26.6 Danny Amendola 3 107 1/35.6 If you believe that "scoring touchdowns" is a repeatable skill and not a function of his usage or his offense, then yes, it's possible that the Rams have upgraded here. But the rest of his stats, and the rest of his story, give me plenty of reason to be pessimistic. Particularly if this move ends up costing the Rams in ways that we can't currently see. 
Original Story:
http://www.ramsherd.com/2013-articles...
THE BACKYARD
BEST OF MAXIM
RELATED ARTICLES
Titus Young is the latest in a long line of troubled wide receivers that seemingly just does not "get it." On Monday he was released by the Detroit Lions ending a two-year run that completely represents the term could have, would have and should have.   Please Click Here To Read This Story. The post Titus Young released by Detroit Lions appeared first on Players View Dot Net
It was reported today that the Lions have waived talented but problematic young wide-out Titus Young. This comes as no surprise after a much publicized fall-out between Young. The breaking point was a game against the Packers on Thanksgiving when he lined up in the incorrect position on purpose, twice. He then got into an argument with Lion's coach Shawn Jefferson (yes, that...
According to the Detroit News, wide receiver Titus Young has severe mental and emotional issues. He was cut from the Lions on Monday (Credit: AP Photo) Yesterday, the Detroit Lions released the often disobedient and out-spoken wide receiver Titus Young. Young took to Twitter earlier this off-season to tell Lions fans that he did not want to play for the team if he was not going to...
It's safe to say the Detroit Lions wasted a second-round pick on Titus Young in 2011. The Lions released the 23-year-old wide receiver on Monday, according to Tim Twentyman of DetroitLions.com. Young had a tumultuous season with Detroit in 2012. He first purposely refused to line up in the correct position on Thanksgiving, then took to Twitter to complain about a lack of passes...
The Detroit Lions have released wide receiver Titus Young. The team made the announcement Monday. It wasn't much of a surprise. ''If y'all going to cut me let me go,'' Young posted on his Twitter account last month. ''I'm tired of the threats.'' An email seeking comment was sent to Young on Monday. Young was banished from the team in...
In a move which should come as little surprise, the Detroit Lions released 23-year old WR Titus Young this afternoon. Young possesses the athletic talent to play in the NFL, but his attitude has been a serious issue during his short time in the NFL. Young, a second-year player will now have to undergo the waiver process and some team will likely decide to roll the dice on the 5-foot...
Well Titus Young has spent weeks going back and forth with the Detroit Lions and daring them to release him, and now according to Tim Twentyman, Young got his wish. The Lions have officially parted ways with the hard-headed and embattled young.  Young was drafted 44th overall in the 2nd round of 2011 draft. Young made waves last season when he sabotaged the passing game during...
It has been a busy week for the Detroit Lions, and it is only Tuesday. Yesterday, the Lions cut ties with troubled wide receiver Titus Young,  today sees the release of team leader Kyle Vanden Bosch and offensive guard Stephen Peterman. The moves seem to be the first moves of many in trying to restructure a lack luster team that ended the 2012 season 4-12 after coming off...
  Mad Max and the Tigers avoided arbitration by coming to a deal, Titus Young takes another step towards the Hall, the Red Wings are falling apart and the Detroit Pistons find themselves on the losing end of a 99-85 trouncing.  All this and more in another Detroit Sports edition of The Stuff You Missed – 2.5.13 The Stuff You Missed is a feature where we review the previous day...
With the conclusion of Super Bowl XLVII, Monday marked the beginning of the 2013 offseason. Some teams around the league aren't wasting any time making moves within their current rosters. This includes the Detroit Lions, who are getting right to business after an abysmal 4-12 season. Titus Young caught 81 passes for 990 yards and 10 touchdowns in 26 games (17 starts) in two seasons...
One day after releasing problem receiver Titus Young, the Detroit Lions look set to dump expensive salary from their experienced roster as well.    According to USA Today, 11-year defensive end Kyle Vanden Bosch has been informed by Detroit that he will be released. In 2010, he signed a four-year deal worth $26 million, and heading into 2013, Vanden Bosch was scheduled to...
The Detroit Lions booted disgruntled wide receiver Titus Young on Monday, and they're prepared to make another move Tuesday, according to the Free Press' Dave Birkett: Lions will release OG Stephen Peterman today, per a person familiar with the decision. Peterman started every game at RG the last 3 years — Dave Birkett (@davebirkett) February 5, 2013 Peterman was the weakest...
NFL News

Delivered to your inbox

You'll also receive Yardbarker's daily Top 10, featuring the best sports stories from around the web. Customize your newsletter to get articles on your favorite sports and teams. And the best part? It's free!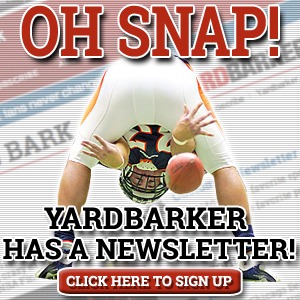 Latest Rumors
Best of Yardbarker

Today's Best Stuff

For Bloggers

Join the Yardbarker Network for more promotion, traffic, and money.

Company Info

Help

What is Yardbarker?

Yardbarker is the largest network of sports blogs and pro athlete blogs on the web. This site is the hub of the Yardbarker Network, where our editors and algorithms curate the best sports content from our network and beyond.