Found October 27, 2012 on Rams Herd:
Brandon Gibson has been a lightning rod for Rams fans since his 16-target (5-catch) debut in 2009, in which he showed equal parts playmaking and back-breaking ability. Three years later, the offensive coordinator has flipped two times, the Rams have had two draft picks in the top three, but little has essentially changed in his game. He has near-perfect performances in practice, he has earned the trust of coaches and his quarterback, but in the game's biggest moments, the ball too often finds its way from his hands to the ground.  After two key drops in a close game against Green Bay, is the glass finally empty of optimism on Brandon Gibson? The RamsHerd Writers weigh in. Paul Petruska: The Rams Will Improve When Gibson Drops On The Depth Chart! After watching Brandon Gibson drop his second 4th down pass of the season, I have finally reached a conclusion. As long as Brandon Gibson is our number one receiver, we will not improve on offense. Before anyone starts jumping up and down about his touchdown catch in Week 1 or the incredible one handed catch in Week 6, I am not suggesting they cut him. Brandon Gibson has proven that he can play in the NFL, but I think he should play as a backup to better players. I have seen enough to say the Brandon Gibson does not have the skills to be a number one receiver. He can't create separation when pressed, and he has inconsistent hands. I believe I can prove both statements. I will start with easiest statement to prove. According to Pro Football Focus, Brandon Gibson had a 13.1% drop rate in 2010 with 8 dropped passes. PFF looked at the numbers again in 2011 and Gibson was the number 87 of 91 receivers with respect to drop percentage. He had an 18.18 % drop rate. When PFF looked at dropped passes for the last three years, once again Brandon Gibson in the top 10 for drop rate. He was number 5 with a drop rate of 12.77%. I do not think a reasonable person can dispute that Brandon Gibson is not a guy that the Rams can rely on for making the catch that he should make. I am unaware of any stat that shows how much separation a receiver gets when he catches a ball. Therefore, I will use circumstantial evidence to prove that Brandon Gibson cannot get adequate separation. First, we have the two fourth down drops this year. On both, the cornerback was so close that he was able to get his hands in to at least interfere. What about yards after the catch? He has 51 yards after the catch this year. With 25 receptions, this means he is getting 2 extra yards per catch. To put this in perspective, he is number 152 looking at total yards after the catch. The guys in the top 10 have between 180 and 409 yards after the catch. Most importantly, let's look at the red zone. If you look at film, it is fairly obvious why we can't score in the red zone. On a short field, our receivers can't get open. Brandon Gibson is example 1A. On a short field, safeties can be in the box to help stop the run because the back line of the end zone is the ultimate deep defender. Also, a cornerback can press without remorse. Brandon Gibson has exactly two red zone touchdowns while with the Rams and they both came in 2010. Until someone steps up and proves they are better than Brandon Gibson on this team, we will continue to see red zone problems and have an inconsistent offense. I have reached a point, where I am ready to force someone into that position now. Playing Brandon Gibson right now is similar to placing a band aid over a cut that needs stitches. It might look better, but the cut will continue to bleed. Tim Shields: Bad Technique Sinks Gibson I didn't think he was going to make this team to begin with. He was a 5th round pick, who was overdrafted by the Eagles, traded here just to sure up a banged up WR corps and somehow now we are here where he is our "number 1" receiver. The significance of the 4th down play wasn't the drop. In fact, I don't think he actually did drop the ball. I believe the defender reached in and made a play on it. However, what was alarming to me is that our "number 1" receiver couldn't create separation against a free safety in one-on-one coverage. Should go without saying that a true number 1 receiver shouldn't ever be given man coverage against a Free Safety. Since he was, that is an indication of what other teams think of him. But I digress; the real problem with this play in my opinion is his route. He was too fast to run his route.He's got man, he should foot fire, jab opposite, plant and burn it. He is too fast with the first two on that list and that is why Burnett is able to make that play. Burnett is never threatened outside, never has to flip the hips, he just reading and waiting. Will Horton: Gibson's Improvement Overshadowed by High-profile Drops Brandon Gibson reminds me of a Todd Pinkston type receiver - a solid pro who doesn't excel at any one thing, and is always going to be remembered for the catches he doesn't make rather than for the ones he does. I will say that I believe Gibson is a worker who is improving his game each year. The three-year stats Paul cites ignore a trend toward improvement in each area - catch rate (currently near 70%), drop rate, and yards per catch. Also, there are enough similar competitors at the position that his playing time is not just a gift or a blind spot of the coaching staff. He is earning his reps through an understanding of the playbook and the amount of trust placed in him by Sam. That said, if he's going to earn those high-leverage plays, he absolutely has to come down with those throws. It's often said of the great clutch hitters in baseball that "the game slows down for them." Gibson may be improving his fundamentals, but is the game getting any slower for him? He won't be able to silence the criticism until it does.
Original Story:
http://www.ramsherd.com/2012-articles...
THE BACKYARD
BEST OF MAXIM
RELATED ARTICLES
Rams receiver Chris Givens left Sunday's game versus New England with a toe injury but he returned later in the game.Fantasy Spin:Givens has a catch of 50 or more yards in five straight games, including a 50-yard TD strike in the first quarter Sunday against the Patriots.
Rams receiver Chris Givens left Sunday's game versus New England with a toe injury and is questionable to return.Fantasy Spin:Fantasy owners can't complain because Givens managed to catch a 50-yard touchdown prior to exiting, his fifth straight game with a 50-yard gain.
St. Louis Rams wide receiver Danny Amendola was known as a tough player even before he suffered a hit and dislocated his collar bone, an injury that could have claimed his life. Now, just three weeks after that brutal injury, Amendola is trying to prove exactly how tough he is.  The wide receiver is doing everything he can to come back and play this week when the Rams take on the...
Rams WR Chris Givens is a week 8 fantasy football sleeper. . Sometimes you need a fantasy gem to be successful. Here is a list of LestersLegends' under the radar players that could possibly pull out a win for you in week eight. . Josh Freeman, QB, Tampa Bay Buccaneers Freeman is averaging 374 yards and three touchdowns in his past two games. I don't see him dropping anything...
It was a tough loss for the Rams and a great win for the Patriots.  Sadly my preseason prediction that the Rams would win didn't come true.  Below are five things that we learned from the game.Bradley Fletcher Needs To GoHe has been playing for the Rams since 2009 but isn't very good.  Today he cost the Rams a lot of penalties.  Fans are now very upset with Fletcher and...
  I am having Déjà vu. Upon completion of my research, I have written this preview before. See if any of this sounds familiar. The Rams need to be able to run the ball, or at least threaten the run to have offensive success. Turns out, the Patriots strength on defense is against the run.  They are 8th against the run, allowing only 86 yards a game. The Patriots weakness...
I learned two things while watching the Rams at a Dave & Busters with my family and a group of Rams fans. 1: The amount of time it takes for the D&B sensory overload to reduce my four-year-old son to be reduced to a quivering puddle of nerves and tears is approximately two hours. 2: The amount of time it takes for Tom Brady and the Patriots to do the same to the Rams defense...
It was a great game for the New England Patriots but a horrible game for the Saint Louis Rams.  The Rams have had a lot of trouble beating the  Patriots since the Super Bowl loss to them and today was no exception.  The final score of the game was 45-7. The Rams actually did dominate the ball.  The Rams had the ball for 31:06 while the Patriots had it for just under 29 minutes...
Four possessions, four touchdowns for the Patriots in the first half. New England leads St. Louis 28-7 at the break in London. Shane Vereen scored on fourth-and-goal from the 1-yard line to give the Pats a 14-7 lead. With 6:51 left in the second quarter, Tom Brady found Rob Gronkowski for a 7-yard touchdown. Gronk celebrated London style, by imitating a British Royal Guard march...
Situation: 2nd and 4 from the Packers 6, with 8:57 to play in the game, trailing by 14. Personnel: 11  Play: Double Left 20 Bubble Defense: Nickel, Cover 2   Pre-Snap The Rams offense hasn't scored since the first half, and is in danger of falling out of this game...
  Off to London they go, and with them they bring two teams owned by ridiculously rich guys who want to make more money by showcasing their team to the Brits and trying to sell some more jerseys. In what has become an annual forgettable tradition similar to the Buffalo Bills making the trip to play in front of a half-full stadium in Toronto, this years game in London at...
New England Patriots (4-3) "at" St. Louis Rams (3-4) What's wrong with the Patriots? That's what people have been asking for 2 weeks. Last week, the answer to that question was nothing. Losing in Seattle to a tough Seahawks team is not an embarrassing loss or a huge upset as some were calling it. Green [...]
Rams News

Delivered to your inbox

You'll also receive Yardbarker's daily Top 10, featuring the best sports stories from around the web. Customize your newsletter to get articles on your favorite sports and teams. And the best part? It's free!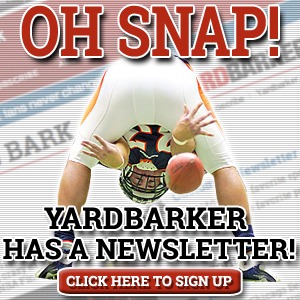 Latest Rumors
Best of Yardbarker

Today's Best Stuff

For Bloggers

Join the Yardbarker Network for more promotion, traffic, and money.

Company Info

Help

What is Yardbarker?

Yardbarker is the largest network of sports blogs and pro athlete blogs on the web. This site is the hub of the Yardbarker Network, where our editors and algorithms curate the best sports content from our network and beyond.