Posted January 28, 2013 on AP on Fox
PLAYERS:
Marvin Lewis
,
Rex Ryan
,
John Harbaugh
,
Cory Redding
,
Terrell Suggs
,
Ray Lewis
,
Lardarius Webb
,
Cary Williams
,
Peyton Manning
,
Brendon Ayanbadejo
TEAMS:
Baltimore Ravens
,
Cincinnati Bengals
,
Indianapolis Colts
,
Kent State Golden Flashes
(Updates. With AP Photos.) By DAVID GINSBURG AP Sports Writer When it comes to running the Baltimore Ravens defense, Dean Pees has no regard for history, tradition or statistics. Pees doesn't give a hoot about following in a long line of brilliant defensive coordinators such as Marvin Lewis, Rex Ryan, Mike Nolan and Chuck Pagano - all of whom used their work in Baltimore to become NFL head coaches. Pees couldn't care less about the fact that Baltimore has long relied on defense to win. It doesn't matter to him that from 1996 until this season, the Ravens never allowed the opposition to average more than 4.0 yards per carry, or that Baltimore's run of nine straight seasons in the top 10 for total defense ended under his watch in 2012. For Pees, all of that is meaningless. Because, in spite of all the injuries he had to deal with this season, the Ravens are headed to the Super Bowl. So the heck with all those big names that preceded him, and all those impressive numbers they put up. Pees has his own agenda, and it's safe to say there's no arguing with the results. ''I don't really care who was here, how well they did. I don't care how they did statistically. That stuff really means absolutely nothing,'' Pees said. ''I come in here to do the best job that I possibly can. That's it. Every year is a different year. Sometimes you just have a great amount of talent. Some years you go through and you never have any injuries. Some years you go through and you have injuries. My job is to do the best that I can every Sunday. History means nothing.'' The 63-year-old Pees was promoted to defensive coordinator by head coach John Harbaugh in January after Pagano took the head coaching job in Indianapolis. Pees served as linebackers coach for two years with Baltimore after working as defensive coordinator with New England from 2006-09. The offseason loss of free agents Jarret Johnson and Cory Redding, along with injuries to several key players hampered his effort at the outset of this season. Linebacker Terrell Suggs missed the first six games with a torn right Achilles tendon and linebacker Ray Lewis (torn triceps) and cornerback Lardarius Webb (torn ACL) were lost in a win over Dallas on Oct. 14. Only two players started all 16 games in the regular season, safety Ed Redd and cornerback Cary Williams, making Pees delve deep into the depth chart to keep the defense afloat. At first, Pees tried to stay the course. Then he realized that it was time to alter the game plan. ''You start realizing that this is not quite the same group of guys that we had a year ago doing the same thing,'' Pees said. ''After we got through the (late-October bye), I think we really changed as a defense, and for the better. Maybe I should have seen that a little earlier, but I didn't.'' The younger players on the defense grew in their roles, and when the Ravens finally got healthy heading into the postseason, Pees showed what he could accomplish with virtually everyone at his disposal. Baltimore held Indianapolis to three field goals in the playoff opener, muffled Peyton Manning in Denver and limited New England to a single touchdown in the AFC title game. ''Dean did a great job transitioning really what is a young defense,'' Harbaugh said. ''When you look at our defense a bit, it's become a young defense. We needed to adjust what we were doing a little bit schematically, and we did that. We got back to playing in a very fundamentally sound way. And it showed up in the way we played defense in the second half of this season.'' Linebacker Brendon Ayanbadejo, who played for both Ryan and Pees, found no trouble contrasting the two. ''Rex would draw plays in the dirt to get it done. Dean is going to prep and do things well in advance so we can practice it,'' Ayanbadejo said. ''Dean is more of a student of the game than any coach I've ever seen. He tries to find little nuances in offenses that he can take advantage of. I've never quite seen D-coordinators do it that way. Usually they're stuck in their ways, but he comes up with new schemes and new blitzes and ways to attack teams based on little nuances they have. ''He's a self-taught pianist, which shows how intelligent he is. So when he coaches football, he kind of approaches it savant-like, with a different type of mentality. We play the game and it's physical. He plays the game and it's chess.'' Given the Ravens' success this season, and understanding that being a defensive coordinator in Baltimore often is a precursor to a head coaching job, it's quite possible that Pees could one day be asked to take the top job with another team. Ravens cornerback Corey Harris believes Pees would be good at it. ''He's a pretty laid-back coach, a guy that you would love to play for,'' Harris said. ''He lets the players play and lets you go out there and express your personality and be who you are.'' Pees, however, has no intention of taking on the responsibility that comes with being a head coach. ''I was one in college (at Kent State). They can have that gig all they want,'' he said. ''You become a head coach, you become everything but a coach. Especially in college, you're there speaking to alumni, you're doing all this stuff, you never coach. And, that's not why I got into this profession. I watch head coaches even in this league - there's just so many other hats that you have to wear. I don't want to wear those hats. I want to wear this one right out here on the practice field, call defenses and play ball and have fun with the players.''
Original Story:
http://msn.foxsports.com/nfl/story/Ra...
THE BACKYARD
BEST OF MAXIM
RELATED ARTICLES
NO HARM NO FOUL
Ravens linebacker Ray Lewis says that he forgives Patriots receiver Wes Welker's wife for the disparaging comments she made about him on Facebook.
The theatrics of Baltimore Ravens linebacker Ray Lewis certainly haven't gone unnoticed over the course of the last several weeks. Lewis, who has said that he will retire after the Ravens play the San Francisco 49ers next Sunday in Super Bowl XLVII down in New Orleans, was mocked on the Weekend Update segment of Saturday Night Live last night by cast member Kenan Thompson, who...
According to SI.com (via Philly.com), Baltimore Ravens linebacker Ray Lewis contacted company called Sports with Alternatives to Steroids (S.W.A.T.S.) to try and help him recovery quickly from a torn triceps injury. The problem is that Lewis may have taken a substance that is banned by the NFL. S.W.A.T.S. is an edgy sports science company run by a gym owner/former stripper. The...
 In the Super Bowl preview edition of "Football Nation Today," Alex looks at the biggest news around the NFL:1st Down:*Sports Illustrated reported this week that Ray Lewis used PEDs (deer antler velvet extract) to recover from a severe triceps injury he suffered in October.  For some reason, people are surprised at this.  Apparently, some sports fans still live with their...
8 a.m. ET: It's every Super Bowl player's favorite day of the entire week down in New Orleans: Media Day. Starting at 10 a.m., the 49ers and Ravens will be out on the field at the Superdome answering every question the media has to throw at them. There will be plenty of interesting personalities out on display both on the field and at the podium. Some of the pressing issues we...
Saturday Night Live decided to spoof Super Bowl bound Baltimore Ravens legend Ray Lewis.Keenan Thompson took on the duties in the "Weekend Update with Seth Meyers segment. Keenan donned Lewis' trade mark skully and thick eye black plus found a way to get Lewis' famous squirrel dance in. Check it out. video via Hula
Baltimore Ravens safety Ed Reed seems to still be holding out  hope that his teammate, linebacker Ray Lewis won't retire after this week's Super Bowl. "Maybe he'll play 10 games next year," said Reed, per NFL.com. Lewis has already made it clear that he's not pulling a Brett Favre.  Once he says he's done, he's done. Even though Reed has already made it clear he'll...
They have my homies from The Big Bang Theory busting out the Ray Lewis dance. With Super Bowl week in full swing Ray Lewis will be the star attraction. We know how much his loves the attention so he will probably get a kick out of this. Actors from the small and big screen mingled as they hit the red carpet at the Shrine Auditorium for The 19th Annual Screen Actors Guild Awards tonight...
Thousands turned out to Baltimore's Inner Harbor to send the Ravens off to their second Super Bowl. Retiring linebacker Ray Lewis, coach John Harbaugh and Ed Reed were among the players who spoke to the crowd Monday before the team got on buses and headed to the airport to fly to New Orleans for Sunday's game. The Ravens take on the San Francisco 49ers. Lewis told the crowd...
Super Bowl media day is an event simultaneously beloved and despised by the NFL players who earn the right to play for the league's top prize. The Super Bowl contestants get a chance to clown around on the field for a few hours with members of the mainstream and alternative media, but some — particularly those with the star power of Ray Lewis or Colin Kaepernick — are forced...
For all the chatter about Ray Lewis and the Harbaugh brothers, as the Harbowl campaign is sweeping the nation this week, Ray Rice, for the first time in his noteworthy NFL career, is emerging into a star running back after the Baltimore Ravens stopped abandoning the running game. The most he can do, if he's handed the ball and knifes through San Francisco defenders, is validate...
NFL News

Delivered to your inbox

You'll also receive Yardbarker's daily Top 10, featuring the best sports stories from around the web. Customize your newsletter to get articles on your favorite sports and teams. And the best part? It's free!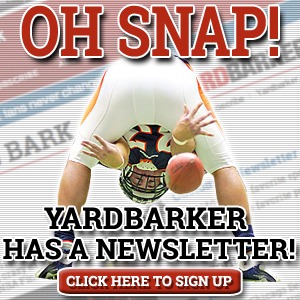 Latest Rumors
The Backyard

Today's Best Stuff

For Bloggers

Join the Yardbarker Network for more promotion, traffic, and money.

Company Info

Help

What is Yardbarker?

Yardbarker is the largest network of sports blogs and pro athlete blogs on the web. This site is the hub of the Yardbarker Network, where our editors and algorithms curate the best sports content from our network and beyond.