Found September 06, 2012 on Ravens Football Machine:
All these years I have been lobbying for Art Modell to be elected to the NFL Hall of Fame before it's too late for him to experience the honor he deserved...

It is now too late. Modell died of "natural causes" at Johns Hopkins Hospital in Baltimore on September 6 at the age of 87.




"Sadly, I can confirm that my father died peacefully of natural causes at four this morning," former Ravens president David Modell said in a statement. "My brother, John Modell, and I were with him when he finally rejoined the absolute love of his life, my mother Pat Modell, who passed away last October."

"'Poppy' was a special man who was loved by his sons, his daughter-in-law Michel, and his six grandchildren. Moreover, he was adored by the entire Baltimore community for his kindness and generosity. And, he loved Baltimore. He made an important and indelible contribution to the lives of his children, grandchildren and his entire community. We will miss him."

Several members of the Ravens organization, including current owner Steve Bisciotti, general manager Ozzie Newsome, senior vice president of public and community relations Kevin Byrne, and linebacker Ray Lewis visited him at Johns Hopkins Hospital on Wednesday.

"He was my friend, my mentor", said Bisciotti. "We will miss him so much. How lucky are all of us to have had Art in Baltimore? How fortunate I am to have had him teach me about the NFL. His generosity, his love, his humor, his intelligence, his friendship -- we were all blessed by this great man. We will strive to live up to his standard."

Modell was a visionary in the NFL's boom years. Yet, even as the league he helped create grew into a billion-dollar industry, he was forced to relocate Cleveland's legendary Browns to Baltimore after the 1995 season to avoid bankruptcy and losing the team.

For that he is still hated by many in Cleveland.

If you go to ClevelandBrowns.com (the official NFL site for the Browns) you will find many very bitter and nasty posts from Browns fans. Most go along the lines of this unaltered post from a guy named "tribe37"---

"Am glad that Modell will always be remembered for moving the team [the Browns] and that he will never make the NFL Hall of Fame..."

And that was one of the nicer ones...

The fact is, Modell never really wanted to leave Cleveland... and only made the decision when the City of Cleveland failed to come up with a financing plan for a new stadium that would save the franchise.

"Art returned our Sundays to us," said John Moag, former chairman of the Maryland Stadium Authority, who spearheaded the negotiations that brought the Browns to Baltimore. "And he demanded that his team integrate in the community and 'give back' -- a tradition that Bisciotti and the hundreds of players who've passed through here have continued, as well."

Modell did not leave Ohio with happy heart, Moag said.

"I'll never forget the sadness on his face as we did the deal," he said. "The pain of leaving Cleveland was immeasurable."

"When I first approached Art about coming to Baltimore, he refused to talk to me. Only when all possibility of a new stadium in Cleveland fell apart was he willing to talk. I promised him that he'd love Baltimore, and that the city would love him."

Beset with lingering financial issues in Baltimore, Modell sold minority interest in the Ravens to Bisciotti in 1999 and then yielded controlling interest in 2004.

"He was a very excellent owner, a highly-respected owner," said Buffalo Bills owner Ralph Wilson, one of Modell's closest friends in the league."He should be remembered certainly with respect, almost with reverence I would say, because of the contributions he made to the league through the many years."

What earmarked Modell's stewardship both in Cleveland and Baltimore was his sense of civic involvement. He was a major fundraiser in Ohio, both for charities and political causes. He continued that philanthropical work in Baltimore, where he chaired a $100 million fund drive to build a new cardiovascular tower on Orleans Street for the Heart Institute at Johns Hopkins.

"The one thing that predominates wherever he is, is community," said Ernie Accorsi, who worked eight years as general manager of the Browns under Modell.

"He was involved in charities and symphonies. He dives into every walk of life. He was very active in the Republican party [in Cleveland]. He's a tremendously giving person. Art even let Cleveland keep the Browns' name, and he didn't even ask for money. That's absolute class."

People tend to forget that Modell was a self-made man who had inherited nothing after his father's business collapsed during the Great Depression of 1929 and the '30's... Modell was a high-school dropout who worked at Bethlehem Steel as a teen... He joined the Army Air Corps in WWII, and after the war used his education benefits to enroll in a television production and broadcasting class. From there he got into the ground floor of the brand new TV advertising industry. By 1960 he had built enough success and connections on Madison Avenue that he was able to structure a deal to purchase the Cleveland Browns for $3.93 million. Art Modell became an NFL Owner...he was 35 years old.

It would prove to be the best investment of his life. The NFL's youthful commissioner, Pete Rozelle, had been on the job for just a year and soon was drawing on Modell's knowledge of television. The two became close friends and Modell became chairman of the NFL's television committee, a post he would hold for 31 years.

You know the rest of the story. Ravens fans revere Modell as the guy who saved pro football in Baltimore. Cleveland fans are still just confused.


Original Story:
http://www.ravensfootballmachine.com/...
THE BACKYARD
BEST OF MAXIM
RELATED ARTICLES
The family of Art Modell and the Baltimore Ravens are planning a tribute to the team's late owner. The silent tribute is scheduled for 11 a.m. to 1 p.m. Saturday at M&T Bank Stadium. Modell's casket will be placed on the field, and a card saluting him will be given to everyone who attends. The Lombardi Trophy presented to the team after their Super Bowl XXXV victory...
Art Modell's death has rekindled memories - mostly bad ones - for Browns fans. Modell, who died Thursday at the age of 87, remains reviled in this football-mad city, which had its heart and soul stolen when Modell moved Cleveland's beloved NFL franchise to Baltimore in 1995. For all his many contributions as a philanthropist in Cleveland, a city he loved as much as his hometown...
Good bye, you piece of **** Art Modell.  It's never a happy day when someone dies, but…oh, wait, yes it is a happy day.  We lost a disgusting visage of hypocrisy and greed today, and for that, we should all celebrate.  This is a man who through his own bumbling idiocy somehow claimed financial troubles [...]
The Baltimore Ravens and the family of Art Modell will stage a silent tribute to team's former majority owner Saturday by placing his casket on the team's home field. Modell brought the Cleveland Browns to Baltimore in 1996 and remained the majority owner through 2003. Upon arriving in Baltimore, he instantly became beloved by the city and showed his appreciation by donating...
Former Baltimore Ravens owner Art Modell has died. He was 87. The team said Modell died early Thursday at Johns Hopkins Hospital, where he had been admitted Wednesday. A cause of death was not given. Modell was among the most important figures in the NFL as owner of the Cleveland Browns, which became the Ravens after he took the team to Baltimore in 1996 in a move that tarnished...
Art Modell died early this morning in Baltimore. This will elicit a wide range of emotions across the sports universe, but most particularly in the city that brought him his wealth and power, Cleveland, Ohio. There will likely never be a bigger villain in the city of Cleveland than Arthur Modell, despite how hard some will try. Unfortunately, some fans will react with unseemly...
The news on Thursday of Art Modell's death landed like a thud for those who root for the Cleveland Browns. Enough time has passed where there is no chance there will be celebration in the streets. Had this happened 13 or 14 years ago, it would've looked like Washington, D.C. in the hours after Osama Bin Laden's death on Euclid Avenue. That doesn't mean Cleveland fans have...
Art Modell, former owner of the Cleveland Browns and then the Ravens when he moved the team to Baltimore has passed away at the age of 87.  His son, former Ravens President David Modell, confirmed his father's death via release: "Sadly, I can confirm that my father died peacefully of natural causes at four this [...]
The former owner of the Cleveland Browns and Baltimore Ravens, has passed away after being hospitalized on Wednesday, according to a report from The Baltimore Sun. He was 87 years old. After he was taken to Johns Hopkins Hospital in Baltimore, WKYC Channel 3 in Cleveland reported that his condition was "worsening" and his vital organs were "failing.&quot...
FSR superscout Chris Landry joins Rob and Amy to discuss the death of Art Modell, and break down a little college and professional football.
NFL News

Delivered to your inbox

You'll also receive Yardbarker's daily Top 10, featuring the best sports stories from around the web. Customize your newsletter to get articles on your favorite sports and teams. And the best part? It's free!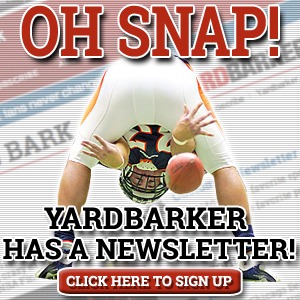 Latest Rumors
Best of Yardbarker

Today's Best Stuff

For Bloggers

Join the Yardbarker Network for more promotion, traffic, and money.

Company Info

Help

What is Yardbarker?

Yardbarker is the largest network of sports blogs and pro athlete blogs on the web. This site is the hub of the Yardbarker Network, where our editors and algorithms curate the best sports content from our network and beyond.