Found November 21, 2012 on Blog So Hard Sports:
Be Thankful Redskins Nation   This Thanksgiving Washington Redskins fans have a ton of things to be thankful for. Really for the first time since the early 90's we are beginning to see the team make a push in the right direction, with the talented young players on this team showing signs of playing competently at the NFL level. Perry Riley, Rob Jackson and Lorenzo Alexander have showed that with playing time they can develop their skills and raise their NFL IQ to the point where they could start on most NFL squads. I don't have enough space to tell you how thankful I am that we drafted Ryan Kerrigan, This guy has no quit in him and continues play in and play out to hustle up and down the field. The refs could throw a flag on 70% of the plays in which he rushes the QB because O-lineman can't handle his combination of power, speed, agility, and intelligence. He is a monster right now and the sky is the limit on what he can accomplish in the years to come. Alfred Morris has made our running game relevant again, cranking out multiple 100 yard games running behind a makeshift O-line. Darrell Young has proven to be the all around balanced FB the Shanahan system needs to work, being able to clear out running lanes, being effective in pass blocking, and also showing great hands in short yardage pass situations. ROBERT GRIFFIN THE THIRD. He has done what none of the other 20 QB's who have put on a Redskins jersey in the last 20 years could do — he has given us hope. He has also given the Redskins the ability to score from anywhere on the field via his pin point accuracy with his rocketlaucher of an arm, or his world class explosive speed. He is the create a player QB we have all made on Madden adjusting all the skills to 100. I am thankful every single day that Indy went with Luck and we were given Robert. With all these players to be thankful for, we as Redskins fans can't allow ourselves to get caught up with the unrelenting pressure the media and the league put on this franchise. The Redskins make great news when they are in complete disarray, and the NFL and Roger Goodell have tried to make sure they do their part in ensuring that, with salary cap fines and regulations crippling the Redskins hopes in enticing top level free agent.  Instead forcing the Redskins to put  a sub-par O-line on the field to protect RGIII and also to make certain we could not add any depth to our Defense. They want us to fail so they can continue to have something to write about, but as fans we can change that by simply being happy watching our Redskins put up points every week and make sure that even when they lose they are at least competitive. We should all be Thankful this Thanksgiving for a lot of things; Riley, Jackson, Alexander, Kerrigan, Morris, Young and RGIII are all things to cheer about. But most of all we should be thankful for being able to play the Dallas Cowboys on National TV with the opportunity to give the media something positive to talk about and put a sour taste in every single Cowboys fans mouth.
Original Story:
http://blogsohardsports.com/redskins/...
THE BACKYARD
BEST OF MAXIM
RELATED ARTICLES
Robert Griffin III was so impressive during the first half of Thursday's Thanksgiving game against the Dallas Cowboys that FOX NFL analyst Jimmy Johnson called him the most valuable player in the NFL. RG3 and the Washington Redskins lit up the Cowboys with 28 points in the second quarter to go up 28-3. The offense scored on four straight drives, including a touchdown pass from...
Robert Griffin III threw for 311 yards and four touchdowns, helping the Washington Redskins beat the Dallas Cowboys 38-31 on Thursday. The Heisman Trophy winner from Baylor made the Cowboys (5-6) look like an overmatched college team during the decisive second quarter in his first trip to Texas as a pro. Griffin was 8 of 8 for 178 yards with three touchdowns to key the first 28...
Almost exactly one year ago, Rob Ryan drew criticism for his remarks about Tim Tebow and the (former) Broncos offense. True to his character, Dallas' defensive boss turned his attention to this year's sensational signal-caller. In advance of the Thanksgiving day tilt between the Redskins and Cowboys, Ryan said he doesn't like Robert Griffin III, but also admitted he...
WASHINGTON (38) d DALLAS (31) The Headline: News Headline on the game The Story: In a near perfect first half Robert Griffin III torched the Cowboys defense and set his Redskins up for an upset win on Thanksgiving. Four second quarter touchdowns meant that the rout was on as the Cowboys had no answer for the dynamic rookie. Of course their offense did not help matters by making...
Dallas played a long game, and now faces a short week. And Washington's Robert Griffin III is on his way in for the most appropriate of Thanksgiving games: Cowboys vs. Redskins. It's safe to say the sigh of relief was brief for Dallas after Sunday's 23-20 overtime win against last-place Cleveland. Cowboys coach Jason Garrett said the team would enjoy a wild rally against...
Dallas Cowboys defensive coordinator Rob Ryan admits that Washington Redskins rookie quarterback Robert Griffin III is a heck of a player. "He is a special player," Cowboys defensive coordinator Rob Ryan said, per the Dallas Morning News. "That's why they traded half a team to get him. Obviously, he's a tremendous athlete and they say he is a hell of a kid. I don't like...
No gimmicks for Te'o in Heisman race Heisman watch: Could Miller benefit from losses? Manziel and Heisman? Sumlin says compare numbers Robert Griffin III talks Heisman Trophy USC's Marquise Lee Worthy Of Heisman Consideration Hairopoulos: Could Johnny Manziel win the Heisman before his first interview? Aaron Murray's Heisman case Can Manti Te'o make history? Manziel...
IRVING, Texas Robert Griffin III declined to reveal his Heisman Trophy vote Tuesday when asked by a reporter on a conference call at the Cowboys' Valley Ranch practice facility. Like all previous winners of college football's top individual award, the former Baylor Bears quarterback has a vote. During the same question, Griffin was asked if he had seen Texas A&M freshman...
A former Baylor basketball player has been sentenced to 18 months in federal prison for trying to extort $1 million from Washington Redskins quarterback Robert Griffin III. U.S. District Judge Walter Smith also ordered 26-year-old Richard Hurd pay a $1,000 fine for threatening to release unspecified damaging information about Griffin last June. Hurd could have been sentenced to...
Washington: The Redskins come off an absolute thrashing of the dead-in-the-water Eagles in Week 11, as Robert Griffin III finally had a huge passing effort, throwing for four TD passes. Now the Redskins go on the road for a Thanksgiving day matchup with division rival Dallas, which will likely prove to be the most entertaining of the three Thanksgiving games this year.RGIII hit...
Redskins News

Delivered to your inbox

You'll also receive Yardbarker's daily Top 10, featuring the best sports stories from around the web. Customize your newsletter to get articles on your favorite sports and teams. And the best part? It's free!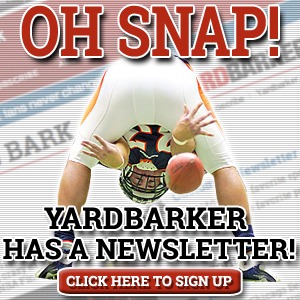 Latest Rumors
Best of Yardbarker

Today's Best Stuff

For Bloggers

Join the Yardbarker Network for more promotion, traffic, and money.

Company Info

Help

What is Yardbarker?

Yardbarker is the largest network of sports blogs and pro athlete blogs on the web. This site is the hub of the Yardbarker Network, where our editors and algorithms curate the best sports content from our network and beyond.