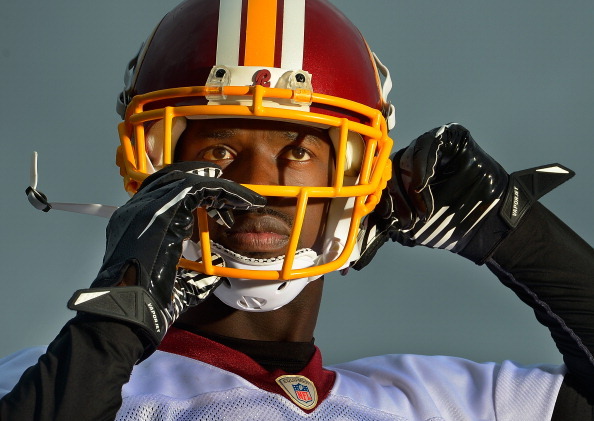 Yesterday, as a shooter took the lives of 12 people at the Navy Yard in Washington, DC, Josh Morgan struggled to contact his mother who works at the yard (Credit: CSNWashington) Yesterday, in Washington, D.C. as a shooter took the lives of twelve people, while injuring eight before taking his own life, Redskins wide receiver Josh Morgan was worried about his mother. LaWanda Ware, Morgan's mother, works at the Navy Yard where the shootings took place. Morgan and his family members tried, upwards of thirty times, to contact his mother but could not get a hold of her. Fortunately, one of LaWanda's cousins was able to contact his mother via Twitter. Yesterday was not the first time Morgan or his family were almost involved in a national tragedy. In fact, Morgan or his family have nearly missed tragedy three times in his life-time. Morgan was a senior at Virginia Tech in 2007 when Seung-Hui Cho went on a shooting spree on campus killing 32 people. Yesterday reminded Morgan of the tragedy of 2007 at Virginia Tech. "Unfortunately it's not the first time. It happened to me when I was at Virginia Tech, the shooting down there. Kind of all too familiar with it unfortunately, I'm just praying for the best and hoping to hear from her soon," Morgan told the Washington Post before learning that his mother was safe and out of harm's way. While nearly being involved in two major national tragedies would be enough for one family, the Morgan family was nearly involved in one more horrific event in 2001. During the September 11th attacks, with Morgan a high school student, LaWanda Ware was a worker at the Pentagon. Fortunately, she was safe from that attack as well. So yesterday, as Morgan was struggling to contact his mother, he was reminded of the tragedy at Virginia Tech and on September 11th. In the end, Morgan's mother was safe and his family was nearly affected by one more national tragedy. The post Redskins' Josh Morgan has almost been involved in three major tragedies appeared first on DOWN & DISTANCE - Presented by Sports-Kings.
Read the rest of this story...
MORE FROM YARDBARKER
NFL News

Delivered to your inbox

You'll also receive Yardbarker's daily Top 10, featuring the best sports stories from around the web. Customize your newsletter to get articles on your favorite sports and teams. And the best part? It's free!
Best of Yardbarker
NFL News
MLB News

Today's Best Stuff

For Bloggers

Join the Yardbarker Network for more promotion, traffic, and money.

Company Info

Help

What is Yardbarker?

Yardbarker is the largest network of sports blogs and pro athlete blogs on the web. This site is the hub of the Yardbarker Network, where our editors and algorithms curate the best sports content from our network and beyond.