Found September 18, 2012 on Player Perspective:
  That's right Josh, a Wide Receiver catches the ball he doesn't throw it. Now you've got it. Just a brief update on Redskins WR Josh Morgan who lost his cool after  Cortland Finnegan slapped him on the head. Redskins Coach Mike Shanahan said he won't punish Josh Morgan for the mistake. He also said that he didn't even pull Josh aside to talk about it rather addressed the issue of "poise" with the entire team.  I liked that Shanahan said this: [To finish this post click Read More]
 "When you get hit in the National Football League, your first reaction as a football player is to retaliate. But one thing you have to learn in the National Football League is they catch the second guy, not the first guy. Every once and a while the first guy will get caught. More times than not the second guy will get caught. When you look at the film, you see a guy pushing you in the face, all of a sudden a guy loses his composure, and the other guy is walking away, and you throw the football at him, and he's laughing, you understand what he's doing. That's part of a young guy growing up."
The veteran that provoked Josh isn't just any veteran either. Cortland has been named the dirtiest player in the league by his peers in the past. He takes pride in getting underneath other players' skin. I think most us remember the fight between he and typically mild mannered Houston Texans WR Andre Johnson. Andre is typically not one to lose his cool and Cortland even got to him. 
I also thought Shanahan's comments were reflective of the fact that Josh wasn't the only one to lose his cool. In fact, there was no cool and no chill to be found amongst any football players on most of the teams that played on Sunday. Everyone was testy and retaliatory. Josh just happened to get caught and I  doubt anyone feels worse about it than he.      Related Posts:
True Life: I Watched this interview and fell in love with Maino
Ladies Larry Fitzgerald gets uncomfortable when you grab his ass and he has no idea what's happening
Indianapolis Colts Dwight Freeney talks moving to outside linebacker — plus video of his intense workouts
Remember when Arizona Cardinal Darnell Dockett bought an alligator? There's video.
Rewind: Kevin Durant Explains Why He Wears 35
Original Story:
http://feedproxy.google.com/~r/Player...
THE BACKYARD
BEST OF MAXIM
RELATED ARTICLES
#CALMDOWNPEOPLE
Redskins wide receiver Josh Morgan says he received death threats on Twitter from people angry due to his boneheaded penalty in the team's loss to the Rams.
My biggest problem with Josh Morgan's bonehead move yesterday was not the penalty or even the action itself. The issue is that I sat on my couch and watched a player on my favorite team act like a 7-year-old getting called out in kickball — and I was not surprised at all. It's been going on for a while in DC. It seems every week we are in someones face, shoving players, or...
Missed field goals and quarterback gaffes can be forgiven. Losing your cool and chucking a football at an opposing player? Well, that's something else -- especially if the hothead move costs your team 15 yards, a chance at a first down and maybe even the game. But Redskins coach Mike Shanahan, who is not known for taking much foolishness on his football teams, was pretty even...
Josh Morgan commits 15 yard personal foul penalty by throwing the ball at Cortland Finnegan Yesterday in the Redskins loss to the Rams, Josh Morgan made one of the worst boneheaded plays I have ever seen. Down 3 with 1:19 to play, the Redskins offense managed to get themselves in field goal range on a third down pass to Josh Morgan (we will excuse the fact that he should have...
Washington Redskins wide receiver Josh Morgan may have cost his team a win during Sunday's loss to the Rams. Trailing 31-28 with 1:27 on the clock, Redskins quarterback Robert Griffin III completed a third-and-8 pass to Morgan for 7 yards. It wasn't enough for the first down, but Morgan's grab would have positioned Billy Cundiff for a 48-yard field-goal attempt. That all floated...
After his unsportsmanlike conduct on the Washington Redskins final drive cost them a chance to tie the game against the St. Louis Rams, Redskins wide receiver Josh Morgan has begun receiving death threats to his Twitter account.  Much like Kyle Williams (San Francisco 49ers punt returner) did last year after fumbling two punts during last years NFC Championship game loss to the...
On Sunday, Redskins wide receiver Josh Morgan made a big mistake by getting called for a 15 yard unsportsmanlike penalty after throwing a football at Rams cornerback Cortland Finnigan for pushing him down.  It was a big mistake because it was during a potential game winning drive within the final few minutes of the game.  The penalty ended up pushing the Redskins out of field goal...
Rams CB Cortland Finnegan has always taken pride in getting in the heads of opposing players. The scab refs inability to control the tone of games can benefit players like him. I hope that we've seen enough of the fill-in refs to stop the whole narrative of "well the real refs miss calls too" and start being honest with ourselves. The fake refs are losing control of games and...
Charles Barkley, NBA Hall of Famer and outspoken media darling, once said that 10 percent of fans are idiots. While many people disagree with Barkley on many of his other slightly eccentric theories, I happen to think he is way off base here. In fact, the number should be much higher. Take this latest example, and then judge for yourself. Josh Morgan made perhaps the biggest mistake...
Love talking Rams football?  Check out RealSportsLounge.com! The Cruddy Show broadcasted for the first time ever on a Tuesday night and reviewed the St. Louis Rams 31-28 win over the Washington Redskins. One of the things the crew talked about was who has been the Rams MVP thus far through the first two games?  The consensus was split between wide receiver Danny Amendola and...
Washington Redskins wide receiver Joshua Morgan's fourth-quarter mistake Sunday has led to him seeing the ugly side of social media. Morgan told reporters that he's received death threats and other sadistic messages on Twitter after taking an unsportsmanlike penalty for throwing the ball at the St. Louis Rams' Cortland Finnegan. The penalty cost the Redskins field position...
The Washington Redskins were losing to the St. Louis Rams by half time, even though they led 21-16. The Rams scored 10 points in the last two minutes, riding a tailwind of momentum as they ran to the locker room. By the end of the half, the Rams dominated in the most offensive way, by running 38 offensive plays to the Redskins' 24, by gaining 179 yards to Washington's 101...
NFL News

Delivered to your inbox

You'll also receive Yardbarker's daily Top 10, featuring the best sports stories from around the web. Customize your newsletter to get articles on your favorite sports and teams. And the best part? It's free!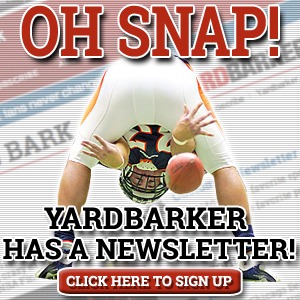 Latest Rumors
Best of Yardbarker

Today's Best Stuff

For Bloggers

Join the Yardbarker Network for more promotion, traffic, and money.

Company Info

Help

What is Yardbarker?

Yardbarker is the largest network of sports blogs and pro athlete blogs on the web. This site is the hub of the Yardbarker Network, where our editors and algorithms curate the best sports content from our network and beyond.