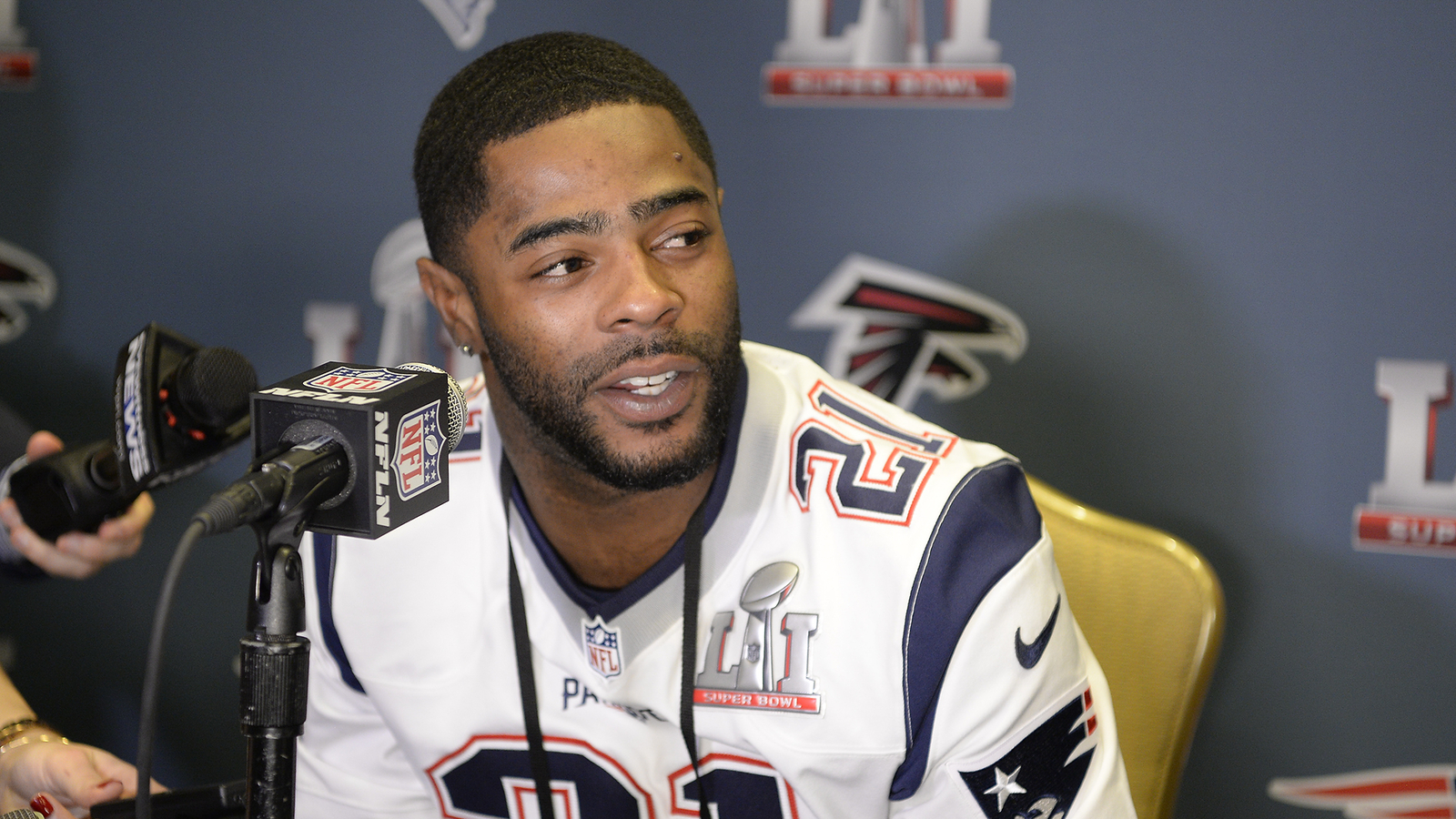 Malcolm Butler reportedly is open to staying with the Patriots.
Michael Madrid-USA TODAY Sports
Malcolm Butler has to be frustrated that the New England Patriots gave another cornerback top dollar without signing him to an extension, but that does not mean the fan favorite's relationship with the team is strained beyond repair.
Appearing on the "Toucher and Rich Show" on 98.5 The Sports Hub in Boston Tuesday, Jeff Howe of the Boston Herald said Butler simply wants to get paid but would be "more than happy" if the Patriots were the ones cutting the check.
"Butler has realized that you've got to act with your own business in mind here," Howe said. "And if another team is willing to pay what Butler is worth in market value, he'd be happy to go to another team, too. All things being equal, if they can resolve this thing in New England that's what he'd prefer to do, there's no question about that."
In other words, it may be less personal than people are making it out to be. That said, the Patriots are paying Stephon Gilmore $65 million over five years with $40 million guaranteed. There's virtually no chance they are willing to pay two cornerbacks that type of money, so Butler still may be gone after the 2017 season if not sooner.
"If you're Butler and you're negotiating with the Patriots, whereas 6-9 months ago you probably would've taken $10 million a year, now you're probably not going to take a penny less than $13 million a year," Howe added. "So that kind of changes that whole spectrum.
"The Patriots' best-case scenario is another team does their bidding for them and Butler agrees to an offer sheet that's somewhere below market value. Maybe [his offer sheet] is still somewhere in the range of $10 million annually, and then the Patriots might still have a chance to match that and keep him – and Butler would be more than happy if that wound up to be the scenario."
Bill Belichick seemingly made an exception when he signed Gilmore to such a lucrative contract, so you have to think he considers him a long-term replacement for Butler more than a compliment to him. And if that is something the Patriots lied to Butler about during negotiations, it would be understandable for him to hold a grudge.
As a restricted free agent, Butler really has no leverage. Chances are no team wants to sign him and give up a first-round pick as compensation, so he'll probably have to play out the 2017 season under his one-year, $3.91 million tender. And if Butler sulks and has a down year, he'll only be costing himself. Such is life for an undrafted player — even one who is a Super Bowl hero.
MORE FROM YARDBARKER
Patriots News

Delivered to your inbox

You'll also receive Yardbarker's daily Top 10, featuring the best sports stories from around the web. Customize your newsletter to get articles on your favorite sports and teams. And the best part? It's free!