Originally posted on
Sportsnaut
| By Vincent Frank | Last updated 1/4/17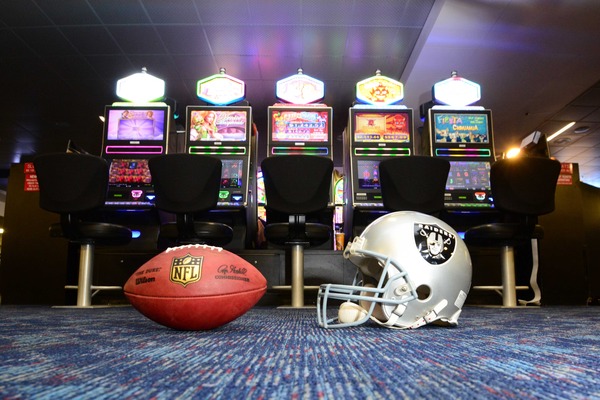 General view of Oakland Raiders helmet and and NFL Wilson Duke football and slot machines at the McCarran International Airport. Raiders owner Mark Davis (not pictured) has pledged $500 million toward building a 65,000-seat domed stadium in Las Vegas at a total cost of $1.4 billion.
Kirby Lee-USA TODAY Sports
Most of the relocation talk in January will surround whether the San Diego Chargers will indeed join the Rams in Los Angeles. That pretty much seems to be a foregone conclusion at this point.
However, there's definitely another story that we should be paying close attention to.
The Oakland Raiders, who had their hat in the ring for a relocation to Los Angles, are playing under one-year deal at the run-down Oakland Coliseum. It's an unattainable situation for the team, one that has led owner Mark Davis to look at relocation.
Said options previously included Los Angeles and San Antonio, though they're now focused on Las Vegas. It's now at the point where the state of Nevada has approved funding for a brand-new stadium in the desert metropolis that is Las Vegas.
Now, it appears that things are potentially progressing at an even more rapid clip. Las Vegas Sands Corporation CEO Sheldon Adelson has been the figure behind the scenes in Vegas. He worked with local and state-wide officials to get the necessary support for public financing. He's also invested himself a great deal into the project and is seen as a major friend of the Raiders. But there was a reported rift between Adelson and the Raiders about a potential revenue share as it relates to the new venue. Moreover, the NFL took note of this rift in the past (more on that here).
Bleacher Report's Jason Cole is now reporting that there has been significant progress made towards a deal that would move the Raiders to Las Vegas.
Source said #Raiders and Sheldon Adelson have made significant progress toward a deal to move team to Las Vegas.

— Jason Cole (@JasonColeBR) January 5, 2017
Unlike the Rams last year, and potentially the Chargers this year, the Raiders wouldn't necessarily depart for a new city immediately. Las Vegas doesn't have a current venue to house the team. Instead, Mark Davis and Co. would have to play it out at their current digs until a new stadium is ready. Heck, the Raiders may be forced to play in temporary city until that happens.
This makes the process a bit more slower moving than what we saw with the Rams and are seeing today with the Chargers. It, however, will not stop the process itself from playing out.
Should Adelson and the Raiders come to an agreement on revenue share and the NFL decides to support said plan, Davis has already indicated he's committed to Las Vegas as the new home of the Raiders. What happens between then and a physical move remains to be seen.
What we do know is that the Raiders clearly have one foot out the door in Northern California. Wednesday's news only adds more credence to that idea.
MORE FROM YARDBARKER:
How to fix the San Francisco 49ers
QUIZ: Name the 12 current NFL franchises that have relocated
Twelve NFL franchises have changed locations throughout the history of the league. How many of them can you name? The full team name (city/location and team) is required for the answer (e.g., New York Jets).
Clue: Original Location (and name if that changed as well) and year of relocation
MORE FROM YARDBARKER
NFL News

Delivered to your inbox

You'll also receive Yardbarker's daily Top 10, featuring the best sports stories from around the web. Customize your newsletter to get articles on your favorite sports and teams. And the best part? It's free!