Found November 14, 2011 on Busted Coverage:
Poor Rex Ryan. Dude makes his movie debut in Adam Sandler's abortion of a movie, Jack & Jill, runs his mouth about the Patriots and then gets drubbed at home. You'd think that the Buffet Killer wouldn't share his thoughts with fans on the way to his post-game presser, but that's exactly what happened last night. A camera was rolling as Rex excited.
The fan's comment: "Hey Rex, Belichick is better than you." And we have fireworks!
Posted: Nov. 14, 2011
Premise of Video: Pretty self-explanatory. If you need help, send us an email and we'll walk you through it.
Climax of Video: Attaboy, drop an f-bomb on fans. Love it.
Conclusion: Hate him all you want, at least he's not boring like the St. Louis Rams, Cleveland Browns or Kansas City Chiefs. This Rex quote is just waiting to be made into a t-shirt. Perfect Christmas gift for the curmudgeon on your gift-giving list.
Filed under:
Video
Original Story:
http://bustedcoverage.com/2011/11/14/...
THE BACKYARD
BEST OF MAXIM
RELATED ARTICLES
Rex Ryan seems to not have fully worked on his cursing or anger management issues.  Following The Jets being embarrassed by the New England Patriots on Sunday Night Football, Rex was walking off the field and was asked by a fan: "Hey Rex, Belichick is better than you." Rex Ryan responded as only Rex Ryan can: "Shut the f*ck up." Click here to view the embedded video. via...
FLORHAM PARK, N.J. -- Rex Ryan didn't sound overly confident that he'll have LaDainian Tomlinson available for Thursday night's game against the Broncos in Denver.
According to Rex Ryan, it was "the stupidest play in football history." And according to Mark Sanchez, no matter what anyone says, it was entirely the quarterback's fault.
The NFL is looking into an Internet video that appears to show New York Jets coach Rex Ryan using an obscenity while angrily responding to a fan after the team's 37-16 loss to the New England Patriots.
Rex Ryan was out of line. Plain and simple. A head coach, right or wrong shouldn't be taking on paid customers. Ones who pay to get close and pop off shouldn't expect flowers in return either. Where Rex could apply the new team mantra in a more useful way though, is in talking to himself and the team. This regarding the notion of giving the AFC East away after nine games. Since...
The NFL is looking into an Internet video that appears to show New York Jets coach Rex Ryan using an obscenity while angrily responding to a fan after the team's 37-16 loss to the New England Patriots.
Some things in life are just better in twos: socks, gloves, Miller High Life's and the Jets and Patriots playing each other. With no disrespect to the team's in Pittsburgh and Baltimore but the rivalry between New York and New England may just be the best in the sport.With only their record and standing in the AFC East serving as similarities, the Jets and Patriots are polar...
I want to be over it. This is not going to be a long rant about how the Jets went out and shat the bed on Sunday night, basically dashing any hopes of winning the division or getting the Wild Card most of us assumed they'd snag at the beginning of the season. Rather, this is an assessment of things I've learned about myself and the Jets since the Ryan regime has been in Floral...
Sometimes football isn't a very complicated game. When you miss chip shot field goals, commit stupid penalties, turn the football over, and manage the clock poorly, you aren't going to win. Tonight was an ugly, sloppy effort from the New York Jets at time when they could least afford it. Don't put this one on any single individual or unit. Tonight was a team loss, that was...
FLORHAM PARK–Sunday's game against the Patriots didn't go quite as well as the Jets had hoped. All week long, the focus was on beating the Patriots and taking over the division lead. Not only did it not happen, but New England's win turned into a trouncing. It was odd, especially since the first drive of the game was exactly what the Jets had wanted to do all season long...
 DATELINE: HUMOR! John Denver allowed Peter, Paul and Mary to leave the airport with his tune humming in their heads. Now New England Patriot fans are into the blue after the Jets give back to the Patriots their playoff hopes.  Meanwhile, the Jets sit on the tarmac, listening to a loudmouth pilot on the loudspeaker. They are intentionally grounded again. The Patriot bags...
NFL News

Delivered to your inbox

You'll also receive Yardbarker's daily Top 10, featuring the best sports stories from around the web. Customize your newsletter to get articles on your favorite sports and teams. And the best part? It's free!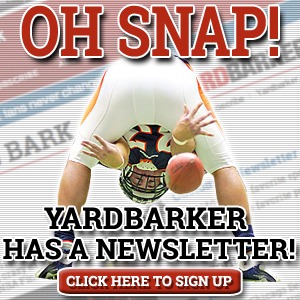 Latest Rumors
The Backyard

Today's Best Stuff

For Bloggers

Join the Yardbarker Network for more promotion, traffic, and money.

Company Info

Help

What is Yardbarker?

Yardbarker is the largest network of sports blogs and pro athlete blogs on the web. This site is the hub of the Yardbarker Network, where our editors and algorithms curate the best sports content from our network and beyond.