Found July 11, 2012 on Larry Brown Sports:
Via Larry Brown Sports:
Patriots owner Robert Kraft showed off his thespian side in a strange video that is making its way around the Internet. The video lacks much context, but according to Barstool Sports it shows Kraft interacting with gal pal Ricki Lander during the actress' audition tape for the 2013 movie "The Internship."
Kraft and Lander sparked dating rumors when they were photographed sitting courtside at a Celtics game last month. Kraft's late wife Martha died last year.
In the video, Lander says she's auditioning for the role of "Mary Elena." She and Kraft then begin role-playing, with Kraft reading from a script. Kraft seems to be playing the role of an exec from Yahoo!, and the two get cozy when Kraft offers to buy Mary Elena a drink. The video culminates with Kraft screaming at another actor and delivering a vicious knockout punch. (WARNING: End of video contains graphic language).
This wasn't the first time we've seen Kraft exhibit odd behavior in a video, but it certainly was the funniest. And this is definitely the week of football folks gone wild.
UPDATE: Kraft issued the following statement in response to the video going viral: "I tried to help Ricki prepare an audition tape for an upcoming Vince Vaughn/Owen Wilson comedy by reading Wilson's lines. I never intended that it would be made public and I regret that it has. I think we can all agree that Owen Wilson has nothing to worry about. I am going to stick to my day job."
Also from Larry Brown Sports:
Jeremy Lin reportedly upset Knicks didn't make first free agent offer to him
Bryce Harper admits he is arrogant but says it is a necessity
Photo: Deron Williams used iPad to sign new contract
Original Story:
http://larrybrownsports.com/youtubeag...
THE BACKYARD
BEST OF MAXIM
RELATED ARTICLES
As good as he is at running the New England Patriots, that's exactly how bad Robert Kraft is at acting. The owner of the Patriots is the star of an embarassing video that went viral on Wednesday. In the video, Kraft reads lines of a script for an audition to assist Nikki Noel Lander, a 32-year-old actress who many speculate is Kraft's new girlfriend. Kraft released a statement...
Robert Kraft might have a career in acting if the whole ownership thing ever goes south. A video has surfaced on the Internet in which Kraft can be seen reading lines as part of a casting audition for an upcoming movie. It appears he's doing so to help the lovely Ricki Noel Lander, a 32-year-old actress, who some have speculated is his girlfriend. In the video that can only be...
Robert Kraft has been successful with just about everything he's ever done, especially when it comes to making truck loads of money. One career path the Patriots owner won't be pursuing, however, is acting. A viral video featuring the 71-year-old and aspiring actress Ricki Noel Lander hit the Internet on Wednesday morning and absolutely took off. In the video, Kraft is seen...
This video has been blowing up and people are all sorts of pissed off about it. Which I really don't understand. How long do you want him to mourn for? Obviously Myra Kraft was a great woman and it was a very sad time when she died, but let the guy live his life. He's a billionaire owner of the best franchise in football and if he wants to run around Boston with this girl then...
A.B. According to 98.5 Toucher & Rich this morning, this script is from the upcoming movie comedy called The Internship. H/T Barstool
New England Patriots owner Robert Kraft released the above statement explaining the bizarre video of him and "pal" Ricki Noel Lander that has gone viral. In case you haven't seen the video yet, here it is:
Hot News for Owner Robert Kraft
Osi Umenyiora may not be giving Robert Kraft two thumbs up, but at the very least, the Giants defensive end supports Kraft's forray into acting. Kraft made news on Wednesday when a video of him helping a lady friend with an audition tape when viral. The Patriots owner apologized for it and expressed regret over the tape even being released after it became a national story. However...
A viral video featuring Patriots' owner Robert Kraft reading from a script alongside a bikini-clad woman was nothing more than an act of friendship, Kraft said. The 71-year-old explained through the Patriots that he was helping aspiring actress Ricki Noel Lander work through a mock audition for an upcoming film that features Owen Wilson and Vince Vaughn. In the video, Kraft...
Move over Rex Ryan, you now have competition for the Oscar and it's New England Patriots owner Robert Kraft. A video has surfaced on Youtube of Kraft helping out girlfriend, gold digger, gal pal, Ricki Noel Lander in her latest audition video for the movie The Internship, which apparently will star Vince Vaughn and Owen Wilson. The video is rumored to have been anonymously leaked...
Sixty percent of NFL TV viewers and 70-odd percent of the readers of football blogs are guys. Football is when we cut loose for our teams, against enemy teams and where we vicariously live the lives of our favorite players. I guarantee you most male NFL fans see nothing wrong with the audition tape New England Patriots owner Robert Kraft made with his hot, new eye-candy Ricki Noel...
Patriots News

Delivered to your inbox

You'll also receive Yardbarker's daily Top 10, featuring the best sports stories from around the web. Customize your newsletter to get articles on your favorite sports and teams. And the best part? It's free!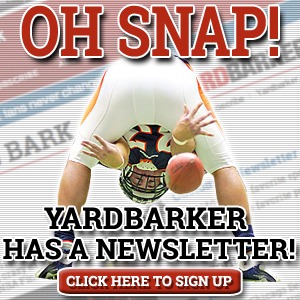 Latest Rumors
Best of Yardbarker

Today's Best Stuff

For Bloggers

Join the Yardbarker Network for more promotion, traffic, and money.

Company Info

Help

What is Yardbarker?

Yardbarker is the largest network of sports blogs and pro athlete blogs on the web. This site is the hub of the Yardbarker Network, where our editors and algorithms curate the best sports content from our network and beyond.