Found April 21, 2013 on Fox Sports:
PLAYERS:
Darrelle Revis
,
Rex Ryan
,
Mike Tannenbaum
,
Mark Sanchez
,
Tim Tebow
,
Woody Johnson
,
Antonio Cromartie
,
David Garrard
,
Robert Griffin III
TEAMS:
New York Jets
,
Tampa Bay Buccaneers
,
Washington Redskins
We can't know whether the Tampa Bay Buccaneers were wise trading for Darrelle Revis until he proves fully recovered from a serious knee injury. We won't know whether the New York Jets did the smart thing by dealing their star cornerback until seeing how the NFL careers unfold of the players who are acquired by the draft picks Tampa Bay surrendered (13th overall pick in 2013, conditional third- or fourth-round pick in 2014). This much became certain: The chances of Rex Ryan remaining head coach beyond this season have taken another major hit. Ryan already was facing long odds entering the 2013 campaign. After consecutive appearances in the AFC Championship Game, the Jets have gone two seasons without a winning record. Mike Tannenbaum, the general manager who hired Ryan in 2009, was fired after last year turned into the type of circus that would have made Barnum & Bailey proud. New GM John Idzik has spent the offseason trying to clean up the mess left behind by his predecessor. That includes contracts Tannenbaum gave to Revis and quarterback Mark Sanchez, not to mention the Tim Tebow debacle. With salary cap issues, the Jets weren't major players in free agency and suffered losses on their own roster that must still be filled. New York's best player is now a goner, too. The Jets can't be blamed for making this move. Revis was entering the final season of a four-year, $46 million contract. Tannenbaum foolishly agreed to a clause that prevented the Jets from using their franchise tag on Revis in 2014. Owner Woody Johnson believed his team would struggle to strike a Revis contract extension. The Jets are in full-fledged rebuilding mode. Plus, there are no guarantees Revis will be the same elite player as before his anterior cruciate ligament was torn last September against Miami. Add all this together and it makes sense for the Jets to get what they could for Revis even with $12 million in "dead money" set to count against New York's cap. Not that this trade does Ryan any favors. Ryan loved being able to field a defense with a cornerback who could eliminate an opponent's top wide receiver from making much if any impact. While fellow Jets cornerback Antonio Cromartie is strong in coverage, he doesn't afford Ryan that same shut-down option. Mind you, Ryan has no right to complain. He was tied to the hip with Tannenbaum. Ryan was involved with the decisions that put New York in these straits. He may have gotten fired at the end of last season if the field of replacements wouldn't have been so limited by what the new head coach would be inheriting. The Revis deal is another reminder of Ryan's tenuous status and how much his say in personnel moves has dwindled under Idzik. At the NFL Scouting Combine in February, Ryan said there was "no validity" to the report that Revis was on the market. He also joked that the Jets would "probably look into it" if they could get a player the caliber of Jim Brown in that trade. There's no reason for Ryan to kid now. Ryan seems destined to slog through another fruitless Jets season before getting dismissed. The only chance for Ryan to stick is winning with less talent than he has ever had before in New York. That includes no obvious solution to New York's quarterbacking problems. Even if the Jets chose one in the first round, none of the top prospects are pegged as instant starters like Andrew Luck and Robert Griffin III in 2012. Sanchez or retread David Garrard would still be projected as the 2013 starter with Tebow a likely goner by the start of the regular season. Ryan shouldn't be completely counted out. Beyond all his public bluster and bravado is a talented coach whose players still gave strong effort for him as last season fell apart. That speaks volumes to the respect he still commands and gives Ryan a shot at survival. It just becomes far more difficult after Revis Island drifted into Tampa Bay.
Original Story:
http://msn.foxsports.com/nfl/story/da...
THE BACKYARD
BEST OF MAXIM
RELATED ARTICLES
It was quite shocking that the Buccaneers signed Darrelle Revis to an extension that will pay him $0 guaranteed.According to Jason Cole of Yahoo! Sports, the Jets could have signed Revis to the same type of deal, but were never interested in negotiating with him.Funny part of all this is the #NYJ could have gotten the same $0 guarantee, but they never asked to negotiate— Jason...
The stare-down between the New York Jets and Tampa Bay Buccaneers over Darrelle Revis could be nearing an end. The Bucs have been granted permission to have the star cornerback visit Tampa Bay and undergo a physical, according to multiple reports. The Jets have expressed a desire to have Revis on the trading block for a while, and the Bucs, trying to find an answer to correct the...
TAMPA, Fla. This was a memorable Monday at One Buc Place, possibly a landmark one if cornerback Darrelle Revis helps make Tampa Bay a playoff contender or more, and coach Greg Schiano left little mystery about where he stands following the Bucs' ability to secure the games best defensive back. He no longer had to be coy, speak in coded language like, If we have an opportunity...
As we've been reporting, Jets GM John Idzik must have finally seen the light, because he's now moving with a sense of urgency in the Darrelle Revis trade negotiations. Revis has already been granted permission to travel to Tampa Bay to take a physical for the Bucs, and visit with the organization. Now Jason Cole of Yahoo Sports is reporting that Jets have agreed to trade Revis...
This Shirt May Sell 10) If you know any Jets fans right now, please feel free to reach out and remind them that there is so much more to life than football 9) Revis has $96 million coming from the Bucs, but if he stays hurt, he won't make a dime, which is kind of a massive refutation to the idea that the NFLPA exists 8) The Jets might now be able to draft a CB with the pick...
While his ability is hard to question, there was a level of uncertainty surrounding the injured knee of cornerback Darrelle Revis. Even so, the Tampa Bay Buccaneers sent two draft picks to the New York Jets in exchange for Revis, and the team is apparently confident in his health. Bucs general manager Mark Dominik told Peter King of Sports Illustrated that he expects Revis to be...
QB-coach tandems are easy to spot both on the field and in football lore. Other player-coach tandems are harder to identify – unless armed with our illuminating Quality Stats. Rex Ryan-Darrelle Revis were one of those terrific tandems that we may find need each other.
Will the Darrelle Revis Era in Tampa Bay live up to the hype?Photo Credit: Kim Klement USA TODAY Sports on SI.com The Tampa Bay Buccaneers introduced their newest asset this week after a whirlwind Sunday of speculation and intrigue. After passing his physical, Darrelle Revis signed his contract and excited fans across the Bay area.   However, as history shows, Buccaneers fans may...
Former Buccaneers defensive tackle Warren Sapp told The Tampa Tribune that Darrelle Revis is a selfish player for the way he's held out for more money over the course of his career. "He's selfish and he's never been a team player," Sapp said. "We didn't win the championship that way. Derrick Brooks and I always cared more about the team than ourselves." It only makes...
Darrelle Revis is now a Tampa Bay Buccaneer, and one particular Jet is not taking the trade well.  Jets pro bowl cornerback Antonio Cromartie grew extremely close with Revis, and according to Around The League, Cromartie is devastated, saying "it sucks." "It sucks. That's my reaction: It sucks," Jets cornerback Antonio Cromartie told New York Daily News reporter Manish...
Why do they say what they say? Do football players just not know what is coming out of their mouths?I mean, Darrelle Revis gets traded to the Buccaneers and turns right around and says that the Jet's management lied to him about wanting to keep him on the team! Really?With all of the major moves going on the last few weeks, why does Revis think that he is the only one who fell...
NFL News

Delivered to your inbox

You'll also receive Yardbarker's daily Top 10, featuring the best sports stories from around the web. Customize your newsletter to get articles on your favorite sports and teams. And the best part? It's free!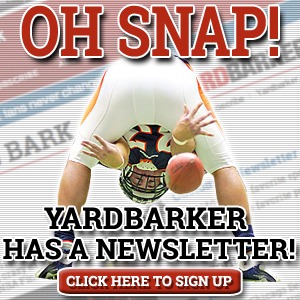 Latest Rumors
The Backyard

Today's Best Stuff

For Bloggers

Join the Yardbarker Network for more promotion, traffic, and money.

Company Info

Help

What is Yardbarker?

Yardbarker is the largest network of sports blogs and pro athlete blogs on the web. This site is the hub of the Yardbarker Network, where our editors and algorithms curate the best sports content from our network and beyond.