Found February 12, 2013 on Purple Jesus Diaries:
First things first. Up until pretty much this year when the Detroit Lions reverted back to being the Detroit Lions, those Honolulu Blue kittens always had a soft spot in my heart, despite "technically" being NFC North rivals. You see, those laughable louts had the panache to go 0-16 in the modern era, they ruined Barry Sanders' life, they always play on Thanksgiving like it was supposed to mean something ... They were just a harmless fly in the room. But then they started beating the Vikings, and complaining about not getting calls, and then our team went 3-13 and all of a sudden everyone was eligible for the **** list. Regardless, the Lions reverted back to being the Lions again in 2012, thanks to overhyped expectations, poor performance, and largely unlikable characters on their team. And if their 2013 team calendar is any indication, these lug-heads are bound to be the laughing stock in the NFC North for years to come. Again. I mean, for more years to come, just like they were before. You know what I mean. Here's the front cover of the 2013 Detroit Lions calendar. Hey, not bad. You have a pretty dynamic shot of a player mid-action with the football, running through the rain all intense-like, with the white away uniforms standing out in stark contracts to the dreary, hard fought football turf background. Lions football, baby! I'm going to buy this calendar AND the jersey of that guy, Mister 16, Mister ... ... Titus Young? Oops. You see, this calendar is on sale. Today. I don't know when it was officially RELEASED, but probably around the same time as all other new year calendars are, at the end of the previous year. Well, OK, who would have know that the Detroit Lions were going to release Titus Young a couple of months later? I mean, Young was a rising star on a team devoid of rising stars, someone who could take the calendar cover and sell MILLIONS! Finally! A marketable face! Except for that Calvin Johnson guy. Or Ndamukong Suh. Or even Jason Hanson. And don't forget Matthew Stafford. And Matthew Stafford's girlfriend. I mean, literally, any of them would have been a better option to grace the cover of a team calendar, and had a pretty high probability that they'd be around for all of 2013, as well. Except for maybe Jason Hanson, but I'm never counting that Crypt Keeper out of anything. So that's pretty bad, but it was hardly the only snafu that appeared in this great piece of marketing. NFL.com's "Around the League" feature pointed out several other mix ups, including featuring Aaron Barry (who was released back in July), Kyle Vanden Bosch (released this last week), Jahvid Best (dead, probably, from concussions), and many others. It's an outstanding display of decision making. The plus side here, is that if you are really desperate for a 2013 calendar still, I bet you could end up buying this one pretty cheap. Just so you have something. The other real benefit is, oh yeah, this team is REALLY STUPID. And that makes the chances of the Vikings not finishing as cellar dwellers again pretty good. Thanks, Detroit! [follow]
Original Story:
http://www.purplejesusdiaries.com/201...
THE BACKYARD
BEST OF MAXIM
RELATED ARTICLES
There have been plenty of Percy Harvin trade rumors floating around, but when looking at the big picture, he's not so bad. Sure, Harvin demands attention, but that's nothing new to star receivers. He's yelled at the coach, like that hasn't been done before. However, according to Jim Souhan of the startribune.com, Harvin doesn't scratch the surface of bad behavior, and...
Filed under "Topics I Can't Believe I Still Have to Slow-Talk to your Morons About," people are apparently still discussing whether or not the Minnesota Vikings should trade wide receiver Percy Harvin. I know. It's god damn ludicrous. You know what someone asked me the other day in regards to this? They asked, "But if we sign Percy long term, how are we going...
Ian Rapoport of the NFL Network says he spoke with two NFL executives and one told  him that he would be shocked if the Minnesota Vikings received more than a third round pick in return for Percy Harvin. Heard from 2 NFL execs on possible Harvin trade: 1 spoke of how complex finding value is. Another said he'd be shocked at better than a 3rd — Ian Rapoport (@RapSheet) February...
According to ESPN.com, a Minnesota Vikings source told Josina Anderson that wide receiver Percy Harvin is looking to receive a contract extension that's similar to what both Larry Fitzgerald and Calvin Johnson got from their respective teams. The high-ranking Vikings source told Anderson that Harvin classifies himself among the NFL's top wide outs and expects a contract similar...
Josina Anderson of ESPN.com reports that a Percy Harvin holdout wouldn't be to his advantage. Anderson also reports from a "high ranking Vikings source," that the team feels they have the advantage due to the fact Harvin still has one year left on his contract.  
Brett Favre is again proving why he is the ultimate American hero, this time with a chainsaw. Does he need to out in the woods cleaning up his hometown? Does he need to be getting his hands dirty after making roughly $100 million in his career? No. What you see here is the old gunslinger doing his part to clean up his battered hometown of Hattiesburg, Mississippi. Yesterday he was...
Percy Harvin has been the subject of a lot of talk around the Minnesota Vikings lately. His future with the team is questionable, and now it looks as though the team will actively seek to trade him.  Sources tell WCCO's Mike Max that the main reason that Harvin left the team this season was not his injury, but instead it a blowup he had with Vikings head coach Leslie Frazier...
Jason La Canfora of CBS Sports writes that even though Percy Harvin is a legitimate difference maker, the Minnesota Vikings are unlikely to get "fair value" in return for him. La Canfora mentions that talks between the Vikings and Harvin have gone "pretty much nowhere" and he would be surprised to see any "monumental breakthroughs" when they meet at next week's Scouting...
Mike Florio of Pro Football Talk reports that a league source has informed him that Vikings WR Percy Harvin is expected to "stay away" from offseason workouts and training camp in the event that he doesn't have a long-term in place. A recent report indicated that the Vikings are prepared to shop Harvin around in the next few weeks, which has fueled plenty of speculation as...
Word coming out of Minnesota is that disgruntled wide receiver Percy Harvin is looking for a way out-of-town, and looks like it is heading that direction. One of the more complete and explosive players in the NFL, Harvin can create instant offense on the ground, in the air and returning kicks. Adam Rank of NFL.com said this of Percy Harvin, It is apparent that Harvin will be finding...
This is the latest post in Kurt's continuing series to identify the NFL's Ultimate Franchise Player of All-Time. For an explanation of his methodology for choosing each franchise's ultimate franchise player, and then how you and he will choose the NFL's Ultimate Franchise Player from that list, click here. Previous selections: ARI | ATL | BAL | BUF | CAR | CHI | CIN | CLE...
NFL News

Delivered to your inbox

You'll also receive Yardbarker's daily Top 10, featuring the best sports stories from around the web. Customize your newsletter to get articles on your favorite sports and teams. And the best part? It's free!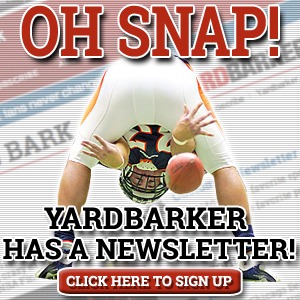 Latest Rumors
Best of Yardbarker

Today's Best Stuff

For Bloggers

Join the Yardbarker Network for more promotion, traffic, and money.

Company Info

Help

What is Yardbarker?

Yardbarker is the largest network of sports blogs and pro athlete blogs on the web. This site is the hub of the Yardbarker Network, where our editors and algorithms curate the best sports content from our network and beyond.