Found July 31, 2012 on The Saints Nation:
PLAYERS:
Malcolm Jenkins
,
Darren Sharper
,
Will Smith
,
Anthony Hargrove
,
Gregg Williams
,
Roman Harper
,
Justin Tuck
,
Osi Umenyiora
,
Steve Spagnuolo
TEAMS:
New Orleans Saints
,
New York Giants
,
St. Louis Rams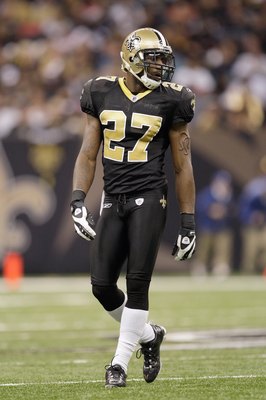 The day Malcolm Jenkins was drafted by the New Orleans Saints out of the 1st round he came with very high expectations. He was rated the best defensive back of his class and the Saints were ecstatic that he dropped to them. At the time Jenkins was a cornerback and the Saints dispelled any rumors he possibly projected as a free safety. Of course, the Saints felt pretty good about Darren Sharper as their starter back then. 2009 ended up being a decent season for Jenkins as a reserve corner that saw him play well as a nickelback and notch one interception. In 2010, the Saints made the move to free safety official, as Jenkins replaced Darren Sharper. Sharper would sit out the first half of 2010 with a bum knee, and return for the second half as a shell of his former self. Upon his return, Jenkins saw more time at corner - but was platooned at safety. Last year was Jenkins' first full year at safety, one that was supposed to yield his breakout season. Instead, it was a major regression and disaster type season for Jenkins. He ended the year with no interceptions, (after 2 in 2010) and more drops than you could ever imagine.
Jenkins' struggles at the safety position thus far have been for a number of reasons. The adjustment to learning a new position, the mentality as the last line of defense to go for a tackle or big hit instead of the ball, poor hands, a scheme that often dropped him 20 yards or more behind the line of scrimmage, and a poor pass rush. The 2009 version of the Saints, the one that featured Darren Sharper notching 9 interceptions, had the luxury of a 35 sack season. Since Jenkins has been a free safety, the Saints notched 33 sacks in both 2011 and 2012. That may sound similar, but the Saints generated much more pressure in the latter to years with blitzing, leaving Jenkins out to dry. In 2009 the Saints got 13.5 sacks from Will Smith, 5.5 from Charles Grant and 5 from Anthony Hargrove. The front four did a tremedous job of getting pressure, and the Saints blitzed less as a result. By 2010 and 2011, the d-line was so poor getting to the quarterback - Gregg Williams resolved to blitz whenever possible. That left the free safety less "free" to roam, instead committed to playing in deep center field as the last line of defense in an attempt to avoid disaster. 2010's d-line pressure was poor (6 sacks for Ellis, 5.5 for Will Smith, then 4 for Vilma and 3 for Harper) but 2011 was arguably worse (Roman Harper led the team with 7.5 sacks. The best d-lineman was Will Smith as 6.5).
Steve Spagnolo's scheme, a bit like Gregg Williams', is still at the mercy of the players within it performing well. I've come up with some historical numbers of his past defenses, but it's important to realize the Saints don't have Justin Tuck, Michael Straham, Chris Long or Osi Umenyiora in their prime on the team. Still, consider these front four sack outputs by Spag run defenses:
In Steve Spagnuolo's 5 years as a defensive coordinator or head coach, the defensive line owned about 70% of the team's total sacks. In 2010 and 2011 for the Saints, the d-line owned 62% and 50% of the team's sacks respectively. By comparison, a Spags lead defense has only dropped below 65% in 5 seasons once.
Part of that is having more explosive edge rushers, for sure, but part of that is a commitment to put pressure with the front four. That allows linebackers or safeties to help in coverage, which will help Jenkins have more liberty back there as oppose to a specific assignment when you're always in zero blitz. Still, while the new scheme will theoretically give him more chances, it won't improve Jenkins' playmaking ability, it won't improve his hands, and it won't improve his ability to close on the ball. Improving those things are all on him.
This is a big year for Malcolm Jenkins. There's been talk of star potential, but he needs to turn the corner this season if that's ever going to happen.
[follow]
Original Story:
http://www.thesaintsnation.com/2012-a...
THE BACKYARD
BEST OF MAXIM
RELATED ARTICLES
COMMISH CRITIQUE
New Orleans Saints quarterback Drew Brees said that players don't trust Roger Goodell when he was asked about players' attitudes towards the NFL commissioner.
Ben Grubbs says that when he ventured into free agency, New Orleans seemed like the right fit personally and professionally. Grubbs grew up in Alabama and played at Auburn, and when All-Pro left guard Carl Nicks left New Orleans during same offseason in which Grubbs became a free agent, the opportunity to return to the South and join a record-setting offense presented itself. Grubbs...
Drew Brees offseason contract dispute with the Saints hasn't dampened his desire to be a good teammate, or to take care of his team's fans who have been braving the heat and rain to come out to Saints training camp. On Saturday fans were treated to free Plum Street Snoballs as Brees had arranged for a truck to come to practice. "It was funny because a few days before...
Jabari Greer has a pulled groin that limited him during Tuesday's practice and left the Saints without either of their first-team cornerbacks on the field. Cornerback Patick Robinson, who hurt his shoulder Sunday afternoon, has not yet returned, and assistant head coach Joe Vitt says he could be sidelined a couple more days The injuries, which appear minor, mean more work with...
We aren't going to think that Drew Brees' feelings towards NFL Commissioner Roger Goodell has anything to do with the penalties the Saints faced or Head Coach Sean Payton's suspension, this has to be rational. Right? Peter King with Sports Illustrated recently sat down Drew Brees and Brees' did not disappoint. "Nobody trusts him. Nobody trusts him. I'm not talking...
Well-respected Saints quarterback Drew Brees told NFL Network on Wednesday that he was representing the league's consensus opinion earlier this week when he said nobody trusts NFL Commissioner Roger Goodell. "I was asked a direct question: How do players in the league feel about the commissioner?'" Brees told Marshall Faulk of NFL Network. "I've talked...
Willie Roaf might have missed out on a whopping 11 Pro Bowls had he been 2 inches taller. Fortunately for the New Orleans Saints and Kansas City Chiefs, Roaf, who loves basketball and says he can still dunk at age 42, stopped growing when he was 6-foot-5. Roaf says if he had been 6-7, he probably would have kept playing basketball in college, but instead took one of only two scholarship...
Rejoice fans! The NFL season is upon us.  Soon the soap opera that is the off-season will give way to the drama of a brand spanking new NFL season.  Before our weekly NFL joy returns, the pre-season monster must be fed.  Every nod of Robert Griffin III's head must be dissected and disseminated to the Washington faithful, while every report out of Cleveland must remind fans...
With most of the roster set, Saints interim head coach Joe Vitt decided to move practices to the mornings, in part to make sure the team is getting in full sessions. It's back to more of the normal training camp routine after it made more sense to have afternoon practices last year with so much turnover following the end of the lockout and quick start to camp. "This...
Defensive tackle Alex Daniels was signed by the Saints, who waived cornerback Cord Parks. Daniels entered the NFL as an undrafted rookie out of Cincinnati in 2010, signing with Oakland. He has spent time on the practice squads of the Cowboys and Giants, who worked him at fullback.
NFL News

Delivered to your inbox

You'll also receive Yardbarker's daily Top 10, featuring the best sports stories from around the web. Customize your newsletter to get articles on your favorite sports and teams. And the best part? It's free!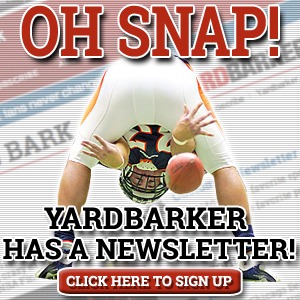 Latest Rumors
Best of Yardbarker

Today's Best Stuff

For Bloggers

Join the Yardbarker Network for more promotion, traffic, and money.

Company Info

Help

What is Yardbarker?

Yardbarker is the largest network of sports blogs and pro athlete blogs on the web. This site is the hub of the Yardbarker Network, where our editors and algorithms curate the best sports content from our network and beyond.