Found March 21, 2013 on The Saints Nation:
PLAYERS:
Nnamdi Asomugha
,
Keenan Lewis
,
Steve Spagnuolo
,
Curtis Lofton
,
Scott Shanle
,
Will Herring
,
Sedrick Ellis
,
Rob Ryan
,
Corey White
,
Patrick Robinson
,
Jabari Greer
,
Junior Galette
,
Martez Wilson
TEAMS:
Philadelphia Eagles
,
New Orleans Saints
The Saints' defense was miserable beyond words last year, this is not news to anyone. Some say it was the worst ever, and from a yardage yielding perspective that much cannot be argued. It was certainly the worst in Saints' history and that is really and unbelievable feat when you think about it. So far the only addition the Saints have made is cornerback Keenan Lewis. I think we'd all be foolish to assume that pick up will be enough to vault the Saints out of the 32nd spot overall - though a new coach and scheme change might be. The move to fire Steve Spagnuolo and change the scheme has suggested all along that it's not on the players or talent as much as the coaching and not putting those players in a position to succeed. That I'm not sure I agree with. Why? Because I feel the Saints' best talent on defense is over the hill with the possible exception of Curtis Lofton and a currently incomplete end in Cam Jordan. So far the Saints have lost way more defenders than they've added. Gone are Turk McBride, Scott Shanle, Jonathan Casillas, Will Herring, Sedrick Ellis (unless he comes back which I doubt) and Johnny Patrick. Obviously the offseason has just started and we still have the draft, so no need to panic about this by any means, but so far Keenan Lewis is the only addition. Over the course of this offseason I think you can expect numerous new players to come on board, hopefully. That brings us to two very talented veterans the Saints are looking at currently: cornerback Nnamdi Asomugha and linebacker Victor Butler. Asomugha has already visited with the Saints and he's apparently mulling offer what can only be a low ball offer by the Saints. Why do I assume that? Because if it was a deal to his liking he would have already signed it. Butler is visiting with the Saints today and tomorrow after a visit with the Steelers that didn't produce a signed contract. Defensive coordinator Rob Ryan has coached both players, Butler in Dallas as recently as this past season, and Asomugha a few years ago in Oakland. Mutual interest is high and ultimately whether or not these players join the team will come down to money. It's no secret these players have interest around the league the Saints are competing with for their services, and it's also no secret the Saints don't have tons of cash to throw around irresponsibly given their cap situation. If the Saints can land both players, though, the talent of the defense starts to look much much better. Consider the fact that the Saints started the 2013 season with Corey White and Patrick Robinson as their starting corners while Jabari Greer was out. If they find a way to get both guys, Patrick Robinson and Corey White would open the season as the #4 and #5 corners assuming everyone is healthy. Quite a difference. On top of that Butler would represent a pass rushing upgrade that would make a huge difference and provide competition for Junior Galette and Martez Wilson, both currently slated to start as the OLBs because there's no one else. I like Galette and Wilson, but they're still both raw, have liabilities in run support and coverage, and they'd both be learning a new position. Butler wouldn't. So that would give the Saints experience, stability, talent, and a lot less question marks at that position. The Saints may get slightly better with a new coach and a scheme that plays to some of their player's strengths, but I disagree with the notion that this was all on Spags. I think the players aren't good enough collectively. There still needs to be a massive upgrade in talent and an overhaul of sorts. That doesn't mean dumping each veteran on defense, but it does mean bolstering depth to add talent and competition to each position. If the Saints manage to find a way to sign both of these players, it will go a long way in upgrading the defense and getting them closer to a return in the postseason. Make it happen Mickey (within reason, of course!).
Original Story:
http://www.thesaintsnation.com/2013-a...
THE BACKYARD
BEST OF MAXIM
RELATED ARTICLES
The Saints are one of the better teams in the NFL lately, and most teams would prefer not to have them on the schedule, but historically they are one of the worst teams in the NFL. Despite being generally awful, the Saints have proven to be astute drafters over the years, pulling in some fantastic talent. Of course, they've shot a few blanks too, it's just a matter of which...
Sean Payton is trying to guard against anyone in the New Orleans Saints' organization thinking the team will return to its playoff form of recent seasons just because he's back. ''That's a dangerous mindset for a team to have. That's not real,'' Payton said when NFL coaches met with reporters Wednesday at the NFL owners meetings. ''We could...
With the signings of Keenan Lewis and Ben Watson, I'm not ready to say cornerback and tight end depth are set by any means, but I feel better about those positions. That said, the Saints are still looking strongly at Nnamdi Asomugha which proves they are maybe still not satisfied with the talent at the former position. That said, with Jabari Greer, Patrick Robinson and Keenan...
This is the third offseason in a row I am clamoring for a difference maker on defense. In 2011, I wrote this. Unsatisfied with how that year went, I essentially wrote the exact same piece in 2012. Here we are again, for the third straight year, and I'm singing a familiar refrain we're all starting to know a little too well. The Saints haven't had a 2009 version of Darren...
Sean Payton's year away from the NFL was hell, but now he's energized for return.
It seems a lot of defensive players are visiting New Orleans, although Mardi Gras finished over a month ago. Another one to visit is Victor Butler, the free agent linebacker according to the Times-Picayune: The Saints are looking for outside linebackers as they convert to a 3-4 scheme under defensive coordinator Rob Ryan. Butler, who is 6 feet 2 and 245 pounds, played under Ryan...
Former Georgia linebacker Jarvis Jones participated in today's pro at the University of Georgia, and didn't perform as well as some people had thought he would.  But Ian Rapoport of the NFL Network believes both the Steelers and Saints are currently eyeing Jones. Teams already buzzin about UGA's Jenkins, especially after looking nice in position drills. Bet on Steelers &amp...
Cornerback Nnamdi Asomugha and offensive lineman Bryant McKinnie are on the New Orleans Saints radar, according to Larry Holder of NOLA.com. Holder notes that the Saints are in the market for a left tackle after losing free agent Jermon Bushrod to the Chicago Bears. The Saints currently have in-house candidate Charles Brown to fill the position, but head coach Sean Payton has...
The 49ers on Tuesday welcomed wide receiver Marlon Moore to the family on a one-year contract. Try to contain your excitement. Moore, 25, spent the last three seasons in Miami, where he played primarily in coverage units on special teams. The Niners are expected to use him in the same capacity, though the possibility is open that he could be seen returning kicks. By trade, Moore...
NFL News

Delivered to your inbox

You'll also receive Yardbarker's daily Top 10, featuring the best sports stories from around the web. Customize your newsletter to get articles on your favorite sports and teams. And the best part? It's free!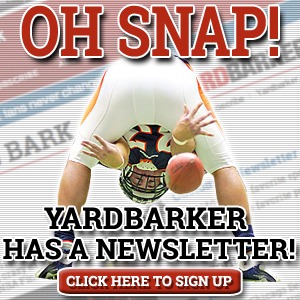 Latest Rumors
Best of Yardbarker

Today's Best Stuff

For Bloggers

Join the Yardbarker Network for more promotion, traffic, and money.

Company Info

Help

What is Yardbarker?

Yardbarker is the largest network of sports blogs and pro athlete blogs on the web. This site is the hub of the Yardbarker Network, where our editors and algorithms curate the best sports content from our network and beyond.