Found September 15, 2013 on The Saints Nation:
PLAYERS:
Les Miles
,
Drew Brees
,
Jimmy Graham
,
Mark Ingram
,
Pierre Thomas
,
Darren Sproles
,
Jed Collins
,
Marques Colston
,
Lance Moore
,
Devery Henderson
,
Kenny Stills
,
Robert Meachem
,
Charles Brown
,
Ben Grubbs
,
Garrett Hartley
,
Jahri Evans
,
Zach Strief
TEAMS:
New Orleans Saints
,
LSU Tigers
There's really not much to get excited about after a performance like this offensively, except for the two minute drill at the end that set up the game winning field goal. That drive was executed to perfection, so much so it would make Les Miles salivate in jealousy, and it made up for a game long horrific performance by helping steal an NFC South win on the road. Let us hope the weather had a lot to do with the struggles, because let's face it, this season won't be pretty if that's what we get consistently. Lots to work on for this unit going into next week, that's for sure. Here are the grades. As always, the grade represents the player's performance in the game, the GPA represents the cumulative effort for the season. Drew Brees: C- (2.35) I was set to give Brees a D, or even a D- before that final drive. The only thing he did worth mentioning as a positive was find Jimmy Graham. Beyond that, he was at times inaccurate, at times not quick enough getting rid of the ball, and often rattled. That'll happen when you're continually getting drilled by linemen because your offensive line isn't doing its job. At some point the line needs to seriously improve or Brees won't make it through this season alive. He finished 26 for 46, 322 yards, 1 touchdown and 2 interceptions that set up the Bucs' only two scores. If Brees doesn't throw those two picks, I'm not sure the Bucs score in this game. But the two minute drill was incredible and it gave the Saints what they needed in the clutch to win the game. Hence the grade boost. It still wasn't a good day for Brees, though. As many hits as he took there is no excuse for those two turnovers that were bad picks to linebackers dropping in coverage faking flat coverage before dropping into zone. That's fooled Brees badly before (49ers and Falcons games in the past come to mind). He was also fortunate to not get charged with a lost fumble on that play he got blown up by Clayborn where he held on to the ball too long thanks to a questionable blow to the helmet call. Mark Ingram: D- (0.67) I would fail him, but I reserve that for bad penalties or huge turnovers that cost the team the loss. 8 carries for 20 yards doesn't do justice to how bad he was though, and part of it is the added frustration of his consistent struggles. The bouncing outside when he doesn't have the speed to pull it off, and the continually getting stood up and stonewalled by players that shouldn't be running him over is what is most disappointing. I think I speak for every fan when I say we're at the end of our rope with this guy. His goal line carry on 4th and 1 was blocked well enough for him to score and he just didn't get it done, plain and simple. Pierre Thomas: B (2.84) Once again he was by far the most effective rusher on the team, but somehow didn't get more reps. He had 5 carries for 29 yards and 4 catches for 19 yards. Nothing amazing, mind you, but still criminally under utilized in this game. Darren Sproles: B- (2.84) He struggled to get going but was able to at least give the Saints' offense bandage to stop the massive bleeding. He had 7 carries for 26 yards and I have no clue how he saw more rushes than PT. Can you explain that to me? He also had 6 catches for 36 yards and was a disappointment in the return game for the second straight week. After watching LSU on Saturday night, it was at least nice to see him call fair catches and be very secure with them. He took some big hits and showed good toughness. Jed Collins: C- (1.67) For the second straight week I can count on one hand the good blocks he through. He's not really doing much to help spring this running game so far. Marques Colston: B- (2.84) He kind of had a quiet day and watching him run his routes on tape he just wasn't getting open at all. He was unable to stay behind Darrelle Revis on that flea flicker. He looked fairly slow and struggled to get separation. But he did have some valuable receptions, and his 31 yarder was a sick catch that won the game for the Saints. He saves his grade by saving the day. He had 4 catches for 63 yards. Lance Moore: C- (1.67) Dare I say he's getting Devery Henderson syndrome where he gets forgotten in the offense? Brees is hardly ever looking his way which is strange. Brees didn't really have enough time to get him involved in the passing game, though, so that may be the reason. Just one catch for 15 yards. Kenny Stills: C+ (2.84) While he gave the Saints just one reception for 10 yards and carried the ball like a loaf of bread while getting tackled (thankfully didn't fumble) he also drew a critical pass interference play downfield that preceded Brees' pick six. That's a defense stretching play that sends the message once again his speed should be respected. It doesn't come down as a catch, but the yardage was huge. Robert Meachem: D+ (1.33) He looked slow and didn't block that well. He was only targeted once and he was slightly overthrown despite maybe having a slight step on his man. He wasn't able to contribute anything to this offense, or get open, despite some playing time. While he had no catches, I did give him the + for his attempt to run down Mason Foster, tackling him into the end zone. Good effort to catch him there, but the result was a touchdown. Jimmy Graham: A (3.34) I thought about the A+, which I seldom give out, but he did have a drop, blocked poorly, and wasn't able to get into the end zone on that catch before halftime. I'm nitpicking though, the bottom line is he carried the entire team. Graham literally threw the entire 53 man roster on his back in this game and single handedly won this all on this own. What more really needs to be said? 10 catches, 179 yards and a touchdown. Monster. Benjamin Watson: C- (2.17) Spelled Graham a little bit but was never targeted. He didn't offer much benefit blocking either. I wonder if he could've been utilized more in this game? Seems the Saints' offense missed more jumbo packages. Charles Brown: D+ (1.50) Boy did he have his hands full with Adrian Clayborn. I have to say, Clayborn really impressed me and looked like a complete player. Brown was his whipping boy. Whether he dropped in coverage, played the run or absorbed contact at the point of attack, Clayborn was consistently making Brown look stupid. At one point Brown moved inside and left Clayborn unabated right at Brees. If it was any other quarterback, Brown would have been responsible for a number of horrific plays, and he's getting no push in the running game either. I'm starting to see pretty clearly this guy may not be able to handle the left tackle responsibility. Hopefully Brown will look better at home, but so far he's struggled through two games. Ben Grubbs: C- (1.67) Maybe his false start before Garrett Hartley's 53 yard attempt was a blessing in disguise because Hartley would've missed the kick, but that is a cardinal sin penalty right there. He knocked his team out of field goal range thanks to that massive mistake. The Saints tried to run behind him but he couldn't get it going. His pass blocking was also subpar. He missed a blitz pickup on a sack. Brian de la Puente: D (1.67) He was embarrassed badly by Gerald McCoy early on the game, giving up a huge sack and getting Brees crushed. On the 4th down goal line play, he got tripped and pushed sideways to give the Bucs enough penetration to stop the play. Not a good day overall. Jahri Evans: C- (1.67) He looked injured and compromised, not moving nearly as well laterally as he normally does. In pass blocking he got Brees hit big a couple of times. He was also flagged for holding in the red zone which ultimately led to the Saints having to settle for a field goal. I will say I got really juiced to see him finish a Pierre Thomas rush with a nice shove at the end to make the run go from 8 to 10 yards. That's what this offense needs right now. More of a mean streak and more effort. Hopefully the rest of the guys can build off seeing him do that. Zach Strief: C+ (2.33) So far he's the only offensive lineman above 2.00, and it's not like he's playing that well. He is at least holding his own in pass protection by moving well laterally and showing good technique. I'd like to see him taking more advantage of his strength and frame in the running game, but hopefully that'll come. He was responsible for the huge hit by Clayborn on Brees on that helmet call, but that sack was Brees' fault for not getting rid of the ball.   My Offensive Player of the Game: Jimmy Graham  
Original Story:
http://www.thesaintsnation.com/2013-a...
THE BACKYARD
BEST OF MAXIM
RELATED ARTICLES
It was sloppy. It was ugly. It was a win. As long as the third statement holds, the previous two don't really matter. The New Orleans Saints marched into Tampa Bay and, despite Mother Nature's effort in keeping the game from happening, were able to pull out a close 16-14 win over the Tampa Bay Buccaneers on the boot of Garrett Hartley. Drew Brees showed why he gets paid the big...
Drew Brees was sacked four times, knocked around a bunch more and threw an interception that was returned for a touchdown. Still, the New Orleans quarterback found a way to beat the Tampa Bay Buccaneers again. Garrett Hartley kicked a 27-yard field goal as time expired to give the Saints a weather-delayed 16-14 victory and their fourth consecutive win over their NFC South rivals...
Remember the good ole days when the New Orleans Saints would open up a 40 point can of whoop ass on some team and you could kick your feet up for the second half of a game? So umm, I won't be greedy and ask that we do that every week but if we could not have every game come down to the final freaking play in the final freaking second, that would be just super. Thanks! In the...
No one has to remind the New Orleans Saints how special Drew Brees can be in clutch situations. He keeps showing them himself. Shrugging off a couple of interceptions that put Tampa Bay in a position to beat his team, Brees led a last-minute drive that produced Garrett Hartley's 27-yard field goal as time expired to beat the Buccaneers 16-14 on Sunday. ''He's magical...
(Eds: With AP Photos.) By BRETT MARTEL AP Sports Writer Sean Payton can't complain about the Saints' 2-0 record. That doesn't mean he hasn't identified worrisome shortcomings in the performance of his normally prolific offense, and even his own play calling. There is ''a lot that we have to look at and clean up. Fortunately it's coming off of a win,&...
TAMPA, Fla. (AP) -- Drew Brees was sacked four times, knocked around a bunch more and threw an interception that was returned for a touchdown. Still, the New Orleans quarterback found a way to beat the Tampa Bay Buccaneers again. Garrett Hartley kicked a 27-yard field goal as time expired to give the Saints a weather-delayed 16-14 victory and their fourth consecutive win over their...
TAMPA, Fla. (AP) -- Sunday's game between the New Orleans Saints and Tampa Bay Buccaneers has been suspended because of lightning with 10:30 remaining in the first quarter. Play was stopped after Garrett Hartley kicked a 44-yard field goal to give the Saints a 3-0 lead and the ensuing kickoff resulted in a touchback. Heavy rain, thunder and lightning sent fans scurrying for...
TAMPA, Fla. -- Another Sunday, another last-second loss. Just two weeks in, and the Tampa Bay Buccaneers are used to late-game letdowns. Last week, the New York Jets inflicted the pain. Sunday, the New Orleans Saints went 54 yards in five plays to pull off the 16-14 victory as time expired at Raymond James Stadium, after Garrett Hartley made a 27-yard field goal. Where do the Bucs...
The New Orleans Saints have built their reputation and based their success on the shoulders of the offense in the Sean Payton era. In a strange role reversal that wasn't the case against the Tampa Bay Buccaneers on Sunday. After the defense held serve and forced Tampa Bay into an errant field goal in the final minute a late drive by the Saints led to a 17-yard field goal by...
The New Orleans Saints and Tampa Bay Buccaneers meet in a match-up of two NFC South teams on Sunday. While the Saints held off the Atlanta Falcons for a win in Week 1; the Buccaneers were not so lucky as they gave one away to the New York Jets. FREEMAN SLEEPS: Misses team photo Coverage of this game will air on FOX beginning at 4:05 pm ET from Raymond James Stadium in Tampa, FL...
NFL News

Delivered to your inbox

You'll also receive Yardbarker's daily Top 10, featuring the best sports stories from around the web. Customize your newsletter to get articles on your favorite sports and teams. And the best part? It's free!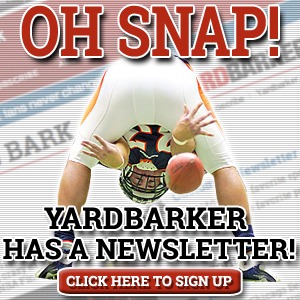 Latest Rumors
The Backyard

Today's Best Stuff

For Bloggers

Join the Yardbarker Network for more promotion, traffic, and money.

Company Info

Help

What is Yardbarker?

Yardbarker is the largest network of sports blogs and pro athlete blogs on the web. This site is the hub of the Yardbarker Network, where our editors and algorithms curate the best sports content from our network and beyond.