Found August 15, 2012 on The Saints Nation:
Steve Spagnuolo's desire to transform the Saints' ability to get to the quarterback by relying more heavily on the front four seems to be showing lots of promise. Granted, it's early, very early. As the preseason ends and the Saints start playing real live games with meaning we'll get a better feel for how effective the new plan can be. That said, the idea of having Martez Wilson and Junior Galette on the ends, with Will Smith and Cam Jordan moving inside to the tackle positions on pass rushing downs is one that looks like it will be effective.
So far the Saints have done a very effective job getting pressure on the quarterback in preseason, and most encouraging is the fact that it's been most noticeable early in games with the starting units facing off against each other. 2009 was proof that the Saints are virtually unbeatable if they can get pressure on the quarterback, because the offense is a constant. So far the Saints have 4 sacks in 2 games and numerous pressures which has helped lead to four turnovers. Keep in mind that 3 of the 4 sacks have come from the Galette/Martez Wilson/Will Smith collaborations and those players haven't even gotten a half in together yet. Getting pressure with your front four is less about any specific scheme and more about the talent you have on the field. Early indications are having Galette/Wilson/Smith/Jordan as your front four on passing downs is enough talent to consistently give quarterbacks problems. The success they've had in small fractions of just 2 preseason games may suggest it's way to early to draw conclusions, but my feeling is it's amazing what statements have been made in such an incredibly small sample size. If these guys played a whole game with the pass rushing package it's a given the numbers would be much higher.
Get excited, I really think the defense this year will be much improved. You may think it's too early to draw that conclusion, but everything falls into place when you started rattling the quarterback without exposing the back end with blitzing. The upgrades at linebacker are already significant and once you throw in an effective four man rush that allows you to take more risks in coverage, you'll start to see more turnovers. I'll say this: what Alex Smith did to the Saints in the playoffs by getting rid of the ball quickly won't be able to happen if the Saints are only rushing four and getting in his face. Now granted a four man rush won't work on every play, but it will work much better than having a front four of Will Smith, Sedrick Ellis, Shaun Rogers and Cam Jordan on passing downs like last year.
[follow]
Original Story:
http://www.thesaintsnation.com/2012-a...
THE BACKYARD
BEST OF MAXIM
RELATED ARTICLES
SAVE SEAN
On Wednesday, a plane with a banner trailing behind it with the message "Free Payton" made an appearance in the skies above Saints practice.
Patrick Robinson says he's eager to fulfill the promise that motivated the New Orleans Saints to make him their first-round draft choice in 2010. Now in his third season, Robinson says he's ready to take over the starting job that opened up when Tracy Porter left for Denver in free agency. Robinson has not been able to practice much in training camp because of a sprained...
The Jonathan Vilma versus the NFL saga carries on. U.S District Judge Ginger Berrigan refused to make a ruling on the case when both sides appeared in court on Friday, where Vilma was seeking to receive a temporary restraining order against the NFL, which would allow him to join training camp. The Associated Press reports that Berrigan believes the season-long suspension to be an...
The story in training camp for Chris Ivory has been his continuous problems with securing the football. Every day in practice Chris Ivory seems to put the ball on the turf and you have to wonder if this issue is big enough that the Saints may not trust him given the emergence of Travaris Cadet. I was curious how Chris Ivory stacked up against the other runners on the Saints in terms...
Courtney Roby may not have the role on the Saints that most guys dream of coming into the NFL, but it's a place that continues to be secure. He's been extremely valuable to the Saints as a gunner for four seasons and a decent kick returner too prior to Darren Sproles coming to the team a year ago and supplanting him. But Roby turns 30 in January and while the departure of...
New Orleans Saints owner Tom Benson has met with NFL commissioner Roger Goodell in New York to discuss matters concerning both the team and the league. While the NFL and the Saints are providing very few details, Saints spokesman Greg Bensel says the meeting was productive and that Benson looks forward to many more discussions with the commissioner. The meeting comes amid the backdrop...
At first glance, running back Travaris Cadet would seem like a long shot to make a New Orleans roster that already includes Darren Sproles, Pierre Thomas, Mark Ingram, and Chris Ivory. The undrafted rookie out of Appalachian State has versatility in his favor, though. While he has yet to do much in the running game in two preseason games, his 14 catches lead the team and his 109...
Saints fans Philip Marshall and Alex Luhrman sat down for a few drinks on Monday and kicked around the idea that someone should fly a "Free Payton" over Saints practice in support of suspended coach Sean Payton. Fast forward to Wednesday and the duo decided that they would be that someone to pull this off. So Marshall, who just so happens to be a United Airlines pilot, flew a...
This season, Drew Brees needs to do it again. I'm not talking about setting records in passing, which he did by throwing for an NFL-record 5,476 yards on a record 468 pass completions. None of that comes into play in terms of what I'm talking about. Since coming to the New Orleans Saints he's been, statiscally, the best quarterback in the NFL. He's also been one of the greatest...
The Louisiana State police have found no evidence that Saints general manager Mickey Loomis eavesdropped on opponents' conversations between 2002-04, it was announced Monday. The findings followed a four-month investigation that was launched after an ESPN report in April that quoted an unnamed employee who said Loomis had a system installed at the Superdome that enabled him...
Way back when columnists were suggesting Gregg Williams be thrown in jail and the media was slurping up the BountyGate shock and horror fed to them by the NFL, ESPN went all-in with an explosive report further condemning the New Orleans Saints organization.  An Outside the Lines expose by John Barr alleged Saints GM Mickey Loomis could secretly listen to opposing coaches.  The...
Athlon Sports is counting down its 2012 NFL preseason Power Rankings with in-depth team previews, schedule analysis and more as the start of the...
NFL News

Delivered to your inbox

You'll also receive Yardbarker's daily Top 10, featuring the best sports stories from around the web. Customize your newsletter to get articles on your favorite sports and teams. And the best part? It's free!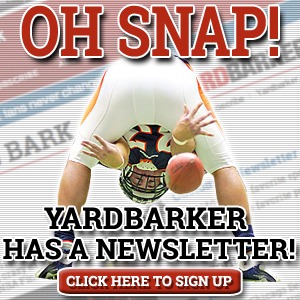 Latest Rumors
Best of Yardbarker

Today's Best Stuff

For Bloggers

Join the Yardbarker Network for more promotion, traffic, and money.

Company Info

Help

What is Yardbarker?

Yardbarker is the largest network of sports blogs and pro athlete blogs on the web. This site is the hub of the Yardbarker Network, where our editors and algorithms curate the best sports content from our network and beyond.