Found June 23, 2013 on Five Tool Tool:
The Daily Visit Unless you are living under a rock, you've probably heard: the Patriots TE2 is a suspect (the suspect?) in a murder. And more or less the focus of round-the-clock coverage despite not being, well, arrested. Leading me to think... 1) Will the Patiots really regret drafting this guy? Well, um, sure; it's never a good thing when talent auto-aborts their career in ways that are truly horrific. And even if he someone skates on the charges here, Czar Goodell will put him in the penalty box for a good long while. But they've also gotten several years of elite level production out of him, and aren't on the hook if he winds up going to jail. They didn't pay free agent wages for him, and the character issues meant his starting salary was cheap. This isn't a case where they are going to be on the hook to keep paying him, or that a lot of people are going to stop going to Patriots games or buying jerseys because one of their guys turns infamous. (Actua...
Original Story:
http://fivetooltool.blogspot.com/2013...
THE BACKYARD
BEST OF MAXIM
RELATED ARTICLES
New England Patriots tight end Aaron Hernandez appears to be in some pretty deep trouble and things surrounding the murder investigation and his behavior in relation to it just keep getting weirder. On Thursday Hernandez left his home and drove to Gillette Stadium, where the Patriots play. The entire way he was tailed by news helicopters in a scene eerily reminiscent of O.J. Simpson's...
MAKING A BUCK
Call this whatever you want but these kids have the right idea. The growing crowd in front of the home of Aaron Hernandez in light of investigators showing back up in droves gave these two girls a brilliant idea. Tasteless or excellent marketing? Photo courtesy of  @WCVBKimberly
According to Kathyrn Sotnik of NECN, police are searching a body of water near the home of Patriots tight end Aaron Hernandez for any evidence that can help them solve the murder of Odin Lloyd. Developing—MA state police suiting up to enter a body of water near Aaron Hernandez home. @NECN pic.twitter.com/JeHk3oYuWT — Kathryn Sotnik (@kathrynsotnik) June 24, 2013 The police still...
According to Kevin G. Armstrong of the New York Daily News, police have issued another search warrant for Aaron Hernandez's home. Police detectives have entered Aaron Hernandez's house with papers. Two uniformed police at end of driveway. — Kevin Armstrong (@KevinGArmstrong) June 22, 2013 https://twitter.com/KevinGArmstrong/status/348497170351132672/photo/1 Another group...
Over night, several media outlets covering the story surrounding New England Patriots TE Aaron Hernandez reported that an arrest warrant had been issued for obstruction of justice. Boston news stations were claiming an unnamed law enforcement official as the source.   This morning, it appears that no warrant has been issued as of yet. Wesley Lowery reported on Twitter this morning...
It's been several days now since the investigation began into the death of Odin Lloyd and still there has yet to be an arrest made although the police seem to be zeroing in on New England Patriots tight end Aaron Hernandez. For days we have heard about the invesitgation, and have often thought that an arrest warrant was being issued for Hernandez. So far--nothing. ...
According to Mike Garafolo of USA TODAY Sports, Muscle Milk has terminated their endorsement deal with Patriots tight end Aaron Hernandez. CytoSport Inc., makers of Muscle Milk, "is terminating its endorsement contract with Mr. Hernandez, effective immediately," the company says — Mike Garafolo (@MikeGarafolo) June 21, 2013 And the fall continues. Need NFL Tickets? ...
According to FOX 25 Boston, authorities have issues an arrest warrant for Patriots tight end Aaron Hernandez in connection with a murder investigation. The warrant is for obstruction of justice, but State Police are not executing it for the time being.Fantasy Spin:"It may be that this is a squeeze tactic," FOX 25 legal analyst Brad Bailey explains. "It may be telling...
As the stories and information about Aaron Hernandez's character continue to pile up, The Boston Globe is reporting that shortly after being drafted by the Patriots, the young rookie had choice words for Wes Welker. Shalise Manza Young is reporting that a few days after being drafted, Hernandez was at the team facility watching film.  At some point he was unable to figure out...
NFL players are known for the bad things they do- or should I say "allegedly" do.  I.e. Ocho Cinco, Ray Lewis, Aaron Hernandez, OJ Simpson (the list could go on for while). When someone leaves Tuscaloosa to go on to bigger and better things, the perfect hope is that one day they will return and give back to the town that shaped them into the success they have become. In a town...
Whenever a NFL team drafts a player they do it mostly based on the players talent on the field.  This is done because it's what they have the most information on.  Between scouts and video and watching games on TV NFL teams have a good idea of what a player's game day make up is. The tricky part comes when they have to try to figure out what his psychological make up is...
Patriots News

Delivered to your inbox

You'll also receive Yardbarker's daily Top 10, featuring the best sports stories from around the web. Customize your newsletter to get articles on your favorite sports and teams. And the best part? It's free!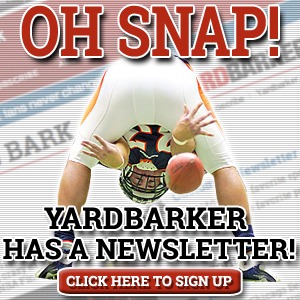 Latest Rumors
Best of Yardbarker

Today's Best Stuff

For Bloggers

Join the Yardbarker Network for more promotion, traffic, and money.

Company Info

Help

What is Yardbarker?

Yardbarker is the largest network of sports blogs and pro athlete blogs on the web. This site is the hub of the Yardbarker Network, where our editors and algorithms curate the best sports content from our network and beyond.