Found December 14, 2012 on isportsweb.com:
6 days after the Houston Texans were blown out on the road against the New England Patriots they'll look to rebound against a divisional foe that is many ways familiar, as well as unfamiliar. Rookie QB Andrew Luck and the Indianapolis Colts are 9-4 and standing in the way of the Texans 2nd straight AFC South Title and have their own playoff dreams. If the Texans are going to beat the Colts and claim the division title on Sunday they'll have to play better than they did last week in Foxborough. Where offense just couldn't get put the ball in the end zone, and the defense couldn't get pressure on Tom Brady most of the game. Houston Texans RB Arian Foster will be looking to have a huge game against the Colts, Foster has had 3 100 yard rushing games against the Colts in his career. On offense it's simple if your Houston Texans head coach Gary Kubiak, get the ball moving on the ground against a team the gives up 121 yards per game. Last week it was hard for the Texans to get the play action pass going because they were playing from behind basically all game, and because of the injury to the teams 2nd TE Garrett Graham. Graham was out with a concussion and will be playing this week against the Colts. This should give the Texans more flexibility offensively. Not being able to go to 3 TE sets seemed to slow an offense that really hadn't struggled the way they did against the Patriots all year. The Texans average 139 rushing yards a game and RB Arian Foster is due for a big game. Fellow RB Ben Tate looked really good last week in the loss to New England gaining 46 yards on only 8 carries. Expect him to see a lot more time as I'm sure the emphasis of the game will be to play Texans football. Which is running the ball effectively, setting up Matt Schaub and the rest of the offense easier opportunities off of play action passes, and last but certainly not least play defense. In the last 4 meetings between the 2 teams the Colts have allowed a 100 yard rusher. Ben Tate once last season and Arian Foster the other 3, with Foster going for 231 yards rushing in 1 of those games. Texans QB Matt Schaub will look to be more careful with the ball after throwing an interception in the end zone against the Patriots and costing the Texans at least 1 TD. Be looking for the Texans to try to get Andre Johnson the ball early and often this week. The 10 year veteran is only 12 catches away from becoming the 2nd fastest player to 800 catches in his career. Johnson was very vocal after the loss to the Patriots and has been about the team getting over it and performing this week. "I have no doubt on how we will respond on Sunday. Period," is what Johnson said about it in the locker room after practice on Thursday. Texans WR Andre Johnson is looking to become the 2nd youngest to 800 career catches. Needing just 12 more to get there during this game. The Texans defense will have a different task on their hands this week as they get ready for sizzling hot rookie QB Andrew Luck. Though his stats aren't in the realm of Robert Griffin III in terms of QB Rating or completion percentage but Luck gets his team to wins. Texans DE Antonio Smith had this to say about Luck: "he ain't your stereotypical quarterback. He runs & makes blocks. … He's putting himself on the line." Luck does do all this stuff because he does whatever it takes to get wins. The Colts offense revolves around Luck and him throwing the ball most of the time and a secondary that has struggled against passing offenses all year will have something to prove against the Colts. WR Reggie Wayne comes into the game ranked 3rd in the league in receiving yards, will get plenty of attention this week against the Texans defense. I'd think defensive coordinator Wade Phillips will make Luck and the Colts use other players to beat them. Rookie OLB Whitney Mercilus, OLB Connor Barwin, and DE Antonio Smith of the Texans defense will also be looking to put a lot of pressure on Luck this week after not really disturbing Brady in the pocket all game last week. Mercilus was able to get to Brady for the only sack the Houston Texans would have all game. JJ Watt will be looking to make a impact after not getting a sack, deflected pass, or tackle for loss in the game. Luck has been under constant pressure all season while in the pocket. The Texans will hope to be able to get after Luck with only 3 or 4 man pressures and drop 7 to help contain Luck and the speedy young receivers at his disposal. No doubt about it the, Texans defense will be looking to make a statement after a disappointing showing against 1 of the premiere offenses in football last week. Houston Texans rookie OLB Whitney Mercilus had gotten at least 1 sack in every game since moving into the starting role after Brooks Reed's injury during the Thanksgiving Day game against the Lions.
Original Story:
http://feedproxy.google.com/~r/isport...
THE BACKYARD
BEST OF MAXIM
RELATED ARTICLES
The NFL MVP race is coming down to the wire, and let's be honest Peyton Manning is most likely to win the award. Peyton Manning will also win comeback player of the year, in which if he does so while winning the NFL MVP award, he will be the first player to win both in a single season. Peyton Manning has done a tremendous job making a comeback after having four neck surgeries,...
Let's take a look at more deserving candidates that aren't named Peyton Manning or an quarterback. J.J. Watt, DE, Houston Texans: It took Watt only eleven games to get to 14.5 sacks, totaling him to 20 sacks in just under two years of being in the NFL. That is very, very impressive for any defensive player. What is even more impressive is he has that many sacks in a league...
HOUSTON -- Ask any high school coach. You play how you look. So when the Houston Texans showed up Monday night in letter jackets, looking like a high school team, well, they got crushed by the Patriots. "We're not talking about letter jackets anymore," defensive tackle Shaun Cody said. "That was completely Connor Barwin's idea." Cody was (sort of) joking...
After a tragic car accident orphaned three children, the Houston Texans J.J. Watt entered their lives. Rick Reilly looks at Watt's incredible friendship with the kids and how they have influenced each other. Try not to cry. We dare you. Each week The Mac Bros. offer up free fantasy football picks. Find out who to start and who to bench from two fantasy football champs.
Houston Texans punter Donnie Jones has been battling a sore leg since his team's loss to the New England Patriots on Monday night. Wes Welker ripped off a 31-yard return on Jones' first punt of the game, and Jones became the last line of defense. He ended up having to make the tackle and hurt his leg in the process. On Wednesday, Jones said he has a very straightforward explanation...
After the most successful season in franchise history the Texans came into this season as one of the favorites to win the AFC. And why not? They won a playoff game despite a third-string rookie quarterback, and were one of the youngest, toughest, defenses in the league.If they had Matt Schaub in the playoffs I think that they probably would have beaten Baltimore and New England and...
There's a long running argument, or joke depending on how you view it, that kickers in the NFL aren't actually football players. This week, the Texans' punter seemed to fall in line with that belief. According to James Palmer of Comcast Sportsnet, Texans punter, Donnie Jones, shrugged off an injury he sustained in Houston's Monday night loss to the Patriots, saying...
The 11-2 Texans look to rebound from the Monday night debacle by corralling the AFC South second place Colts.  The 9-4 Colts are led by Houston native and former number one pick quarterback Andrew Luck as well as the emotional spirit of first year head coach Chuck Pagano, who is still recovering from cancer treatment.  Although the sky is falling for some fans outside Reliant Stadium...
The age-old question has been brought up once again, this time by an actual punter. Houston Texans punter Donnie Jones injured himself during the Monday Night game against the Patroits, and had this to say about the injury: "'I told those guys, I said, 'Look, you guys are NFL football players, I'm not,' Jones said, [...]
The Houston Texans put  their AFC best 11-2 record on the line at home against the 9-4 Indianapolis Colts. This is a huge AFC South match-up. The Houston Texans need this win to stay ahead of the AFC pack for homefield advantage throughout the postseason, while the Colts are trying to improve their playoff standing as well as close the two game gap between them and the division...
Indianapolis Colts (9-4) at Houston Texans (11-2) The Texans were calling last week's game in New England their biggest game in franchise history and rightfully so. This is a very young franchise that has played just 2 playoff games in its history and going to New England as an 11-1 #1 seed in week 14 on Monday Night Football is almost as big as it gets. The Texans got destroyed...
The 2012 NFL season has been just as much about young pass rushers as it has been about rookie quarterbacks. While Andrew Luck, Robert Griffin III and Russell Wilson are battling it out for offensive rookie of the year honors, second-year defenders Von Miller, Aldon Smith and J.J. Watt are each fighting for defensive player of the year. With three games to go, all three players are...
Texans News

Delivered to your inbox

You'll also receive Yardbarker's daily Top 10, featuring the best sports stories from around the web. Customize your newsletter to get articles on your favorite sports and teams. And the best part? It's free!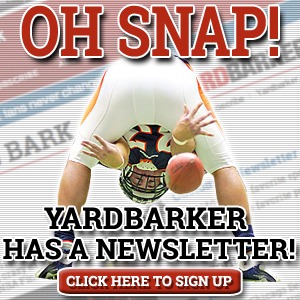 Latest Rumors
Best of Yardbarker

Today's Best Stuff

For Bloggers

Join the Yardbarker Network for more promotion, traffic, and money.

Company Info

Help

What is Yardbarker?

Yardbarker is the largest network of sports blogs and pro athlete blogs on the web. This site is the hub of the Yardbarker Network, where our editors and algorithms curate the best sports content from our network and beyond.