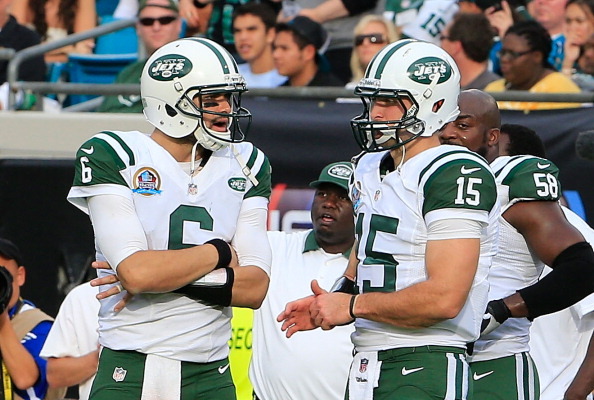 In case you missed it, the Jets hammered the final nail in their coffin with one of the worst displays of football this side of the infamous butt-fumble.
During Monday night's 14-10 loss to the Titans, starting quarterback Mark Sanchez was his usual dismal self. Check that -- he was worse.
Sanchez completed just 13 passes for 131 yards, tossed four ridiculously bad interceptions and mathematically eliminated the Jets from playoff contention with a fumble on the game's final play.
All that added up to a miserable 32.6 passer rating, which was outdone by his high-profile backup.
Predetermined to enter the game on the Jets' third series, Tim Tebow was under center for a handful of plays, attempting one pass (incomplete) and rushing three times for 15 yards. Yet, if you could believe it, Tebow technically finished with a higher rating than Sanchez -- by a whole seven points.
The proof is in the pudding (in this case, the following image).
In his postgame press conference, a forlorn Rex Ryan remained mum regarding his Week 16 starter. At this point, with nothing to lose nor gain, he should seriously consider turning to Tebow.
After all, he literally cannot be any worse than Sanchez.
Read the rest of this story...
MORE FROM YARDBARKER
NFL News

Delivered to your inbox

You'll also receive Yardbarker's daily Top 10, featuring the best sports stories from around the web. Customize your newsletter to get articles on your favorite sports and teams. And the best part? It's free!