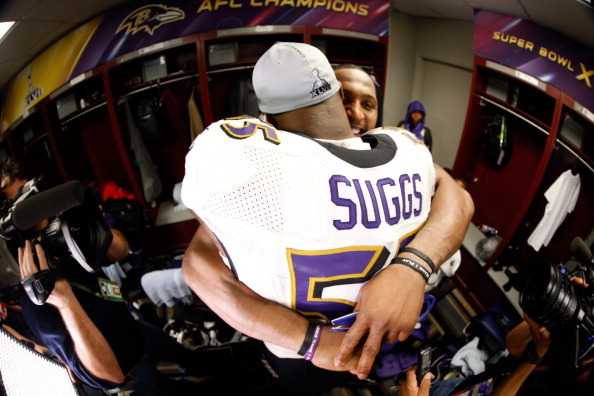 When Ray Lewis announced that he would be retiring after the season, it instantly became the biggest story out of the Baltimore Ravens locker room and probably the entire NFL. Most of us grew tired of hearing about it. Lewis' love for drama and hyperbole is exhausting to the average fan, but Terrell Suggs said it is one of the main reasons the Ravens won the Super Bowl. During an appearance on NFL Network's "Total Access" on Sunday, Suggs said that Baltimore would "probably not" have won the Super Bowl if not for Lewis announcing that 2012 would be his final season. "You could say what sparked it was Ray's announcement when he said that this would be his last playoff run with us," Suggs said, via Pro Football Talk. "I would definitely say that was hands-down what sparked it and got our minds going in the right place." Suggs says the announcement helped the team focus. Of course, it is easy to say that now that the Ravens are the champs. Had they lost to the New England Patriots or San Francisco 49ers, my guess is you wouldn't have trouble finding someone who believed Lewis' announcement distracted the team.  If you remember, Torrey Smith was quick to remind the media that Lewis wasn't the only guy going to the Super Bowl after Baltimore won the AFC Championship Game. Nevertheless, the Ravens won the Super Bowl. Lewis got his fairytale ending and there's no way you can say he distracted the team. Good for him, I guess. The post Terrell Suggs: Ray Lewis announcing retirement sparked run to Super Bowl appeared first on Larry Brown Sports. Related posts: Ray Lewis, Ravens wearing custom Super Bowl cleats (Pictures) Maurkice Pouncey rooting for Ravens, Ray Lewis in Super Bowl Ex-Raven Trevor Pryce: Ray Lewis played poorly in Super Bowl, was too nervous
MORE FROM YARDBARKER:
Best athlete by state all time
MORE FROM YARDBARKER
NFL News

Delivered to your inbox

You'll also receive Yardbarker's daily Top 10, featuring the best sports stories from around the web. Customize your newsletter to get articles on your favorite sports and teams. And the best part? It's free!