Found November 05, 2012 on isportsweb.com:
I am not the kind of guy that gets the telephone number or an email address of a CEO to complain about a product that I am dissatisfied with. I as an American have the right to decide if I want to go that particular place or purchase that product again. When my mother moved my two sisters and I to Cleveland in 1980 a bond was created. I have no choice but to be a fan of the Cleveland Browns. When I speak about the Cleveland Browns I say we. I always have to correct my articles to say the Browns and not we, but not anymore. Because before it says Browns it says Cleveland and I am Cleveland. I may live in Texas but everyone who knows me knows where I am from. I have been a part of The Browns Backers events in Greensboro N.C., Seattle, WA, Baltimore MD, and Dallas, TX, where there are 5 different venues. I have converted my wife into a Cleveland Brown from a Dallas Cowboy fan. I am not that fan that has a Cleveland Browns painted vehicle, or a house decorated in Brown and Orange.  I just bleed in it my veins. I live and die with every loss or win. I prepare draft boards, I analyze our players needs and it's all for not. It never works out the way I want it too. Nobody knows what I do and nobody cares.  With the new purchase of the Browns I don't think I can come close to buying the Browns now. Do I need to go back to school and try to become a GM? I can't go back and have a dad that works in the business so that blows 75% of my opportunity. I love the Cleveland Browns, they are my life. I don't know why I care so much. I just do. I love the Cleveland Browns over all my other sports team and they are they are the most disappointing. After Faith, Family and Friends I have: Cleveland Browns- are you kidding me. I can't even have a conversation about the Browns in discussions that involve the NFL without getting laughed at. Ohio State Football- All I have to say is that "We have Urban Meyer" Cleveland Cavaliers- We have Kyrie, had Lebron Kentucky Basketball- LOL UMMM Yeah Cleveland Indians- Francona is on board so we may be on to something, Maybe Ohio State Basketball- Thad Matta is consistently consistent   The time may have come where I have to start sending emails. I have to do something, because the people that come through those doors don't care about the city of Cleveland and the way the town has been tormented by sports. Somebody has to care and that person is Jimmy Haslam. We like to joke that this is a kids game that they are playing but for some reason Cleveland can't figure it out that you draft players to fill holes and use free agents as stop gaps until you reach a point where you have a team full of your own drafted players. You become consistently competitive and then pick and choose free agents to take you over the top. It can't be any more difficult than that can it. I will give you an example of wasting draft picks. Montario Hardesty was drafted in the 2nd round with the 59th pick, but he is a nonfactor on our roster. Colt McCoy was drafted in the 3rd round with the 85th pick, and he is a nonfactor. Both players were drafted in 2010. Two years later, two years later from the same team President Mike Holmgrem and same GM Tom Heckert they drafted the same two position two years later in 2012 using two first round picks. Two years later and you don't even believe in your own picks. I remember reading a quote from Heckert that says he does not believe in drafting Linebackers early because he believes you can find success in later rounds. Maybe so, but HELLO, if you see the Browns you see that there is Zero Linebacker play. DQwell Jackson is average at best; he makes all those tackles because no one else can tackle. We are the Cleveland Browns we need intimidating playmakers. I hate to say but like the Steelers and Ravens and even Cincinnati figured it out before us. I can't deny and say that there is not progress with these Browns, because there is. But I don't want to backtrack. I want to win. I want to be in the conversation.  With all the information that they have access to I could do better with my eyes closed. Jimmy Haslam, I just hope that you care as much as I do, and as much as every other Cleveland Browns fan out there. We care more than anyone will ever know. Jimmy Haslam, reach out to me. I will do it for FREE. Nobody has to know, I will keep it a secret. I just want to win already. My daughter is 7 months old. She can't be raised like this. And I say all this with all due respect.    
Original Story:
http://feedproxy.google.com/~r/isport...
THE BACKYARD
BEST OF MAXIM
RELATED ARTICLES
Browns head coach Pat Shurmur, from yesterday's session with the media- I can't tell you exactly. I know exactly why. There were a couple situations getting the right people in the game, getting the play to the quarterback in a timely fashion and then him calling it properly. That's the string of events. There were a couple times yesterday that didn't get done. I'm absolutely...
There's just no doubting how great Phil Dawson is at this point, and Peter King has his ticket for the bandwagon. Twenty-three straight field goals, 21 of them this year, and his consecutive kicks of 32, 28, 29, 33 and 41 in a 32-minute span between the second and fourth quarters gave the Browns a 15-14 lead late against Baltimore. Dawson's an unsung player, in part because...
Who caught your eye? Did someone stand out? Who blew it? That's what were interested in this morning. Winners and losers. The Browns kicked five field goals after falling behind 14-0. Unfortunately, they couldn't hold that lead. This morning we start picking it apart. LOSER: Communication. Unreal. Get your stuff together. The Browns continue to waste timeouts and opportunities...
As it is, the Browns are hardly must-see television; quite the opposite, in fact. But that stands to change, thanks to the influence of new ownership. According to the Cleveland Plain-Dealer, Dee Haslam, wife of owner Jimmy Haslam, is teaming up her production company RIVR Media with NFL Films to bring a Browns-centric documentary series to Travel Channel. Premiering December...
Might we be able to go streaking? A win against the Ravens today would give the Browns an honest-to-God win streak AND they'll have won two-in-a-row within the division. While I'm not super duper confident heading into this game, there is some reason for optimism. The Browns played the Ravens fairly well in Baltimore (without Joe Haden), Phil Taylor is making his season debut...
It isn't Hard Knocks, but it appears the Browns are going to be the stars of a television series- "The National Football League will announce a deal with the network to provide unprecedented access to one of its teams as it travels to away games. NFL Road Tested: The Cleveland Browns will premiere Dec. 4 at 10 p.m. and follow the Browns as it prepares to play in New York, Baltimore...
BEREA -- Compare the feelings about the Cleveland Browns from Monday to Monday. A week ago there were positives and smiles after the Browns beat a woeful San Diego team on an afternoon when the Browns punted nine times. The week that followed was upbeat, with a tangible feeling that the Browns had a chance for that definitive win against Baltimore. Of course it didnt happen, and...
With time to reflect, Browns coach Pat Shurmur says he would change some play calls and reconsider other decisions he made in the fourth quarter of Sunday's loss to Baltimore. The Browns were beaten 25-15 by the Ravens, who put the game away in the final four minutes after stopping Cleveland on a fourth-and-2 play. Instead of punting from his own 28, Shurmur, who still had two...
The same network that has brought you shows like Man vs Food, Bizarre Foods, No Reservations, and Ghost Adventures is now entering the NFL world.  The Travel Channel is partnering with NFL Films to follow one NFL team on their travels throughout the regular season. And that team is... the Cleveland Browns. The 2-7 Cleveland Browns. NFL Road Tested: The Cleveland Browns...
Serving as a mid-season review that couples in ensuring he maintains his relevance throughout the regular season, ESPN draftnik Mel Kiper Jr has unveiled who he feels each team would select tomorrow if given the chance. Coupling this with the Cleveland Browns most recent loss, a ten-point beating at the hands of the Baltimore Ravens, the position of "need" labeled byKiper may...
1) Its always interesting to sit back and watch firing season. Guy loses, everyone cries for him to be fired. Guy loses two, more guys call for firings. Now, 19 losses in 24 games is a lot of losses and does not burnish the resume. And there have been some very shaky decisions on the sidelines for the 2012 Cleveland Browns, but some of them are shaky simply because they did not work...
Head coach Pat Shurmur demands better execution in short yardage.
Browns News

Delivered to your inbox

You'll also receive Yardbarker's daily Top 10, featuring the best sports stories from around the web. Customize your newsletter to get articles on your favorite sports and teams. And the best part? It's free!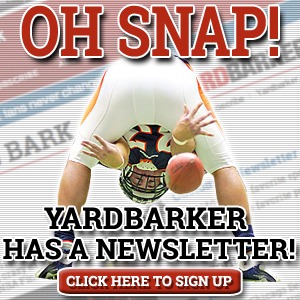 Latest Rumors
Best of Yardbarker

Today's Best Stuff

For Bloggers

Join the Yardbarker Network for more promotion, traffic, and money.

Company Info

Help

What is Yardbarker?

Yardbarker is the largest network of sports blogs and pro athlete blogs on the web. This site is the hub of the Yardbarker Network, where our editors and algorithms curate the best sports content from our network and beyond.