Found May 25, 2012 on Lone Star Struck:
Last year the Cowboys went out and signed Laurent Robinson to be their third receiver and the results were 54 receptions for 858 and 11 touchdowns. Some might say that he was the Cowboys offensive MVP as he had an instant connection with Tony Romo. Having trust in your receivers is very important as well as knowing   that they can be counted on at the most important times is priceless. That is what the Cowboys had in Robinson and he will be missed. This off season Robinson earned the right to be a starter in the NFL and decided to sign with the Jaguars. Now the Cowboys look to the young and inexperienced receivers that are currently on the roster. Players like Kevin Ogletree, Dwayne Harris, Raymond Radway, Andre Holmes and Danny Coale will all be battling for that third receiver spot. Between all five of those players only Ogletree has caught a pass in the NFL. There are questions about each of the receivers that cannot be ignored. Olgetree has been given every opportunity to take the third receiver spot, but has been unable to produce and hold onto it. Radway is coming back from a broken leg he suffered last preseason that resulted in him missing the 2011 season. Harris had some chances in the return game last season, but not on offense. Holmes seems to be a fan favorite due to his speed and size, but he is still unproven. The same can be said as far as rookie Danny Coale, who is recovering from a broken foot and will miss out on valuable time with the offense. Do the Cowboys continue to see what these receivers can do as they go into training camp? Will one of them rise above the rest and become the trusted third receiver? I believe it's asking an awful lot from such a young and inexperienced group of receivers. It's also asking a lot from Tony Romo on the trust level. Romo needs to know that his receivers are going to be where they need to be and even help him out if he gets into trouble. There is always the option of looking for a veteran receiver like the Cowboys did last year during training camp, to come in and hold down the third receiver spot like Robinson did. Enter 13 year veteran Donald Driver. There are reports that the Packers might release Driver and if that happens I believe the Cowboys should go after him for many different reasons. I understand that his age of 37 might be a concern to some people, but with his track record and proven numbers during his career he just might be a good fit for the Cowboys. Driver brings with him the experience and leadership that can help a player like Dez Bryant who is still trying to establish himself in the league. Not to mention that Driver can really help the younger receivers that end up behind him and work with them to improve their game. He can be that leader on and off the field that will only help the Cowboys as a team. Driver has been a winner in the NFL for many seasons and the one person on the Cowboys staff who knows that is his former receivers coach and current Cowboys receivers coach Jimmy Robinson. Up to this point in his career he has 735 receptions for 10,060 yards and 59 touchdowns to go along with a Championship in Super Bowl XLV. Oddly enough that Super Bowl victory came in Cowboys Stadium. Driver brings so much to a team in need of a solid third receiver, which brings me to another reason why the Cowboys should seriously consider him. Injuries happen every season and if something should happen to either Miles Austin or Dez Bryant are the coaches confident enough in any of the younger receivers to make them a starter? How comfortable would Romo be if someone like Radway or Harris was starting opposite Austin for a few weeks? If Driver was the third receiver on the Cowboys and an injury happened I don't think anyone would have any doubt that Driver could step in as a starter and produce. It's something the Cowboys really should consider if Donald Driver is released by the Packers. It's a win win situation for all involved. The Cowboys are looking for a Super Bowl Championship and there is nothing Driver would like more at 37 years old than to get another championship before he walks away from the game.
Original Story:
http://lonestarstruck.com/2012/05/the...
THE BACKYARD
BEST OF MAXIM
RELATED ARTICLES
Earlier today, ESPN's Adam Schefter reported that the Colts are in heavy pursuit of acquiring Cornerback Mike Jenkins of the Cowboys. The Cowboys said last week that they do not intend on trading Jenkins, as they say you can never have enough good corners, and they view Jenkins as such. After going out to grab Brandon Carr in free agency and moving up in the draft to select LSU's...
Packers wide receiver Greg Jennings is the 56th best player in the NFL. Well, at least according to the NFL Network's "Top 100 Players" countdown.Jennings is the third Packer named to the list, with fellow wideout Jordy Nelson ranked at No. 80 and fullback John Kuhn at No. 92.After three consecutive 1,000-plus yard seasons from 2008 to 2010, Jennings fell just shy of...
ESPN's Adam Schefter (not Adarn Schefter, we checked) is reporting that the Indianapolis Colts are attempting to acquire Dallas CB Mike Jenkins. Jenkins, a 2008 1st-round draft pick by the Cowboys, reportedly became available after Dallas traded up to draft LSU CB Morris Claiborne. Check back with Colts Authority for updates as the story develops, and fir analysis on the trade...
Jerry needs to learn the difference between "moving in the right direction" and "urgently need to win right now." (Photo credit: Wikipedia) When a team talks about a window of opportunity, it is usually in the context of a team that has fallen short in the playoffs. For instance, the Baltimore Ravens might talk about their window of opportunity after reaching...
PJD is on vacation (again!) so for the next several days we are going down the old memory lane and looking at great moments in Vikings history, which have stood out to me for no reason in particular. First, we'll give you some type of media to interact with to form your own remembrances and opinions, and then share ours after the jump. Today, we highlight former running back...
On Thursday,FOXSportsWisconsin.com ran a story that indicated former Green Bay Packers cornerback Jesse Whittenton, who died earlier this week at age 78, had suffered from Alzheimer's Disease. On Friday, his family informedFOXSportsWisconsin.com that information was incorrect. We extend our apologies and condolences to theWhittenton family and regret the error.
The Jacksonville Jaguars were a horrible passing team last year. They were ranked dead-last in passing yards despite having one of the league's most efficient running games. And although there were many factors that contributed to the Jaguars' pathetic passing numbers, quarterback Blaine Gabbert has shouldered most of the blame for Jacksonville's poor numbers.CLICK HERE TO READ MORE »
NFL News

Delivered to your inbox

You'll also receive Yardbarker's daily Top 10, featuring the best sports stories from around the web. Customize your newsletter to get articles on your favorite sports and teams. And the best part? It's free!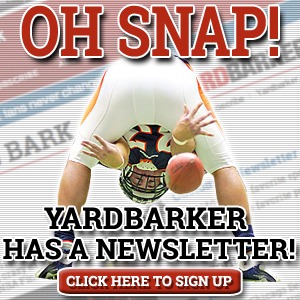 Latest Rumors
Best of Yardbarker

Today's Best Stuff

For Bloggers

Join the Yardbarker Network for more promotion, traffic, and money.

Company Info

Help

What is Yardbarker?

Yardbarker is the largest network of sports blogs and pro athlete blogs on the web. This site is the hub of the Yardbarker Network, where our editors and algorithms curate the best sports content from our network and beyond.