Found July 27, 2013 on Pats 360:
theonewiththevows: Tim Tebow: at Patriots Camp
Original Story:
http://pats360.com/post/56604255218
THE BACKYARD
BEST OF MAXIM
RELATED ARTICLES
We reported earlier that Patriots quarterback Tim Tebow was catching some passes with the backs and receivers. According to Tom Curran of CSNNE.com, Tebow looked "horrendous" while throwing the football. Practice over. Tebow horrendous. #patriotstalk — Tom E. Curran (@tomecurran) July 26, 2013 Tebow apparently threw two interceptions during 11 on 11 drills, per Mike Reiss...
Since Tim Tebow came into the NFL, he's been an attraction, like a circus sideshow. ESPN, rightly so, gets most of the blame for hyping Tebow. He hasn't started a regular season game in over a season, but yet everywhere he walks on a field, there are cameras following his every move as if he is actually the royal baby.Alas, ESPN isn't the only guilty party.While watching...
Sick to their stomachs over Aaron Hernandez, Patriots fans may find it a relief to start talking about how much Tim Tebow does or doesn't stink, and whether or not he'll make the New England Patriots. Tebow opened camp Friday, and more than one observer was unimpressed. Practice over. Tebow horrendous. #patriotstalk -- Tom E. Curran (@tomecurran) July 26, 2013 Curran...
In "New York Jets Therapy Session" Cole Patterson examines a particular issue that the New York Jets face in a metaphorical therapy scenario. Treatments are prescribed from the perspective of a position of control with the franchise or through actions that have already been taken. Today's edition focuses on Post Tebow Stress Disorder. Diagnosis: The National Institute...
Tim Tebow says the case in which Aaron Hernandez is charged with murder is heartbreaking and sad. And he says his thoughts and prayers are with all the families involved. Tebow spoke Friday after the first practice of the New England Patriots training camp. The quarterback played with Hernandez in college at Florida and at last month's Patriots minicamp before they cut the...
  During today's press conference, Patriots head coach Bill Belichick was asked if Tim Tebow will be used primarily as a quarterback. "I think that we'll use Tim wherever we feel like he's best for the team," Belichick said, via NFL.com, "and I know that's what he's committed to doing, as well. Whatever that is." There have been some conflicting reports as to...
There are always a few teams that improve drastically from one year to another. Last year those teams were: the Colts (2-14 in 2011, 11-5 in 2012), the Redskins (5-11 in 2011, 10-6 in 2012), the Vikings (3-13 in 2011, 10-6 in 2012), the Seahawks (7-9 in 2011, 11-5 in 2012), and the Rams (2-14 in 2011, 7-8-1 in 2012).Which begs the question, which teams will improve the most from...
There are two big storylines at Patriots training camp, which started Friday, and the Pats are trying to put at least one of those behind them. The process of putting the Aaron Hernandez story in the rearview started Friday when practice got underway, and Tim Tebow will likely help that transition. The quarterback is a lightning rod for controversy and debate, albeit for far different...
With the first two days of Training camp out of the way, the real fun begins. The pads goes on, the contact begins, and Bill Belichick still gives his daily run-arounds with the media. But that doesn't mean that everything is all fun and games now. There is a lot of good, don't get me wrong, but there is also a decent amount of bad. 1) Tebow better shape up... FAST The...
New England Patriots coach Bill Belichick suggested Friday before the Patriots opening practice of training camp that Tim Tebow could be used at other positions besides just quarterback. "I think that we'll use Tim wherever we feel like he's best for the team and I know that's what he's 
photo via @MikeReiss One training camp practice down. The general takeaway from the media's observations was that this was one sloppy day. Tim Tebow threw two interceptions, but did catch a few passes. From all accounts, Ryan Mallet didn't look that great either. A sloppy day for the whole team. What else would you expect of a rainy first practice of the year? Of course...
Patriots News

Delivered to your inbox

You'll also receive Yardbarker's daily Top 10, featuring the best sports stories from around the web. Customize your newsletter to get articles on your favorite sports and teams. And the best part? It's free!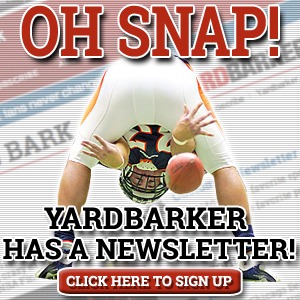 Latest Rumors
Best of Yardbarker

Today's Best Stuff

For Bloggers

Join the Yardbarker Network for more promotion, traffic, and money.

Company Info

Help

What is Yardbarker?

Yardbarker is the largest network of sports blogs and pro athlete blogs on the web. This site is the hub of the Yardbarker Network, where our editors and algorithms curate the best sports content from our network and beyond.