Found December 10, 2012 on Waiting For Next Year:
To put yesterday's 23 point victory in perspective, last year the Browns won all four games by a total of 16 points. 1 In addition to that, the Browns put out a stat today that Rick also mentioned earlier about how many rookie starts the Browns have this season. The Browns lead the league with 72 with the Colts trailing a distant second with 44. This young team is wholly different than the one that was here a year ago and now that they've finally started winning some games it's much easier to see just how different they are than when they were piling up losses. That's where most of the anti-Pat Shurmur sentiment emanated from this season. While I think most people agreed that the team was more talented and more equipped to compete, that made it all the more frustrating as the team collected five straight losses to start the year. If the fans see a more talented team on the field and it still can't seem to get over the hump, who else are they going to blame but the coach? And now that they have started winning some games, what does that mean for Pat Shurmur and his future? It's a complicated question, but my answer is that it probably doesn't mean much, I wouldn't think. I think it's too complicated for just an up or down vote. Let's just get this out of the way first. I am elated to see the Browns win. I wouldn't have it any other way on Sundays if given the option. That being said, I never buried Shurmur based on losses alone, and I can't protect him artificially because the team is finally winning some games. I've often said in other sports that winning under Mike Brown and Eric Wedge actually probably hurt their respective franchises because they became "un-fire-able" with the team records, regardless of what eventually came to light and resulted in their respective dismissals. My point is that sometimes a winning coach deserves to be fired and a losing coach deserves to stay. Winning three games in a row and five out of the last eight 2 isn't the end of the discussion for decision-makers like Joe Banner, I wouldn't imagine. I won't split hairs and tell you that the Browns could have or should have won games by more points because I don't think you can scientifically or mathematically prove these things. What I will say though is that the body of work and the overall portfolio still leaves me wondering if the Browns couldn't do better in terms of their head coaching. Some will say maybe we should just trust the players and take their lead. It doesn't appear in any way, shape or form that they've given up on Pat Shurmur. They're still out there doing everything they can to win on a weekly basis. Additionally, it's impossible to ignore the development of Josh Gordon and Greg Little so far this season and exclude Pat Shurmur from the equation. I'm never a black and white kind of guy where something has to be all good or all bad. I'd be crazy to think there aren't shades of gray especially with an all-encompassing job like NFL head coach. Still, I find myself thinking about what Joe Banner has to consider this off-season. He has to decide if the young team is developing and improving, and I think the answer is obvious that it is indeed. If it is improving, how fast? Does he think that the Browns are a playoff contender next season? Let's think of it like a Madden rating. Let's say the Browns ended last year at a 60 and now find themselves with a team rating of about 70 on their way to 75. Pat Shurmur is responsible for the 10-15 points in improvement somewhat, but given the replacement head coaches available on the market, could that 75 be an 80? And even past the development curve analysis, if the Browns do make the playoffs, does Pat Shurmur give them the best chance to advance and eventually win a Super Bowl? So when we talk about how many wins Pat Shurmur "needs" to keep his job, I get a little bit frustrated. This would assume that Pat Shurmur could win out, and public support for him would be so high that there was no way that Joe Banner could make a move and find a different head coach. This assumes a set of "rules" in the decision-making process that I just don't think exist in reality. I haven't met Joe Banner and I've only read articles about him at this point, but I don't get the sense that fan opinion polls – let alone another Dawg Pound Mike – could ever stop him from doing what he thinks is best to push the Browns to their highest possible level. To think that an extra three wins over the Redskins, Broncos and Steelers would make him think that sticking with Pat Shurmur is preferable to specific coaching option A, B, C sitting on his scouting sheet is ludicrous I think. Much like the Browns had a quarterback on the roster in Colt McCoy and felt free to go ahead and draft Brandon Weeden, I just don't think a winning streak is going to trump what Banner thinks he knows about who is absolutely best to be the head coach next season. Obviously this encompasses a lot of moving parts like who might be available for the job and if Banner thinks his team truly is on the precipice. Still, when they say they will evaluate everyone and everything at year end, I fully expect them to reflect on not just what happened but where they think Shurmur's capabilities project going forward. He certainly doesn't hurt his case by winning games down the stretch, but to think he'll automatically trump other available coaching candidates who might be available because he won three extra games to end a season seems a bit simplistic. If Joe Banner thinks this team is ready to challenge for the playoffs in 2013 and he has doubts about Shurmur, you can't think he'd be willing to waste an opportunity in the playoffs in his first full year as CEO of the Cleveland Browns because Pat Shurmur was able to finally win some games and sway fan sentiment. Banner knows how that sentiment is driven. It's driven with wins, and I can't imagine him doing anything to compromise winning next season even if it means he has to fire a coach on a six game winning streak who could potentially even sneak into the playoffs if the sun and moon align properly. In the end, and as always, we'll see. I just don't think there's any sense in talking about magical, pretend formulas that dictate behavior. If there were magical formulas, there's no way we'd still be talking about the Browns potentially replacing Tom Heckert, right? ___________________________________ Indy 8, MIA 1, SEA 3, JAX 4 or five out of the last ten if you like numbers based on ten
Original Story:
http://www.waitingfornextyear.com/201...
THE BACKYARD
BEST OF MAXIM
RELATED ARTICLES
Rookie Browns receiver Josh Gordon, a.k.a. Gordo, is having one of the best rookie seasons in Browns history with 34 catches, 646 yards, and 5 touchdowns. With four games remaining, Gordo needs to average 89 receiving yards per game to hit the millennium mark. Time after time this year, Gordon has blazed 1  by the defense to haul in a Weeden bomb for a long gain. His big play ability...
BEREA A big reason the Browns won their third game win in a row was due to the contributions of rookies. Pat Shurmur was asked if it was the confidence theyve gained or the opportunity to show their skill set. Its probably a combination of both, Shurmur said. When they have the confidence and opportunity and when those two meet they have the chance (to make plays). There was probably...
"Pat Shurmur pulled out all the stops to shake and bake by the lake." — Mary Kay Cabot "It's good to win in a different way sometimes." — Pat Shurmur "We're putting something together here and it's going to be beautiful." — Trent Richardson "Let me tell you something, Nick Saban wouldn't work with Mike Lombardi in a thousand years." — A league source...
It feels good, haven't done this since Florida [college]. It's a different feeling, it definitely feels good. Like I say every week, now we have to get ready for the Redskins. They're a challenging opponent. Everybody is just feeling it. We are getting used to it and I like it a lot. [...] You know you have the ability to beat the team. It's just the thing about going out...
ESPN Cleveland's Chris Fedor is reporting that in a team meeting this week, Chiefs head coach Romeo Crennel specifically instructed players not to respond to comments made by Browns all-pro Joe Thomas. Thomas described Chief's running back Peyton Hillis' time in Cleveland as "toxic". Hours after the meeting, Hillis went to the Kansas City media and fired back at Thomas'...
The Browns are finally streaking in a positive direction. Rookie Travis Benjamin's electrifying 93-yard punt return touchdown gave Cleveland momentum and the Browns won their third straight game, 30-7 over the emotionally drained Kansas City Chiefs on Sunday. Benjamin's game-changing runback helped the Browns (5-8) continue their resurgence under second-year coach Pat Shurmur...
Browns running back Trent Richardson's two one-yard touchdown runs Sunday saved an otherwise poor day against the Chiefs. Richardson had 42 rushing yards on 18 carries.Fantasy Spin:It was a typical Richardson line this season. He has only rushed for 3.5 ypc but he's still been a valuable fantasy rusher due to his 10 total touchdowns.
Browns rookie wide receiver Josh Gordon caught eight passes on 12 targets for 86 yards Sunday against the Chiefs.Fantasy Spin:Gordon has emerged as Brandon Weeden's No. 1 weapon in the passing game. The rookie has hauled in 35 catches for 639 yards and five touchdowns over the last nine games and has a favorable matchup against Washington in Week 15.
With just minutes left in a rare blowout win, new owner Jimmy Haslam leaned over the railing of his open-air suite and pumped his fist in celebration. Down below, Cleveland fans jumped and screamed in delight. Their team is rolling. Yep, the Browns, masters of disaster for years, are winning. On a day when an attempt to block a punt turned into a record return for a touchdown...
CLEVELAND - Travis Benjamin returned a punt 93 on the first play of the second quarter Sunday to put the Cleveland Browns ahead and spark them to a 30-7 victory over the Kansas Chiefs. The victory was the third straight by the Browns, and it is their longest winning streak since they won the last four games in 2009. They are 5-8 and have won one more game than they did last season...
This Sunday, there was a reunion of sorts in Cleveland, as Chiefs head coach Romeo Crennel, returned to the city he once called home. Crennel coached the Browns from 2005 through 2008, going 24-40, before being fired at the conclusion of the 2008 season.This season, Crennel and the Chiefs (2-11) were predicted to challenge for the AFC West, but things haven't exactly gone to...
Browns News

Delivered to your inbox

You'll also receive Yardbarker's daily Top 10, featuring the best sports stories from around the web. Customize your newsletter to get articles on your favorite sports and teams. And the best part? It's free!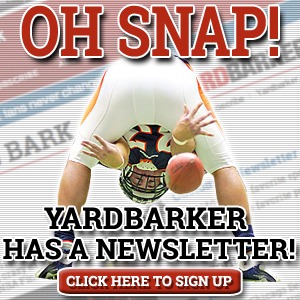 Latest Rumors
Best of Yardbarker

Today's Best Stuff

For Bloggers

Join the Yardbarker Network for more promotion, traffic, and money.

Company Info

Help

What is Yardbarker?

Yardbarker is the largest network of sports blogs and pro athlete blogs on the web. This site is the hub of the Yardbarker Network, where our editors and algorithms curate the best sports content from our network and beyond.