Found May 06, 2013 on Fox Sports Florida:
The signing of free-agent rookies Jordan Rodgers and Matt Scott is not viewed as the answer to the Jacksonville Jaguars' quarterback situation.That goes double for a group of fans who posed the question: Why not Tim Tebow?Shortly after he was given his release by the New York Jets a week ago, the Jacksonville native and Heisman Trophy winner at Florida became the subject of a petition on the White House's "We The People" submission system. The petition accused Jaguars general manager Dave Caldwell of blocking the signing of Tebow and mentioned that "(if) the Jaguars sign & START Tebow, home games will be sold out, sales will spike, the team will win and the fans will be happy."But the petition turned out to be as fleeting as Tebow's playing time behind Mark Sanchez. It was removed from whitehouse.gov because it was in violation of the site's terms of participation.Tebow's last season at Florida was in 2009, a year before Rodgers transferre...
Original Story:
http://www.foxsportsflorida.com/nfl/j...
THE BACKYARD
BEST OF MAXIM
RELATED ARTICLES
POWER OF THE PEOPLE
Some of Tim Tebow's fans are taking a drastic approach to finding him a team, appealing to President Obama to force the Jaguars to sign him.
BRING HIM IN
Some people really want the Jags to sign free agent quarterback Tim Tebow. There are radio ads telling the team to sign the QB.
It appears no team's fans are more in love with Tim Tebow than Jags fans. While Jaguars management insists they have no interest in signing the former University of Florida product, fans have attempted to file a petition with the White House and, now, a prominent Florida attorney has taken out an ad on Jacksonville radio waves. John Morgan, who has law offices throughout Florida...
Bob Raissman of the New York Daily News believes that free agent quarterback Tim Tebow will certainly have the option of working in television once his pro football career is over, which could be pretty soon. No doubt the former Heisman Trophy winner, released by the Jets last week, would like to appear in front of a camera playing quarterback in the National Football League. That...
Tim Tebow has been silent since being released by the New York Jets last week, but his fans and supporters have not.  A Jaguars fans who no doubt is a Tebow fan,  has taken it upon himself to help get his favorite player a job. Said fan has sent a petition to our esteemed President Obama, asking him to force Jaguars GM David Caldwell to sign Tebow to a contract. The full petition...
If Tim Tebow can't get a job in the NFL as a quarterback, a TV career may be on the horizon. ESPN believes the former Jet will be playing football in 2013, but if not, he's on the network's radar as a college football analyst, according to the New York Daily News. There will be competition for Tebow's services, though — unlike in the NFL, where there is none. Fox Sports...
Tim Tebow has been unemployed for a few weeks ever since being released a couple weeks ago by the New York Jets. According to The New York Daily News though, if he can't find a job in football he has opportunities elsewhere. It is being reported that ESPN or Fox Sports might consider bringing on [...]
Enigmatic quarterback Tim Tebow is having some difficulty finding a new team to latch onto ever since being released by the New York Jets late last month.His unorthodox throwing motion and lack of accuracy have been cited as a couple of the main reasons why teams are choosing to avoid him like a plague. But at least one former coach said he would be willing to take a flier on the...
Even on the unemployment line, Tim Tebow remains a popular presence. The former Jets quarterback, cut by New York last week after one disappointing season and now a free agent, was selected as America's most influential athlete, according to a survey released Monday by Forbes.com. Tebow had the most influence on fans, according to 29 percent of respondents, finishing ahead...
  The most obvious question here is, if Tim Tebow is so influential, why can't he get a job in the NFL? According to Forbes, the former New York Jets backup quarterback and current free agent, topped the popular magazine's annual list of America's Most Influential Athletes. Tebow's 29% "influential" rating beat out Michael Phelps (25%), Usain Bolt (23%) who I had no...
100.  It is just a number.  Important in mathematics, but not more than 1, 2, or 5.  We see it because it represents perfection.  100% on your test.  100% of your games won.  From 0 to 100 in just under two years.  Either the world's slowest car, or the march of sports and those who cover it.  Why not see a few more numbers from the last two years? 24: The amount...
NFL News

Delivered to your inbox

You'll also receive Yardbarker's daily Top 10, featuring the best sports stories from around the web. Customize your newsletter to get articles on your favorite sports and teams. And the best part? It's free!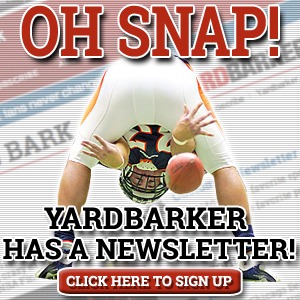 Latest Rumors
Best of Yardbarker

Today's Best Stuff

For Bloggers

Join the Yardbarker Network for more promotion, traffic, and money.

Company Info

Help

What is Yardbarker?

Yardbarker is the largest network of sports blogs and pro athlete blogs on the web. This site is the hub of the Yardbarker Network, where our editors and algorithms curate the best sports content from our network and beyond.