Originally posted on
NESN.com
| Last updated 1/26/15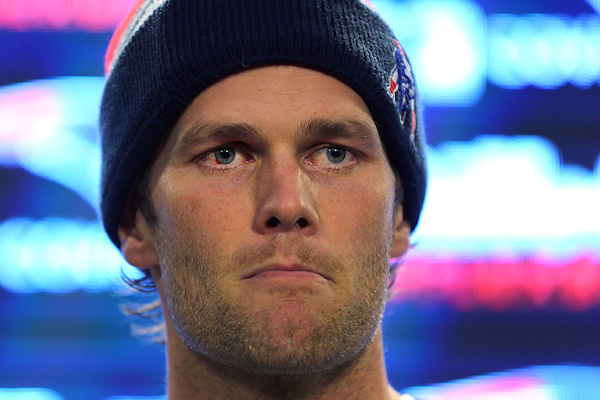 Even Tom Brady apparently is subject to experiencing the blues sometimes, especially when his integrity has been challenged.
John Tlumacki/The Boston Globe via Getty Images
By Mike Cole
Tom Brady might have it all — dream job, dream wife, oodles and oodles of money — but he's a human being just like everyone else.
That means the New England Patriots quarterback gets sad from time to time, and that apparently was the case this past week. Brady was at the center of the seemingly never-ending saga that is DeflateGate, and No. 12 took it hard.
Brady discussed the ongoing drama Monday morning on WEEI's "Dennis and Callahan Morning Show," and he's just ready to move on at this point.
"It's all speculation," Brady said on WEEI. "I've tried to wrap my head around it, too. I've done that and I'm trying to move past that, because I continue to try to rehash things. I personalized a lot of things and thought this was all about me, and my feelings got hurt."
The timing for Brady and the Patriots isn't great. The team leaves for Arizona on Monday where they'll face the Seattle Seahawks in the Super Bowl on Sunday. That's been a driving factor in helping Brady get over the DeflateGate hysteria.
"Then I moved past it, because it's not serving me. What's serving me is try to prepare for the game ahead," he said on WEEI. "I'll deal with whatever happens later. I'll have my opportunity to try to figure out what happened and figure out a theory like everyone else is trying to do. But this isn't the time for that. Honestly, I'm not interested in trying to find out right now, because we have the biggest game of our season ahead."
Brady still has no explanation for how the Patriots' AFC Championship footballs became deflated, but he said Sunday night on ESPN that he expects to speak with the league after the Super Bowl.
MORE FROM YARDBARKER
Patriots News

Delivered to your inbox

You'll also receive Yardbarker's daily Top 10, featuring the best sports stories from around the web. Customize your newsletter to get articles on your favorite sports and teams. And the best part? It's free!