Found January 22, 2013 on The Nosebleeds:
The Baltimore Ravens, like most people outside of New England, don't especially care for the Patriots and their fans, that much has become clear since Baltimore's 28-13 win over the Pats in the AFC title game on Sunday. Torrey Smith is the latest Raven to voice his displeasure of Patriots Nation, but his reason for doing so might be the most legitimate and indefensible one we've heard. According to Smith, who lost his younger brother in a motorcycle accident earlier this season, Pats fans took to Twitter and sent him 'rude tweets' about his brother. Smith sent out the following tweet ripping New England fans on Tuesday morning: Played a lot of games since my brothers death and I never received as many rude tweets after a win than Sunday…yet NE fans cry about class — Torrey Smith (@TorreySmithWR) January 22, 2013 This isn't the first time New England sports fans have been called out for being rude and disgraceful on Twitter. Following the Bruins Game 7 loss to the Washington Capitals in last year's playoffs, the Caps Joel Ward claimed to the be the recipient of countless racist tweets following his game-winning goal in overtime. While stuff like this is disgusting and inexcusable, it's also certainly not limited to New England or any specific region. Ignorant people are everywhere and they always will be, especially if they're given the opportunity to spew that ignorance anonymously behind a keyboard. It's one of the downsides to social media, and hopefully one that can be squashed somehow in the future.  
Original Story:
http://thenosebleeds.com/torrey-smith...
THE BACKYARD
BEST OF MAXIM
RELATED ARTICLES
Fans in the New England region have been getting a bad reputation for their antics following their teams losses. Baltimore Ravens wide receiver Torrey Smith became the latest target following his teams win over the Patriots in the AFC championship game. Smith's younger brother Tevin died in a motorcycle accident early in the season. Some Patriot fans took this as ammunition to...
If you aren't aware, Torrey Smith's brother died in a motorcycle accident in September in northeast Virginia.  Smith responded less than 24 hours later against the New England Patriots by grabbing 6 balls for 127 yards and two touchdowns to lead his team to a 31-30 victory.  The Ravens beat the Patriots again this past weekend to send them to the super bowl. Apparently...
The Ravens aren't keeping quiet about Sunday's big win over the Patriots. On Sunday night, Terrell Suggs called members of the New England Patriots " the most arrogant [expletive] in the world." A couple days later, Torrey Smith called the Pats fans rude and questioned their class. On Tuesday afternoon, the Ravens wide receiver claimed that he's been receiving rude tweets...
Ballertainment Torrey Smith wrote himself a note declaring a Super Bowl appearance for the Baltimore Ravens Affirmations are often helpful, and writing them down is said to be that much more powerful. Torrey Smith had it set in his mind that he and the Baltimore Ravens would make it to the Super Bowl, so he wrote it down days before Sunday's AFC Championship game against the New...
Torrey Smith played the game of his life against the Patriots in early September, hours after his brother was killed in a motorcycle accident. After that game a salty Patriots fan took to twitter to disrespect and insult Smith after he dominated the Pats.   Smith and the Ravens again knocked off the Patriots, this time to reach the Super Bowl, and according to Larry Brown Sports...
Baltimore Ravens wide receiver Torrey Smith claims that Patriots' fans have sent him rude tweets about his brother's death after this past Sunday's AFC Championship game, where the Patriots lost. Played a lot of games since my brothers death and I never received as many rude tweets after a win than Sunday…yet NE fans cry about class — Torrey Smith (@TorreySmithWR) January...
Social media can be a very useful avenue of communication, but it also brings out the lowest of humanity from time to time. It's easy for people to remain anonymous and make threats and classless remarks to others. Perhaps sports fans are the worst. NFL players are constantly receiving death threats. San Francisco 49ers kicker David Akers received them this year. Josh Morgan received...
As if beating the Patriots and Tom Brady in Foxboro in the AFC Championship, The Ravens took the opportunity to throw a little salt in the wound. After the game last night Torrey Smith sent out this tweet:   Someone in New England wasted a lot of money on that Ray Lewis retirement billboard — Torrey Smith (@TorreySmithWR) January 21, 2013   After some research, billboards with...
While talking with the media today, Baltimore Ravens wide receiver Torrey Smith made it clear that they wanted to get to the Super Bowl before Ray Lewis told them that this would be his final NFL season. "We wanted to be here before (Lewis) said he wanted to retire," said Smith. "We all want to win a Super Bowl. You know, Ray isn't the only guy here. He has one (ring) and...
Over the next two weeks, the media will spend a tremendous amount of time focusing on Ray Lewis and the final chapter of his career with the Baltimore Ravens. Since the 13-time Pro Bowler announced that he will retire after the season, the Ravens have appeared to play with more urgency. However, he is hardly the only reason Baltimore is headed to New Orleans for Super Bowl 47. On...
If you get caught  up in the melodrama that is the Super Bowl hype over the next two weeks, you could end up thinking Ravens middle linebacker Ray Lewis is lining up to play this game by himself. Everything will be Ray Lewis based with a little bit of the Harbaugh brothers mixed in.  That is not case though, as Torrey Smith will tell you via NFL.com, "Ray Lewis isn't the only...
This is going to seem a little odd to determine Joe Flacco, Ray Lewis and the Baltimore Ravens will win Super Bowl XVII, because the San Francisco 49ers had the most Pro Bowl selections in 2012. However the history of teams that led their conferences in Pro Bowl selections does not bode well for the 49ers chances at winning the Super Bowl. From 2001-2011, only two teams from the...
NFL News

Delivered to your inbox

You'll also receive Yardbarker's daily Top 10, featuring the best sports stories from around the web. Customize your newsletter to get articles on your favorite sports and teams. And the best part? It's free!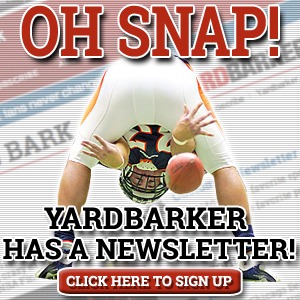 Latest Rumors
Best of Yardbarker

Today's Best Stuff

For Bloggers

Join the Yardbarker Network for more promotion, traffic, and money.

Company Info

Help

What is Yardbarker?

Yardbarker is the largest network of sports blogs and pro athlete blogs on the web. This site is the hub of the Yardbarker Network, where our editors and algorithms curate the best sports content from our network and beyond.